Travel: Beating the fear
Lorna V has never been into adventure trips. So how would she manage a diving trip in Baros, Maldives?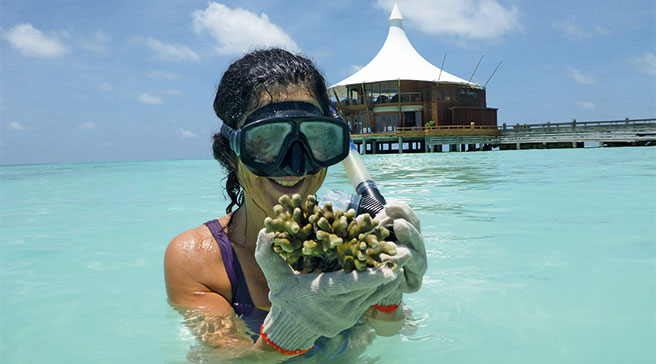 Like yoga underwater
Fear of going underwater is tied up with issues that can have nothing to do with water. When you fill in the medical form for diving it becomes obvious that it isn't for everyone. Aside from a long list of medical conditions, diving is not for people who faint, have claustrophobia issues, or are prone to panic attacks (all of which I'd experienced at one time or another). This actually made me feel better. 'I don't have to give myself a hard time,' I thought. I realised that sometimes what we think we fear is in fact a gut feeling for taking care of ourselves. But if I could do a little, if I could make a beginning, I'd be happy. 'I'm ready for this now,' I said to myself. Ronny, who heads the Eco Diving Centre at Baros, told me to see this as yoga underwater. That was smart, as telling someone nervous to relax makes them feel worse, whereas I practise yoga regularly. I also do Pilates, so he told me to breathe the Pilates way: out through the mouth, and in the through the mouth, too. OK, I could do that. Once I got the wetsuit on I was excited but the weights around my waist felt strange. In the water I struggled to get the flippers on. Everything felt unfamiliar. Seeing the coral and the fish helped distract me but I didn't like the sensation of the breathing apparatus in my mouth. I felt safe with Ronny right by my side though, and managed to swim 10 metres underwater with the diving gear. That was my limit.
Next page: Support from the side
A week at 5* Baros Maldives costs from £1,599 per person – saving up to £662 – booked through Sovereign Luxury Travel (0843 770 4526, www.sovereign.com). The price includes a free night, return flights from London Gatwick with Emirates, airport lounge access, private transfers and seven nights B&B in a Deluxe Villa based on 2 adults sharing a room. Based on departures 2 May 2014. For further information on Baros Maldives please visit www.Baros.com or call +960 664 26 72 –