Radio 2 DJ Sara Cox on career struggles & her debut novel
Everyone's favourite radio DJ, Sara Cox, tells us all about her new book, before opening up about the struggles she's faced throughout her career...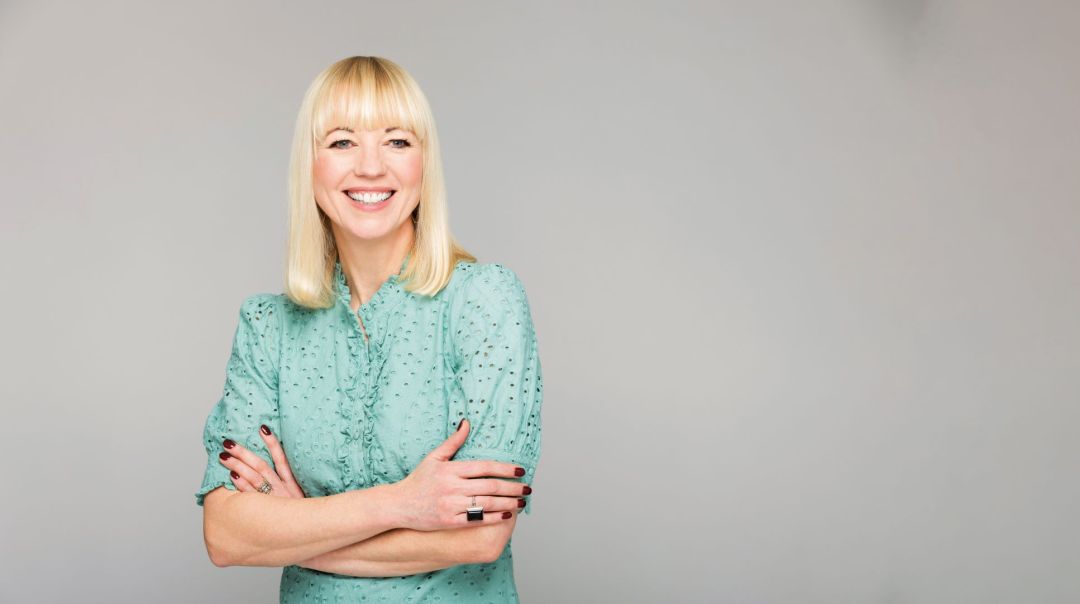 Radio 2 favourite Sara Cox might be in demand now, but there was a time when work was sparse and she feared for her career. As her debut novel hits the shelves, she opens up about how she turned it all around, and why the future has never looked brighter…
After a lifetime spent mastering the art of self-deprecation, Sara Cox is finally learning to blow her own trumpet. Not too much, mind – she still winces at the idea of actively marketing herself. But since writing her debut novel, Thrown, Cox is managing to shout 'just a little bit' about the fruits of her labour.
Sara Cox on becoming a published author
'I'm getting there,' she says. 'My biggest fear is that I'll be seen as a show-off and then that's also mixed in with a little bit of "stay-in-your-lane" ism. I overthink and over-analyse.
'But I'm trying to be better at it because you can't promote a book by going around saying: "Oh, my God, I'm so embarrassed I wrote it. Please don't read it! Just use it to prop up your coffee table".
'And, you know, when I read for the audio book it helped my confidence, because I was reading it aloud and thinking, actually, this is quite good!'
What's Thrown, by Sara Cox, about?
Cox has every reason to take pride in Thrown. It's a lovely read, set in a local pottery class, rooted in female friendship and full of the sort of heart, cheekiness and giggles you'd expect from Cox.
There are well-rounded, likeable central characters and she's had ringing endorsements from Richard Osman ('a publishing behemoth!' gasps Cox), Marian Keyes, and Dawn French, too, whom Cox was particularly thrilled about.
'She's always been my comedy hero. Right from when Girls on Top started, Dawn and Jennifer Saunders have been my absolute icons. So for her to take the time to have a flick through my book was really special, and when I'm sitting in the Radio 2 home for confused old DJs with my tartan blanket, that'll be one of the memories I can get all misty-eyed about.'
With a smidge of that familiar self-deprecation, she adds: 'You know, it's not a great literary piece. But I think it's perfect for on the beach and just to have fun with. There are a few emotional parts, and a bit of struggle in there, but overall I wanted to make people laugh, because that's sort of what I do on the radio.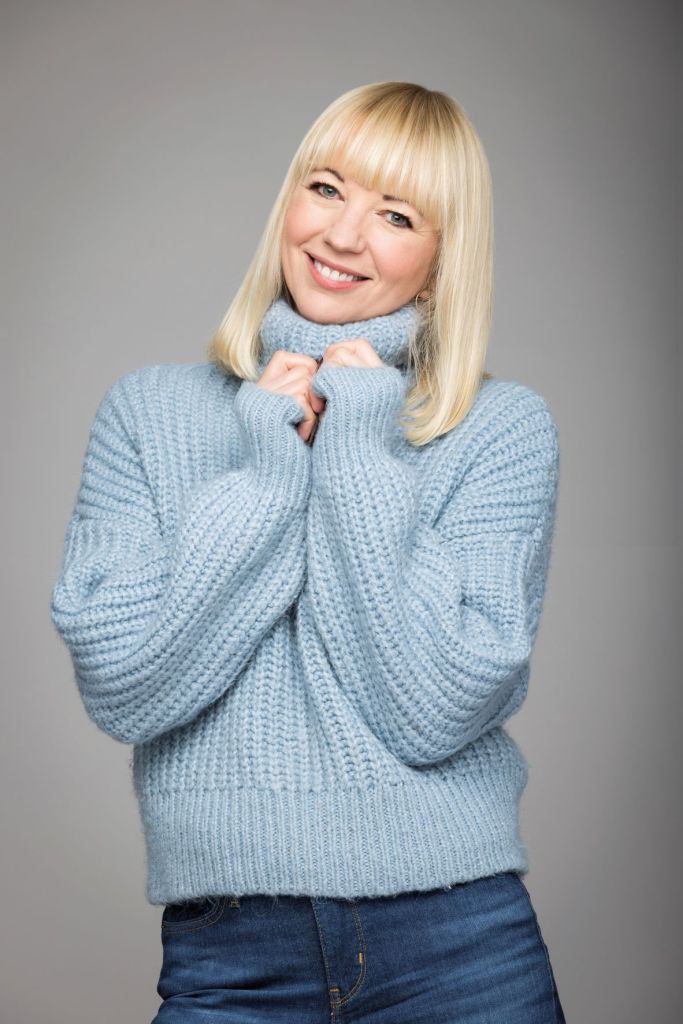 Novel-writing dreams
'Writing a novel has always been a bit of an ambition of mine, but like a wallflower at the school disco, I suppose I was kind of waiting to be asked onto the dance floor. And it's such a special thing to be asked to do, so I wanted to have a really good crack at it.'
One thing she won't be doing, though, is reading the reviews. Cox takes a sharp intake of breath at the mere suggestion.
'Ooh, no. I still remember a negative review for [Nineties TV programme] The Girlie Show, by [journalist] Kate Spicer, who said we did for feminism what Fred West did for Neighbourhood Watch.' Ouch. 'I mean, it's quite a funny line, but also pretty cruel – and I've never forgotten it.'
Sara Cox on her varied career
More than 25 years on from her presenting break on Channel 4's The Girlie Show, book-writing is the latest plot twist in a varied career and, at the age of 47, Cox – who is mum to Lola, 18, Issac, 14, and Renee, 12 – is enjoying what is possibly the sweetest spot of her professional life to date.
It's seen her metamorphose from the party girl with a penchant for goofing around, into something close to a national treasure – losing none of the irreverence and wit that made her stand out from the crowd in the first place.
But although she has regular presenting stints on the BBC's Morning Live, fronts new show Britain's Top Takeaways and the fourth series of book club show Between the Covers (which started last month), it's radio where Cox's heart lies.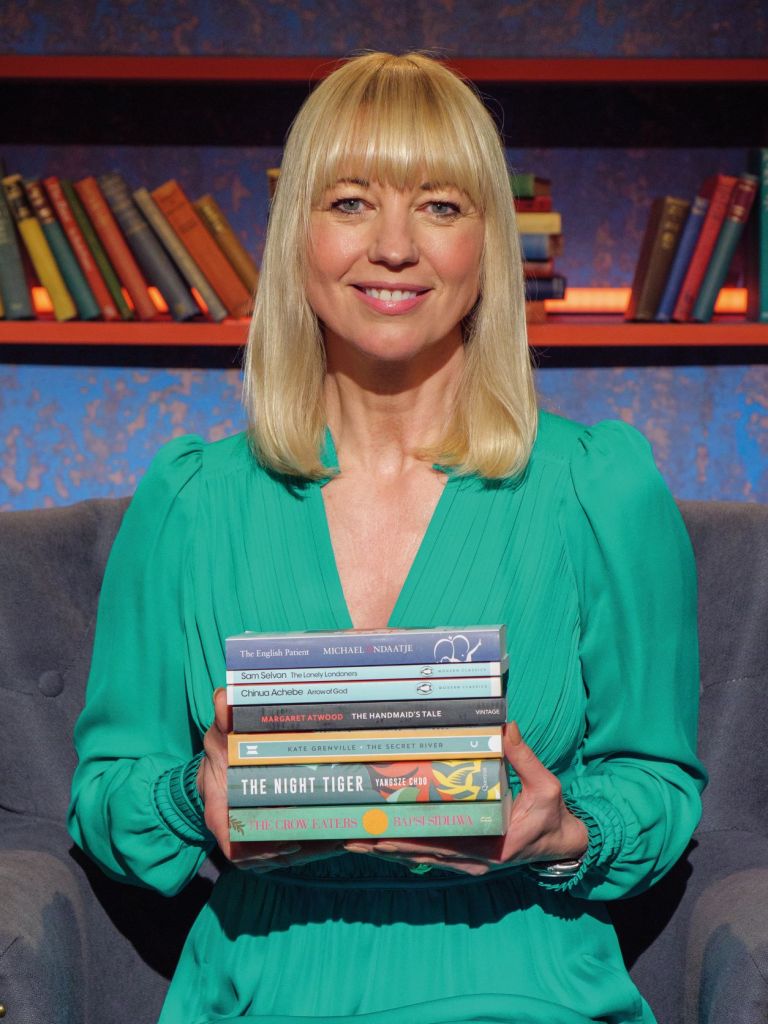 Sara's dream radio show
Her daily Radio 2 teatime show is a consistently joyful listen, where she has established a cosy and inclusive community by putting her listeners front and centre. She's a gem of a presenter, with natural warmth and humour in spades, and is clearly in her element, never sounding anything less than delighted to be there.
'I mean, let's not mess about, teatime on Radio 2 is the dream,' she says. 'My biggest ambition was to get a daytime show on Radio 2, and so everything else around it is just an added extra bit of fabulousness.
'It does feel like I'm in a really golden era of my career. I'm blessed at the moment with a great balance. I actually have to be careful not to say yes to everything, which is a tendency I have from my upbringing, being working class and having that work ethic. But it's been a really, really brilliant few years for me career-wise.'
Coping with career struggles
Which all makes it hard to believe that there was a time, not so long ago, when everything stalled for Cox and she was left wondering where her future lay. On returning to Radio 1 following her first maternity leave, in 2005, and having previously presented both the flagship Breakfast Show and Drivetime before that, she was handed weekend afternoons.
It was effectively a demotion and it's where Cox spent the next three years. In 2008 she returned from her second maternity leave to be made the station's official stand-in host, covering for the main presenters when they were off, but without a show to call her own. And with no TV work to speak of either, it was an incredibly frustrating time.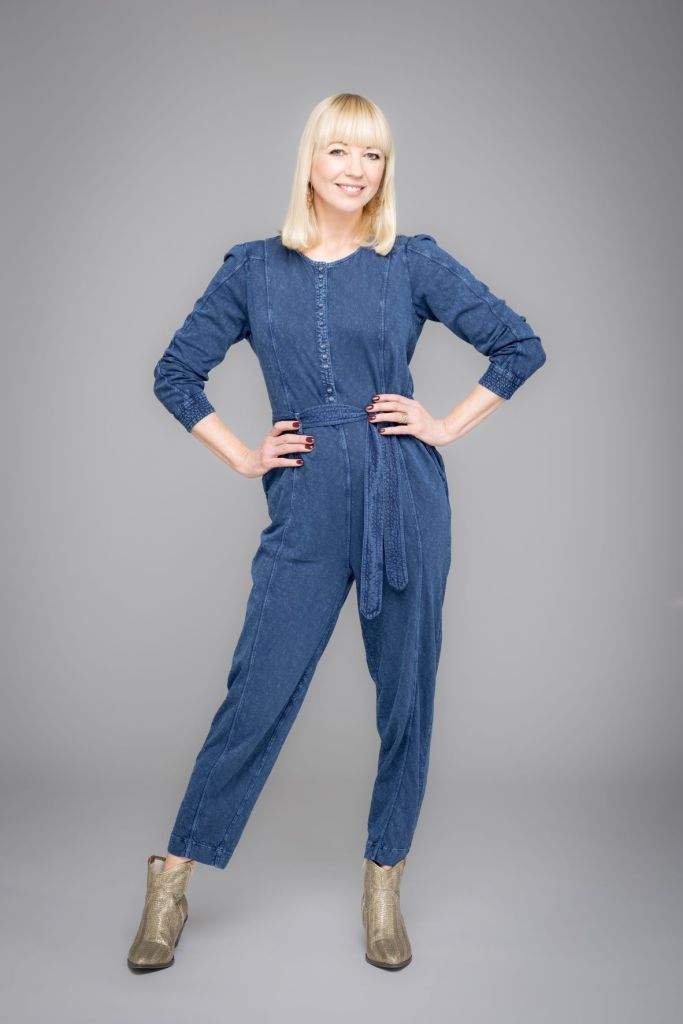 Putting herself out there
'There were years where you could not get me arrested,' she says, frankly. 'My agent was amazing because, unless you put yourself in front of them, people do forget that you're there. So she'd take me for a coffee and a biscuit with some commissioner, like she was trying to auction me off.
'I was trying to advertise myself and it was toe-curling. But she was right, because you just never know. I mean, I was always working but I was just doing weekends and I wanted to do more. I really wanted to do telly again as well.'
Asking for help
It was during those wilderness years that fellow presenter Davina McCall put Cox in touch with life coach Michael Heppell, and his sessions proved a huge help. She also reached out for advice from other industry names, whose time and support she has never forgotten.
'Funnily enough, I've just been recording a show with Jonathan Ross, and he was one of the people I turned to for advice. It wasn't like he said: "Ring this number, they'll give you a job!" but he gave me confidence.
'He told me that I should be getting work and was just really encouraging. I met Richard Madeley for a coffee as well and he was lovely. I only knew them both "ish" at the time, but it's about not being afraid to ask people for help.'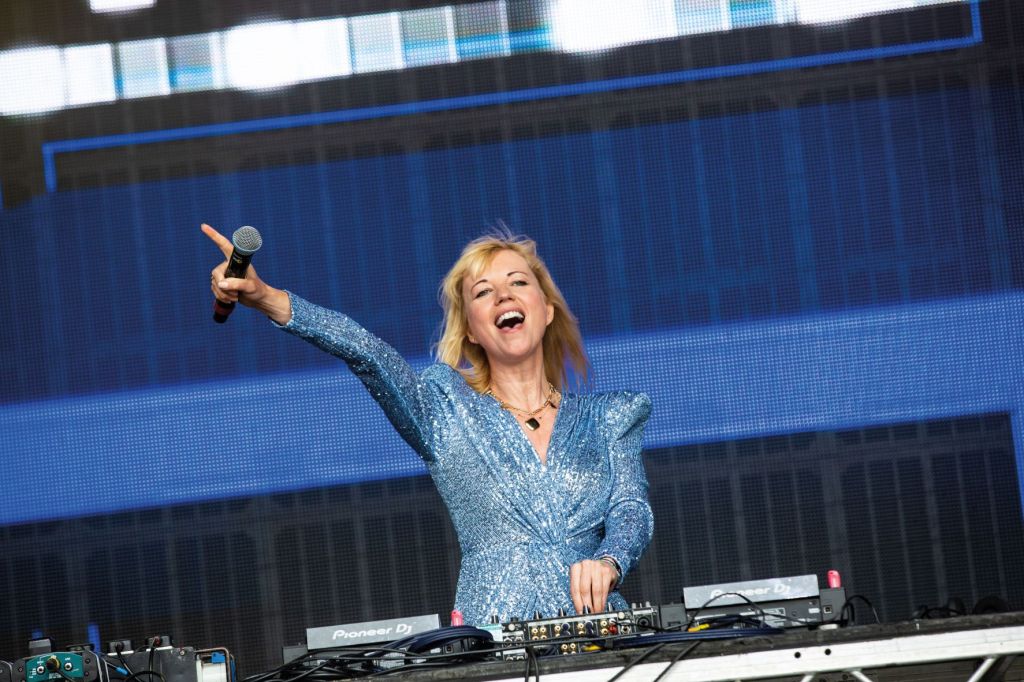 Reaching career goals
Cox eventually moved permanently to Radio 2 in 2013 to host Saturday night show Sounds of the 80s and it was from there that her patience began to pay off and her fortunes started to change.
She became the go-to stand-in for then-Breakfast Show presenter Chris Evans – big boots to fill, but the listeners adored her – and, within two years, had landed the role of host on BBC2's The Great Pottery Throw Down, which would later inspire her novel.
This was followed by Love in the Countryside and regular turns fronting The One Show. Today, she's more in demand than ever, but have those years of struggle shaped the person she is now?
'Ah, definitely. That sort of experience teaches you humility and not to take anything for granted. I think you come back a nicer person because you're grateful when work starts to go well again. If you're lucky enough to do a job you love, I think it does you good to have a little bit of a reminder that, actually, you're in a really fortunate position.
'So, I don't think I would really change anything, because the way it's panned out has worked quite well. Plus, my career dips coincided with my children being really young, so that meant that I was about a lot for my kids on the nursery run and the little daytime music classes.'
Sara Cox on how women are scrutinized by the media
These days, Cox rarely drinks, preferring to be in bed with a good book by 10pm. It's a long way from the Nineties when she was one of the original 'ladettes', the tabloid term for the female celebs whose party nights at London's Met Bar and weekends at Glastonbury dominated the showbiz pages.
It's a label Cox has always disliked and even now it makes her bristle. 'I thought it was sexist, even at the time, and I've always hated it for that very reason. I've railed against it. It diminished us and said we were just trying to be like the boys. But we weren't trying to be like anything – we were just young women having fun.
'I mean, we literally went out and were a little bit outrageous a few times. Jesus! You wouldn't believe the fuss by tabloid editors and the think-pieces written about us. It's like: "Guys, relax! We've just been out for a couple of cocktails. We're in our 20s!" 'So I've never embraced that term. We were never trying to ape men or compete with them.'
The problems with social media
Not that she thinks we've progressed much since then. Cox reckons the women she undoubtedly helped pave the way for have an even tougher time today, mainly thanks to social media and the scrutiny it places them under.
She says: 'My God, having to contend with everybody being a critic and being able to reach you and communicate with you? Really, the biggest thing we had to face was, heaven forbid, daring to have a slight dimple on your thigh and ending up with it circled in Heat magazine. Social media is like the Wild West. I just hope that younger women in the media have the tools to handle it.'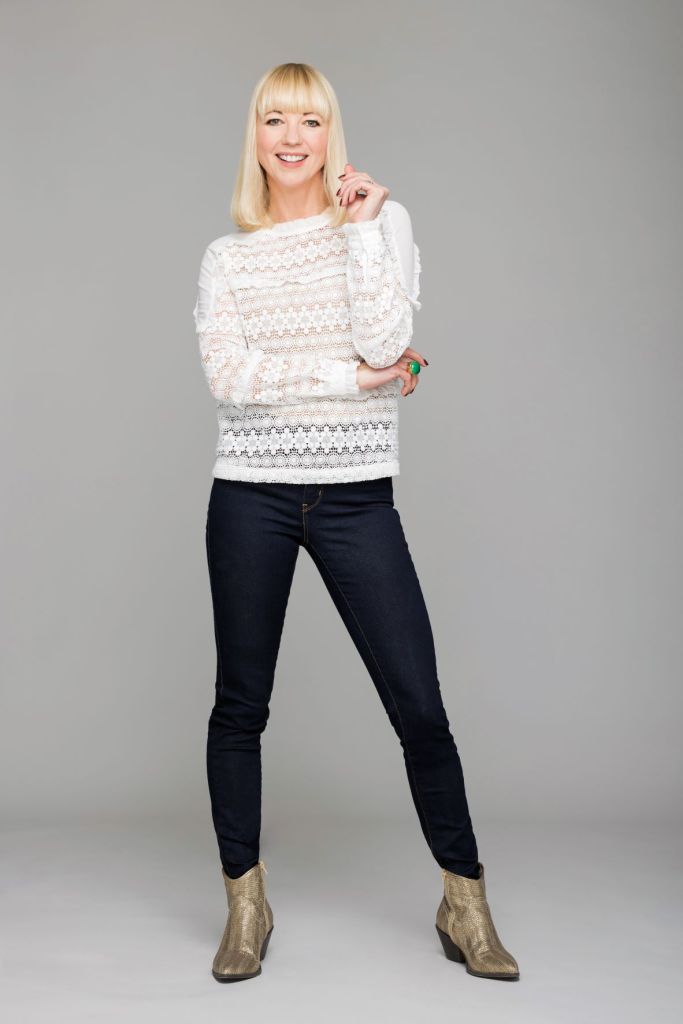 Sara Cox on her husband and personal life
If the career is golden, so too is Cox's personal life. She's been married to advertising executive husband Ben Cyzer since 2013 (her four-year marriage to her first husband, DJ Jon Carter, ended in 2005) and jumps at the opportunity to sing his praises.
'He's an absolute sort!' she says. 'He's just a lovely, lovely man and I think we're a brilliant team. We laugh a lot together, even when the kids are rolling their eyes. That's a sign of true love, I think.' A keen runner, horse rider and cyclist, Cox takes active steps to protect her mental health, mainly through exercise.
She admits she's easily distracted, and often struggles to focus on one thing at a time. 'So, halfway through steaming some broccoli, I'll suddenly remember that I haven't replied to an email and I'll start doing that, and then I'll realise I have to feed the cat, and then remember I have to call someone.
'I think I'm just really bad at concentrating on one thing at a time, and I get quite baffled trying to live my life like that. But sleep is really important to me. And exercise – that keeps me on an even keel.'
Looking to the future
She recently bought a horse, Nelly, and riding her several times a week has been a godsend. 'She's a perfect example of being forced to live in the moment,' says Cox. 'Obviously, I can't be on my phone when there's a broad expanse of sky ahead of me. I ride her in an area just a few junctions up the M1, when you're suddenly in the middle of nowhere, and it's fantastic.'
With plans for a second novel already underway, Cox is excited about what lies ahead. This is her second wind and, in many ways, it feels like she's only just getting started.
'Without wanting to sound like a boxer,' she jokes, 'I'm still hungry for it. I'm still learning, I still find it all exciting – and occasionally nerve-wracking – and I still have that fire in my belly.'
Thrown by Sara Cox (Hodder & Stoughton, £14.99) is out now.
Words: Beth Neil | Images: Guy Levy; Shutterstock