Best Workplaces for Wellbeing in the UK
Thinking about starting a job search and wondering where might be the place for you? Read on to discover which workplaces have been voted as the best for wellbeing in the UK…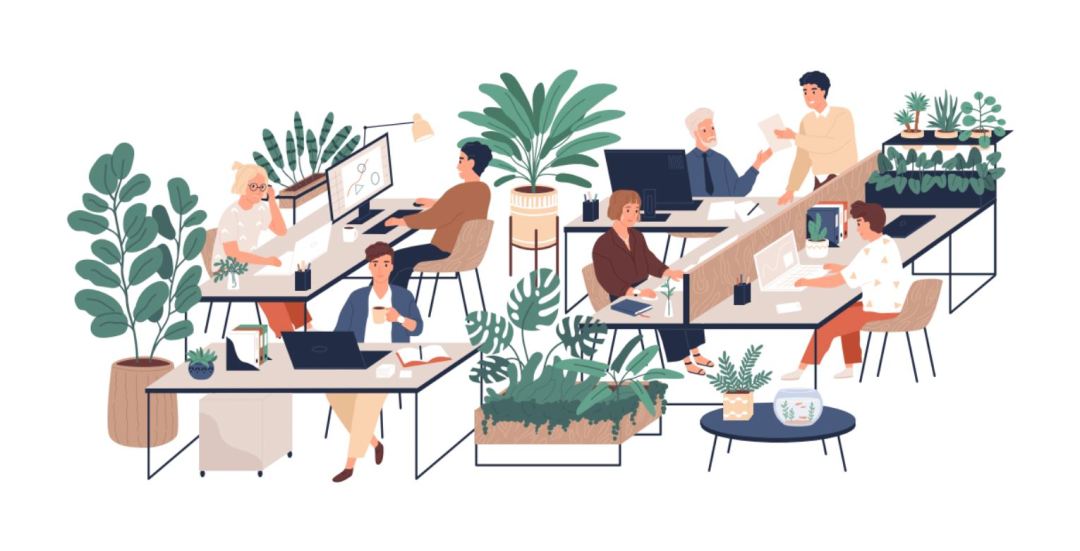 Looking for the best workplaces for wellbeing in the UK? Great Place To Work® is the global authority on workplace culture, with a mission to help every place become a great working environment. It gives leaders and organisations the recognition and tools to create a consistently and overwhelmingly positive employee experience, helping them to foster cultures that are proven to drive business, improve lives, and better society.
By working with Great Place To Work, businesses not only have the opportunity to be accredited and placed on one of our sector lists, but also gain real insight into their businesses in order to improve and grow their internal culture.
The list results are based on what employees have anonymously reported via the Trust Index™ Survey about their workplace experience. The size categories within the list are based on number of employees:
Companies with 20–50 employees are eligible for the Small category
Companies with 51–250 employees, the Medium size category
Companies with 251–1000 employees, the Large size category
Companies with 1001+ employees were considered for the Super Large size category.
This is the largest list we've ever recognised in the wellbeing space.
To determine the Best Workplaces for Wellbeing™, Great Place To Work analysed confidential survey feedback representing more than 140,000 UK employees. The Best Workplaces for Wellbeing list focuses on employees' holistic experiences of wellbeing at work, including their work-life balance, sense of fulfilment, social support, job satisfaction, and financial security, to reveal the best workplaces for wellbeing in the UK.
Particular attention was paid to how these employee experiences varied depending on job role, gender, age, and other characteristics, to ensure that companies are creating a great workplace for all.
To be considered eligible for wellbeing recognition, companies first had to meet the Great Place To Work-Certified™ standard of accreditation, achieving a minimum of 65 per cent scoring on specific questions shown to have the most impact on wellbeing in the Great Place To Work Trust Index employee survey.
Once certified, each company undergoes a rigorous assessment of their culture, during which we review any anomalies in survey responses, news, and financial performance of the business, to ensure there aren't any extraordinary reasons to believe we couldn't trust a company's survey results.
We've been listening to employee voices for over 40 years, and it's helped us to determine what makes a truly great working environment.
What matters to employees
We wanted to find out what's really important to employees when searching for the best workplaces for wellbeing in the UK. In our Trust Index Survey, we asked how employers could best support their employees' personal wellbeing. Common themes were:
1. People Management
By far the most talked about theme was people management, which encompasses the way people would like to be managed, and the interactions they have with their manager.
2. Work-Life Balance and Hybrid Working
This theme featured strongly again this year, with the majority of respondents looking for remote and hybrid working models to support a healthy work-life balance.
3. Financial Support and Security
It's no surprise as we live through the cost-of-living crisis that financial wellbeing is a concern (which can be improved via job security, pay rises and other benefits to promote financial wellbeing).
Great Place To Work asked employees:
'What is the best way for your organisation to support your personal wellbeing?'
---
1. People Management:
'Supportive managers really make a difference when team members are going through a hard time in their personal life, as personal situations happen in life that can put you on a high or a low. With the right understanding and support through the hard times, managers truly make a difference in bringing you back up and allowing you to breathe. As an employee, you thrive to do your best when you feel valued and supported.'
2. Work-Life Balance and Hybrid Working:
'By understanding that everyone has their own issues, be it health or issues at home, and by supporting flexible working, you enable that employee to feel that they are able to complete their work effectively and have time and headspace to deal with personal issues. When people feel they are being productive and valued at work, they are better able to deal with life outside of it.'
3. Financial Support and Security:
'Showing understanding of the current cost-of-living crisis, especially the rising cost of fuel, and how this affects colleagues, really benefits employees' sense of wellbeing.'
What do the employers say?
Great Place To Work also asks companies to share – from the management perspective – how they believe they are creating a best workplace. Here are some examples of best practice:
1. People Management:
To complement more formal annual reviews, managers hold one-to-one 'walks in the woods' with team members every month, to give employees an opportunity to have regular conversations, and break away from their usual working environment. These more casual one-to-ones on the move often encourage employees to speak more freely, whether in person with managers or separately on a phone call in a change of scenery.
2. Work-Life Balance and Hybrid Working:
My Flexible Environment™ allows employees to take a more flexible approach when considering where and when they work based on a few core principles: (i) Focus on results and not hours; (ii) Employees determine how they can achieve the best results; (iii) Employees have flexible schedules and locations; (iv) Employees understand that flexibility includes making themselves available for client and company needs.
3. Financial Support and Security:
With increasing living costs front and centre of minds, all employees were offered paid financial coaches to provide independent financial planning advice, from simple budgeting through to debt management plans and arranging mortgages.
As well as the free text comments supplied through the survey, the respondents are also asked to rank their employer on a series of statements. It may be interesting to look at how highly the businesses that made it into the top five of the list compare against those that don't in relation to the following statements, again linking into that number-one theme of People Management:
'Management shows a sincere interest in me as a person, not just an employee.'
2023 – Top 5 – 94.0%
2023 – Not Top 5 – 81.2%
'I can ask management any reasonable question and get a straight answer.'
2023 – Top 5 – 93.7%
2023 – Not Top 5 – 81.8%
'This is a psychologically and emotionally healthy place to work.'
2023 – Top 5 – 93.7%
2023 – Not Top 5 – 77.5%
Best workplaces for wellbeing in the UK: winners
Super Large: Cisco
Large: xDesign
Medium: Elements Talent Consultancy
Small: edison365
Best workplaces for wellbeing UK: Super Large (1001+ employees)
Cisco
Baringa
Salesforce
Version 1
Softcat plc
Hilton
First Central Group
DHL Express
BUUK Infrastructure
Home Group Ltd.
AbbVie
The Prince's Trust
Vodafone UK
Admiral Group
Verisk
Insight Direct (UK) Ltd.
KBR
Experian Ltd.
Capgemini UK plc
Utilita
Deloitte LLP
Gleeds UK
Flight Centre Travel Group
Childbase Partnership
TeamSport Indoor Karting
Sopra Steria Ltd.
Coventry Building Society
Volkswagen Financial Services (UK) Ltd.
Hyperoptic
Bright Horizons Family Solutions
Santander UK
Irwin Mitchell
Computacenter
Gowling WLG (UK) LLP
Accenture
TrustFord
Abbott Laboratories Ltd.
McCarthy & Stone
Shared Services Connected Ltd.
Dimensions
Places for People
IRIS Software Group
L&Q
HomeServe Membership Ltd.
Bromford
Northumbrian Water Group
Best workplaces for wellbeing UK: Large (251–1000+ employees)
xDesign
Xero
Credera UK
Slalom
The Trade Desk
Nvidia
CrowdStrike
Biogen Idec Ltd.
Smart Pension
Thoughtworks
Intuit QuickBooks
Student Beans
Ansys
Phoenix Software
Discover Financial Services
Red Hat UK Ltd.
Oxford PharmaGenesis
Ares Management
Lindt & Sprüngli UK Ltd.
Liberty IT
Robert Half
Mimecast
Confused.com
W.L. Gore & Associates (UK) Ltd.
Secure Trust Bank Group
Ombudsman Services
Natilik
REL Field Marketing
Microlise Ltd.
Stryker
General Mills
Citadel Enterprise
Rygor Commercials
Egress
Offshore Renewable Energy Catapult
De Lage Landen Leasing Ltd.
The All England Lawn Tennis Club
UST
Farnborough Airport Group
PKF Francis Clark
Fittleworth Medical Ltd.
Appreciate Group plc
Chiesi
RiverStone International
Ipsen Bath Road
Bytes Software Services
TIP Group
Kin + Carta
Mobilize Financial Services
Broadridge Financial Services
Moneypenny
TransUnion
Virtusa Consulting Services Pvt Ltd.
Ethos Farm
L'Occitane en Provence
Active Prospects
Borders College
Elavon
Checkatrade
Learning Pool
BHP LLP
Laithwaites
ClearCourse Partnership
BPHA
The Oldham College
Bacardi
Camlin Group
Ipsen Wrexham
Geodis FF UK
Charlie Bigham's
HML
Assurant
Brayleys Cars Ltd.
Norton Way Motors Ltd
ProCook Ltd.
Webbs Garden Centre Ltd.
SC Johnson
AlphaSights
Alliance Homes
Best workplaces for wellbeing UK: Medium (51 – 250 employees)
Elements Talent Consultancy
Evolved Search
Braze
Silver Cloud HR
Impression
Banked
Synthesia
Person Centred Software
Tomorrow
Practicus Ltd.
Alnylam UK Ltd.
Intersoft
Scandit
Sellick Partnership
Mercator Digital
World Wide Technology
Zifo Technology
Index
Coeo
Xpedition
Uptake Strategies
Wise
PEN Partnership
Ryan
Nomios UK&I
Tanium
Goodman Masson
Xledger
Redkite
KnowBe4
Collaborative Solutions
Technology Management (Midlands) Ltd.
National Grid Metering
Astound Commerce
Airwalk Reply
Strata
Simpson Associates
Touch Medical Media
Catalyst Care Group
Blue Light Card
Cameron Homes
Grace's Day Nursery
Edrington UK Distribution
360 Insights
Alternative Airlines
SLC Rail
Bazaarvoice
Synthace
Aventum Group
Medneo Diagnostics
Figma
Yext
Rimini Street
Instil
Wollens
AXON
Project One
SII Services Limited
Moose Toys
Administrate
HomeServe Ltd
Acquia
Santen UK
Western Global
Jumar
Garrison Technology Ltd.
Elucidat
Tractable Ltd.
Beckett Investment Management Group Ltd.
Hive & Pollen Health
Brown-Forman UK
Infinity Group
Sysmex UK Ltd
Channel 3 Consulting
Wavestone
Yapily
Methods Analytics
Insulet International
WP Engine
Consilient Health
Cadence
Al-Dabbagh Group
Cvent Europe
Trek Bicycle Corporation
CloudCall
Mason Advisory
ITC Secure
Wazoku
Retail Insight
Workplace Interiors Company Cheltenham
Muse Developments
Lansons
Bruichladdich Distillery
Gorilla Glue Europe Ltd.
Powerforce Field Marketing and Retail Services Ltd.
Sharing in Growth
Treasury Wine Estates
Logicalis UK&I
The Point Company
Branding Science UK Ltd.
Best workplaces for wellbeing UK: Small (20 – 50 employees)
edison365
Word Monster
ResourceiT
ID Comms
Monday.com
Kingston Barnes
Signify Technology
Thryve Talent
Forward Role
Macrium Software
Aspire Scientific
Law 365
Propellernet
The Marketing Pod
UP3 Services Ltd.
Domo Group
Lupin Healthcare UK Ltd.
Blacklist Creative
esynergy
Ntegra
Walr
Monkey Puzzle Day Nurseries
15 Marketing
Cartwright Communications
Keon Homes
Stiebel Eltron UK Ltd.
Avignon Capital
Deltra Group
Volvo Penta UK
Healthier Business Group
Peru Consulting
Evo
LACE Partners
Cowry Consulting
The Recruitment Crowd (TRC Group)
Distinctly
Uponor
Mantle
Climate X
Enovation Controls Ltd
383 Project
Beyond Analysis
JGA Recruitment Group
Green Gourmet Ltd.
Cyara
Emerchantpay
Basis Technologies
Citipost Mail
Achievers
Schlesinger Group UK
Serve and Protect Credit Union
IEMA
Sullivan & Stanley
PhoreMost
Something Big
Red Ant Digital Ltd.
Wondr Medical
Active International
Ecology Resources
Consilium Recruit
Richard Nelson LLP
Centor Insurance & Risk Management
Consultant Connect
Infigo Software Ltd.
Open Systems
ProMedical
Firstlight Group
Zoocha
Glassmoon Services
Katté & Co
Mayer Environmental
Culture Shift
Wild Nutrition Ltd.
ATA Garryson Ltd.
Maped Helix
Aer Studios
Calabrio
ICRTouch
Computer Task Group UK
Business Continuity Institute (BCI)
ELSE
Ethical Trading Initiative
ZIM Integrated
EnableX Ltd.
Pearn Kandola
In Digital
saintnicks
Global Lingo
Ebix Europe Ltd.
Lupa Foods
Multivitamin Group
International Chamber of Shipping Ltd.
VTG Rail UK
GlobalStep
Silence Therapeutics
PAG
UK Connect
TruTac Ltd.
Florence Nightingale Foundation
Odigo
If you would like to read the wellbeing report or see more information about our companies listed, please click here.
Find us on Twitter: @GPTW_UK
Find us on LinkedIn: @Great Place To Work UK
Get your copy of the wellbeing report at greatplacetowork.co.uk/wellbeing