Monty Bojangles Ruby Fruit Sundae Semifreddo
Today is National Truffle Day! Truffle experts Monty Bojangles have partnered with Michelin-starred chef Mark Sargeant to create a range of delicious puddings, snacks and treats. Try this impressive but easy dinner-party dessert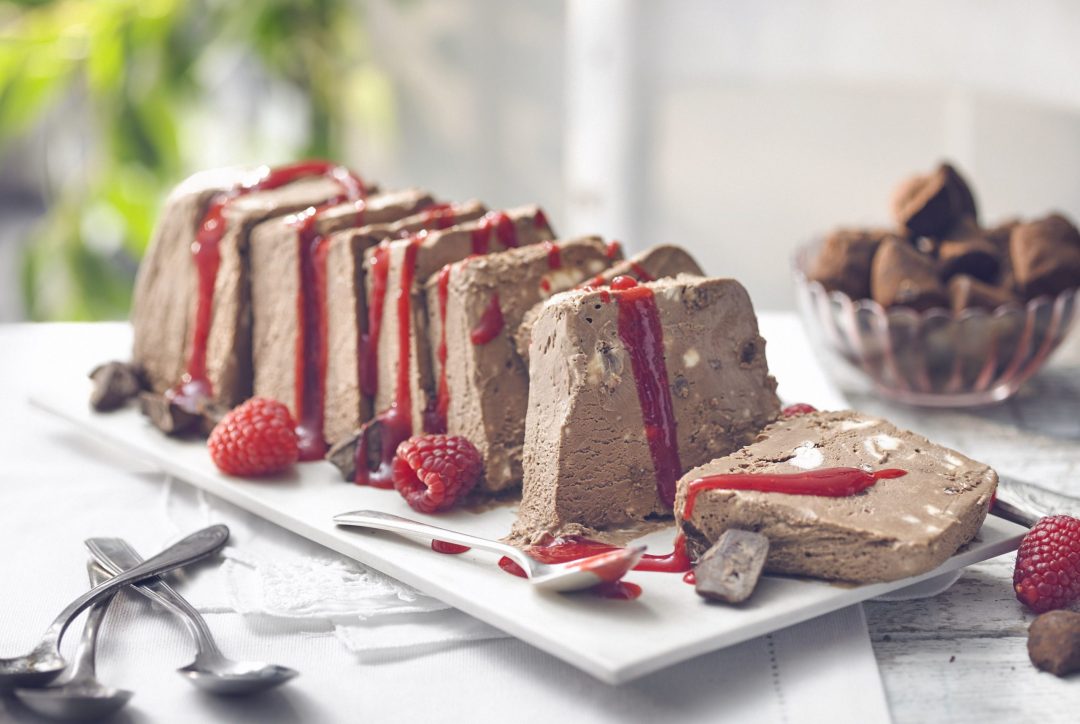 The first chocolate truffle was made by French chef August Escoffier, when he made small mushroom-shaped balls with a chocolate paste and he named them after the valuable fungus. Some truffles made in Europe are made with syrup and cocoa powder; the Belgian tradition is to use buttercream or ganache and the French use fresh cream and chocolate. Vegan truffles replace cream with dairy-free nut milks.
Monty Bojangles Ruby Fruit Sundae Semifreddo
Serves 10
Ingredients
250g Monty Bojangles Ruby Fruit Sundae Truffles
Olive oil for the tin
75g golden caster sugar
4 medium free-range eggs
450ml double cream
Method
1. Lightly oil and line a 900g/2lb loaf tin with clingfilm.
2. Put the sugar and eggs in a heatproof bowl, then place over a pan of simmering water and whisk until pale, thick and almost doubled in volume.
3. Remove from the heat and place the bowl into cold water, continuing to whisk until the mixture is cool. Meanwhile, melt the chocolate in another bowl over the pan of hot water then stir and fold into the egg mixture.
4. Whip the cream to soft peaks and fold into the chocolate egg mixture. Pour the mixture into the loaf tin and smooth the surface with a palette knife, then cover and freeze until firm.
5. To serve, turn out and remove the clingfilm, then using a sharp knife, cut thick slices onto serving plates.
Mark Sargeant's top tip: "When cutting, dip the knife into a jug of boiling hot water. This will ensure a nice clean cut in the frozen dessert. I love to serve this with a side of fresh raspberries and crushed up truffles…delicious."
The Monty Bojangles range of truffles include popping candy, butterscotch, berry and cookie pieces and believe us, once you've tried them, you'll be hooked! For more information, visit www.montybojangles.com