Recipes from Soulful Baker by Julie Jones
To accompany our extract from the new beautiful book, Soulful Baker by Julie Jones, here are the extra recipes we couldn't fit in the magazine!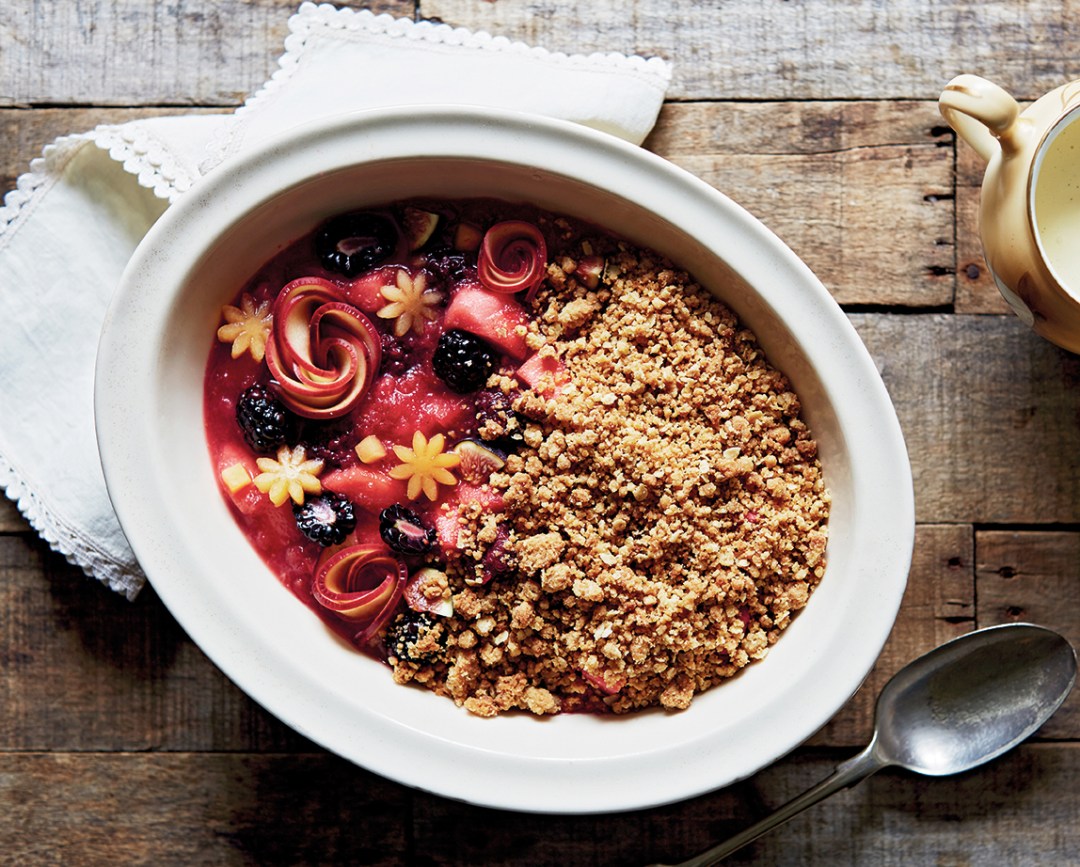 Sweet shortcrust pastry
Makes 465g
230g plain flour
125g unsalted butter, chilled and diced
50g icing (powdered) sugar
zest of ½ lemon, zest of ¼ orange or 1tsp vanilla bean paste (all optional)
1 egg yolk
2 tbsp milk
1 Add the flour and butter to a mixer fitted with a paddle attachment and gently beat until the mixture resembles fine breadcrumbs. Add the icing sugar and any flavourings, if using, and mix through.
2 Add the egg yolk and the milk and mix until the dough only just comes together (over working the dough will result in a tough pastry). As soon as the dough starts to come together, stop the machine, turn out onto a work surface and bring the pastry together with your hands to form a ball. Push down, flattening the dough out to a thickness of about 1cm – this will ease the rolling out process later on. Wrap in clingfilm and rest in the fridge for at least 1 hour, but preferably longer.
3 Use as directed in the recipe. This recipe makes enough pastry to line a 23cm round, 3cm deep loose-bottomed tart tin. There will be leftover pastry for small decorations, however if you are making a lattice pie or a fully covered pie, remember to make a double quantity. The amount you need depends on how intricate you become with your piecrust designs. Any leftover pastry can be wrapped in clingfilm and kept in the fridge for 3 days.
To make apple roses
Fill a large microwaveable bowl with cold water and squeeze in the juice of 1 lemon. Core and halve 4 apples, then cut each half vertically into slices about 1mm thick.
Use a mandolin if you have one but if not, try to slice the apples as finely as you can with a sharp knife. Submerge all of the cut apples slices in the acidulated water. Microwave the bowl of apples on full power for 5 minutes. This will soften the flesh so that slices can be shaped easily.
Test a slice by bending and rolling it between your fingers – if it cracks, microwave for a further 60 seconds or until the apple slices become soft and pliable. I have found that this time varies from apple to apple, so testing is vital. Drain off the water, submerge in cold acidulated water and drain again.
Lay 8 of the apple slices on a clean tea towel in a neat row, overlapping each slice as you do so. Start to roll one end of the row and gently manipulate them into a complete roll, to resemble a rose. Place the apple rose in the frangipane, skin facing up, and spread out to get the effect of petals blooming.
Repeat with the rest of the apples, preparing another batch of apple slices when needed. Continue until all of the frangipane layer has been covered with roses. Gaps can be filled with single slices tightly rolled or swirled in between – it really is a case of being as artistic as you wish.
Soulful Baker by Julie Jones (Jacqui Small, £20) is out on 21 September
Photograph: Lisa Linder