Laura's herbed green quinoa
Anna Jones borrows a tasty and healthy meat-free recipe from her sister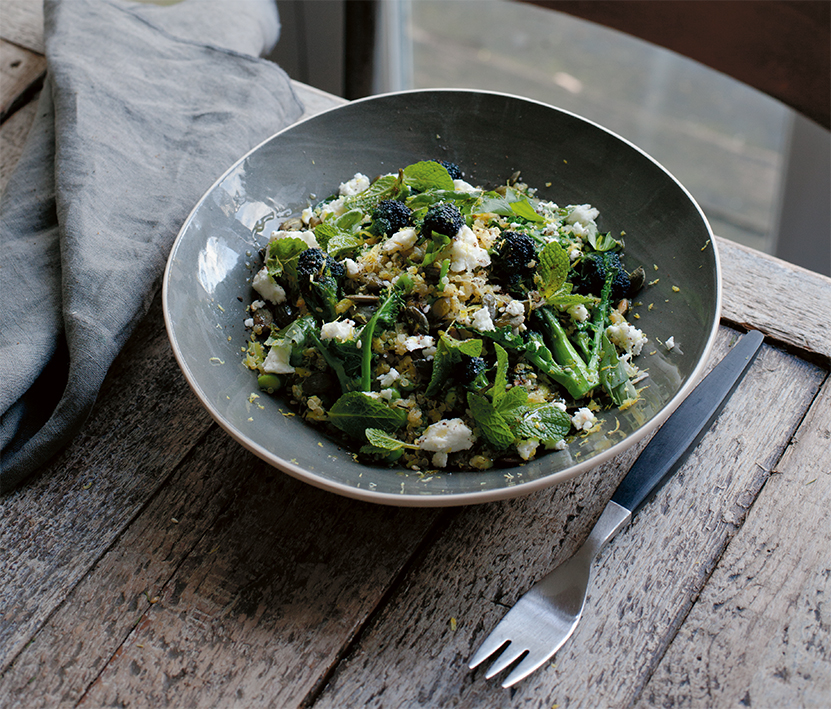 My beautiful sister, Laura, is the queen of feel-good food. She often cooks for our family and always manages to put on an incredible spread where every mouthful is as insanely tasty as it is healthy.
Laura makes this recipe all the time. It is in my opinion the best quinoa I have ever eaten, full of grassy green freshness and deeply toasted favours. So I've hijacked it.
Purple sprouting broccoli is my broccoli of choice for most dishes. I love its violet plumes, the fact that it's grown right here in the UK for most of the year, and that when the long winters draw in the flowers of this hardy little brassica are the only green thing above the ground. With heaps of vitamin C and fbre, among many other vitamins and minerals, these are amazing little stems.
If you can't get purple sprouting broccoli, or it's not in season, a small head of regular broccoli, or, to use its proper name, calabrese broccoli, will do. Be sure to use the stalk too – it can be finely sliced and blanched along with the florets. Be careful not to overcook broccoli – for me, a minute or two in boiling water or a steamer is more than enough to take the raw edge off while retaining its minerally character and vivid deep green colour.
Quinoa is often grouped with wholegrains, but it is actually the seed of a plant that is a relative of leafy green vegetables such as spinach and Swiss chard. It is an energy-rich food that delivers heaps of fibre and protein but very little fat and no gluten. The amino acids in quinoa make it a complete protein, so it's a really good choice for vegetarians and vegans. And it tastes so good too – fluffy and creamy, yet slightly crunchy. I love the stuff. Try the black and red quinoa too, it cooks in just the same way.
This quinoa salad works with pretty much all green veg – spinach, broad beans, edamame beans, kale, asparagus… the list goes on, just pick what's good and in season and swap as you like.
Serves 4
2 unwaxed lemons
250g quinoa
½ veg stock cube, or 1 teaspoon veg stock powder
A bunch of purple sprouting broccoli (about 250g), stalks chopped, florets left whole
A good handful of frozen peas extra virgin olive oil
1 leek, washed, trimmed and finely sliced
A small bunch of fresh basil, leaves picked and chopped
A small bunch of fresh mint, leaves picked and chopped
3 big handfuls of spinach, washed and shredded
2 tbsp toasted pumpkin seeds
2 tbsp toasted sesame seeds
Optional: 200g feta cheese
Sea salt and freshly ground black pepper
Method:
1. Cut 1 of the lemons in half and place both halves in a pan with the quinoa. Cover with 600ml of water and crumble in the stock cube, bring to the boil, then reduce the heat and simmer for about 15 minutes, until most of the water has been absorbed. Top up with more boiling water, if needed, as you go. Just before the quinoa has fully absorbed all the water and your 15 minutes are nearly up, lay the broccoli and peas directly on top of the quinoa, put a lid on and allow to steam for a couple of minutes.
2. While this is happening, get a frying pan on a medium heat, add a splash of olive oil and the sliced leek and cook slowly for 10 minutes or so, until soft and sweet.
3. You'll know when the quinoa is ready – it will still have a little bite, it will have turned lightly opaque and its curly grain will have been released from the seed. Drain off any excess water, then remove the lemon halves and use tongs to squeeze the lemon juice into the quinoa.
4. Put the quinoa, broccoli and peas into a bowl and add the chopped herbs, shredded spinach, toasted seeds and cooked leek. Squeeze over the juice of half of the second lemon, add a couple of tablespoons of olive oil and mix well. If you are using it, crumble over the feta cheese. Taste and season with salt and pepper, and add a little more lemon juice if needed.
This is a meal in its own right, but sometimes a little salted yoghurt and a wholemeal flatbread work well with it too, as do a few slices of avocado.
Recipe from A Modern Way To Eat by Anna Jones (Fourth Estate, £25)