Bon appétit! Feel-good festive feasting (without the fallout)
You can eat well, feel well and be well, while still enjoying your favourite foods this Christmas, writes integrative health coach Rosie Underwood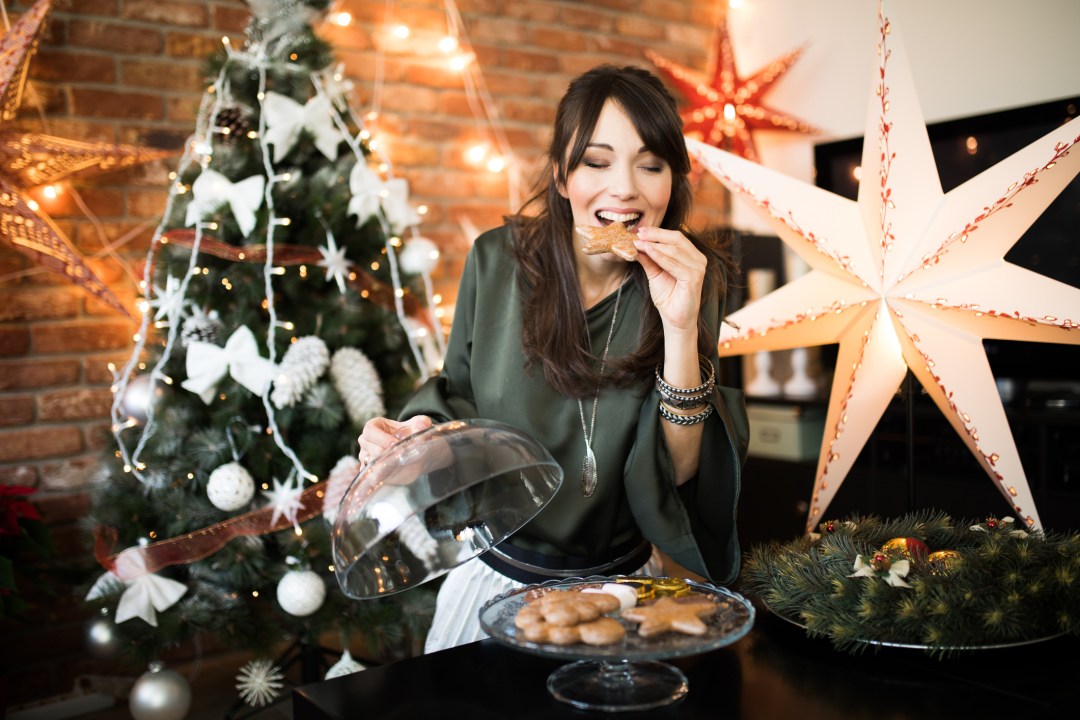 No matter where you live in the world or your religious beliefs, this time of year isn't just about tradition and family, it's also about celebrating with food – lots of it! End-of-year feasting has been popular for millennia and, as our larders creek under the weight of our festive favourites, it can seem nigh on impossible to stick to healthy habits. And on one hand, why should we? After all, it's a time to let ourselves off the hook, celebrate togetherness, take stock of the year that's been and enjoy time with loved ones without guilt over what we consume.
However, it doesn't take an expert to tell you that too much eating and drinking – and the impact that overindulgence has on your body – can bring fluctuations in emotions and shifts in behaviour that can exacerbate the pressures of the season.
But it is possible to feel good and nourish ourselves over the festive season without a side portion of setting tensions at boiling point along with the spuds and inducing a cheese coma at 4pm on 25 December.
If you want to embrace comfort, joy and peace to all men as well as yourself, setting realistic intentions before the holidays is a solid start. Try journalling about how you want to feel. When I think about it, I hope to feel happy, fulfilled and energised. I want to spend as much time as possible feeling vital and living in my most healthy body and mind with the people I love, eating the foods we enjoy. Our choices are going to be far more effective if we have a clear idea of our emotional and physical health goals, rather than a vague notion of how we might reach some unobtainable concept of food perfection.
Understand the impact of food on your emotions
If we begin our festivities by eating foods that spike our sugar levels, we're likely to be emotionally charged early, then feel sluggish and downbeat as the day progresses. The key is to realise that not everything we eat during our celebrations should be something to feel guilty about. And it's not just about what we eat – how and when we eat certain foods can affect how they make us feel. The combination of particular food groups and even the order in which we eat the ingredients in our meals can have a huge effect on blood-sugar levels.
'High blood-sugar levels can be toxic for the body, so it releases a surge of the hormone insulin. One of insulin's many functions is to tell the body to pack away excess energy for later use, storing it as fat, which is dangerous for healthy body function,' explains Tabitha Roth, a nutritional therapist.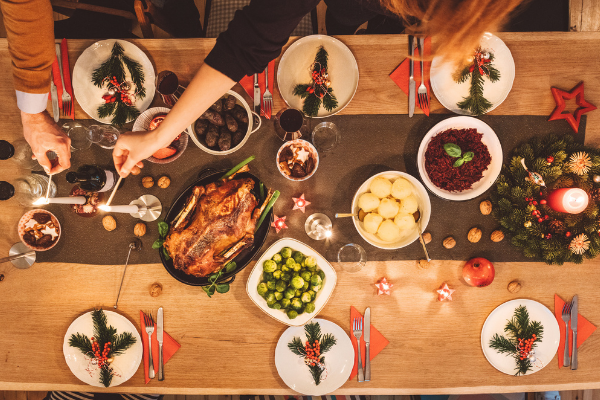 So what's the solution? On a meal-by-meal basis, start with protein or fibre and you'll enjoy your sweet treats a whole lot more. 'Having a few olives or crudités with hummus before tucking into mince pies or your selection box can significantly reduce their blood-sugar impact,' says Roth.
And what about party food? 'Reach for a handful of nuts before you go for a glass of bubbles,' Roth advises. On the protein and fibre front, on the big day, balance your main meal and treats by having a protein-rich breakfast, such as smoked salmon and scrambled eggs or avocado tempeh. This will yield less of a blood-sugar spike – and fewer spiky tempers!
Stick with tradition
The foods we usually eat at Christmas are healthy and sustainable. Turkey is a high-protein, low-fat meat and roast potatoes don't cause too much of a blood-sugar spike compared to other spuds, such as mash, due to their lower glycaemic index. The rest of the festive plate offers a chance to ramp up our minerals and antioxidants by way of humble, everyday veggies.
'Broccoli contains a smorgasbord of protective antioxidants, such as carotenoids and vitamin C,' says the nutritionist Tipper Lewis. 'Cabbage may not be as trendy as kale, but that doesn't mean we should neglect it. Its bitter taste stimulates our gastric juices, helping us digest our food better, while the sulphur in cabbage is beneficial for our skin and gut.'
Love them or hate them, Brussels sprouts are my best friends on Christmas Day because they help the liver with the detoxing process (bye-bye hangover), and the humble pea is a versatile powerhouse of nutrients, protein and minerals. Carrots are high in vitamin A, which is brilliant for eyes, skin and hair, and parsnips are full of immune-boosting vitamin C, which is also great for boosting the immune system. Consider the following when shopping for your main festive meal:
Use nature's glorious palette. Christmastime is resplendent with hues that brighten midwinter, and it's the colourful seasonal fruits and vegetables packed full of phytonutrients that you should embrace. 'Aim to incorporate a rainbow of colour, which will help you get a broad spectrum of nutrients, vitamins and minerals – and this is surprisingly easy at Christmas,' says Roth. 'These nutrients give traditional Christmas foods, such as carrots, beetroot, cranberries, carrots and oranges their colour, and they're all abundant at this time of year. The varying colours of our foods play different roles and bring different benefits, so eat as many as possible.'
Buy food that is locally produced. In general, the fresher the food, the more packed it is with nutrients. The minute a fruit or vegetable is picked or pulled from the earth, its plant cells begin to shrink and its nutrients diminish. Most of the produce you find at your local farmer's market or farm shop will have been picked within the past 24 hours, when at its most ripe and delicious, whereas supermarket produce is processed and grown with its shelf life as a priority. Ripe produce gives us the highest nutritional value, you'll be supporting a local business and reducing your carbon footprint. It's an all-round win!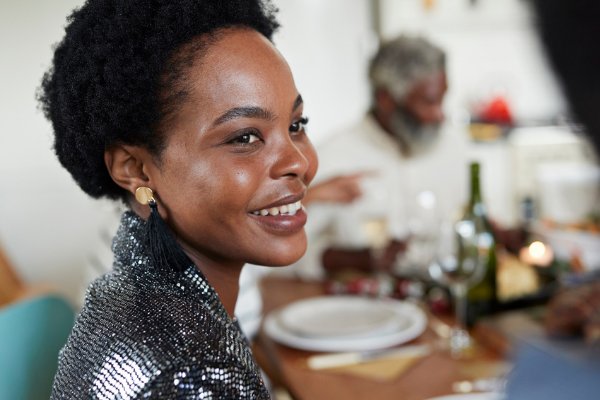 Give yourself permission to eat the food you want. We've had another year of restriction, so let's not make nourishing our bodies about limiting satisfaction. Sometimes the moment calls for a tasty treat, and that's fine. Who doesn't love the clink of a crystal glass, a hot mince pie or a crunchy biscuit? It's important not to restrict or ban any food – that type of thinking only makes us want it more. Relish the treats you choose, but eat them mindfully. Focus on the treat, instead of wolfing down handfuls of sweets mindlessly while watching your Christmas specials. Savour the pleasure and be in the moment.
Cook to protect the nutrients in your food. All vegetables are a great source of fibre, which is superb for gut health, but how we cook our vegetables makes a big difference to their nutritional value. 'To maximise nutrients and antioxidants, steam vegetables lightly and quickly,' says Lewis. 'The leftover water will have grabbed precious nutrients, so a top tip is to add it to your gravy as stock. To get the best out of potatoes, leave the skins on because many of the key nutrients are removed by peeling. It's also a good idea to have roast potatoes on Boxing Day – they contain tryptophan, an amino acid that helps soothe nerves if you're feeling stressed after the big day,' she says.
Enjoy a tipple if you like. We may associate Christmas with an excess of alcohol and aim to steer clear, but certain drinks are considered helpful to the system. 'In medieval times, a small drink containing aromatic herbs to stimulate and support digestion would have been enjoyed after the main meal,' explains Lewis. Is that a green light to a glass of warming mulled wine? 'Yes, if you make your own,' she says. 'Include ginger, star anise, cinnamon, orange peel, cardamom and cloves, and add milk thistle seeds for extra support.' I alternate every alcoholic drink with water, and start with a bottle of maple water, which helps metabolise alcohol. Try to finish your evening with a glass of coconut water for maximum hydration and, if you can't get hold of these special flavours, ensure you get a few glasses of the regular stuff to keep your body ticking over well.
Bon appétit! After the year we've had, I'll be diving (mindfully, of course) into my mother's roast with all the trimmings, but with my good intentions set, I won't need to 'undo' anything in January or punish myself for having a wonderfully festive time with those I love. Food is comfort, joy, tradition, celebration, nourishment, love, connection and so much more… Use it to give back to your body, to love yourself, energise and fuel yourself and all will be merry and bright. You deserve it.
Expert advice
With thanks to our experts for their advice and tips:
Tabitha Roth is a nutritional therapist at Bodyism. You can also find Tabitha here.
Tipper Lewis is a naturopath and nutritionist at Neal's Yard Remedies.
Photographs: Getty Images