What I learned from rowing the Atlantic
When Lebby Eyres successfully rowed 3,000 miles across the ocean she discovered some surprising truths about her everyday life.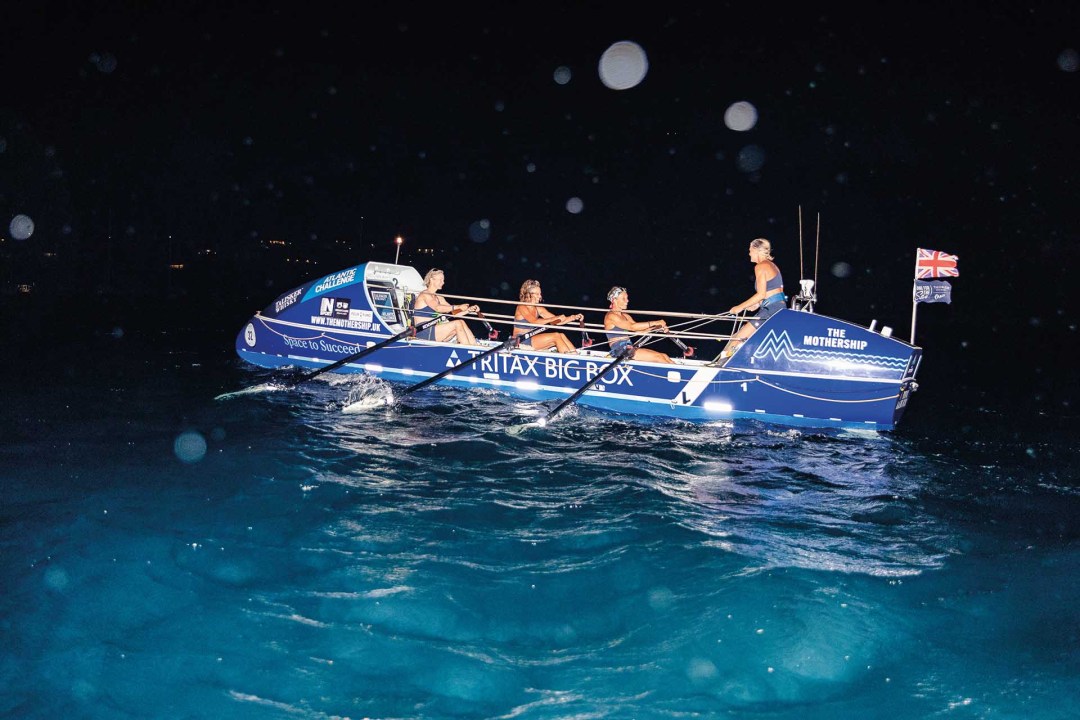 When Lebby Eyres successfully rowed 3,000 miles across the ocean she discovered some surprising truths about her everyday life.
As a working mum with two messy, demanding teenagers to deal with, my life is a constant round of chaos, cooking, and just about keeping on top of the chores. But last year I decided to add to my load by taking on a challenge only a few women have ever attempted – rowing 3,000 miles across the Atlantic.
Along with my crewmates – all working mums, with 11 kids between us, from the ages of four to 15 – I rowed from La Gomera in the Canary Islands to Antigua in the Caribbean. I'm now one of only 252 women in the world to have successfully rowed an ocean.
It took us 40 days and 40 nights, and many more hours of preparation. It was a tough and at times brutal journey, which pushed us to our limits.
In that time, we learned many lessons about life, yet the first, and most important of these, is how to open yourself up to the idea of adventure in the first place.
As women, we tend to put barriers in our way. We tell ourselves we're the lynchpin of family life, our partners won't be able to cope without us, or our kids will miss us too much. According to psychologist Catherine Hallissey, a parenting expert, cultural expectations play a significant role in limiting our horizons.
"The cultural narrative is that a good mother sacrifices everything and her adventure IS parenting," she says. "Adventures outside of the home are incompatible with our view of what a good mother is. We internalise that – even though men and women are born with an equal sense of adventure. We have to overcome those messages, and the idea that everything will fall apart without us."
Another issue is that when we become parents, Catherine says, "our evaluation of risk changes, and our ability to calibrate danger. We are tasked with keeping someone alive, so we see danger everywhere."
The hardest step is often the first one. When my friend called to offer me a seat in the boat in May last year – another woman having dropped out through injury – I was at home in the garden, drinking a glass of wine. The kids were upstairs, quietly immersed in social media. To suddenly be offered the chance to step outside this comfortable existence felt overwhelming. Would it be selfish to disrupt the sanctuary of family life and risk life and limb at sea? What if I didn't come back?
Amid my initial uncertainty, I found courage in a quote from Chay Blyth, the adventurer who dreamed up the challenge, and who successfully rowed across the Atlantic in 1966: "If you don't want risk or excitement, buy a bag of cotton and sit inside it."
Adventure psychologist Paula Reid, who has skied to the South Pole, says taking on a challenge helps us live more deeply. "Going on adventures takes you out of your normal comfort zone, and that helps us learn about our physical and mental capabilities, and strengths and weaknesses.
"Adventures push and pull us in ways we don't normally come across in our daily lives. There are more 'peak' experiences – lows as well as highs – and we are more open to receiving those experiences and learning from them. What we learn is resilience, wisdom and growth."
With any challenge, reaching the start line is half the battle – and we discovered it's not just determination that will get you there. Support from others is a key feature of being able to take on and complete an adventure. Acts of kindness – such as a crucial donation of a missing piece of kit, or the gift of a freeze-dried Christmas Dinner – were vital to us, and once out on the ocean, crewmates became a shoulder to lean on. A cup of tea after a terrifying night shift, your cabin mate tidying the tiny space you call home, someone washing your undies – these are the things that help you cope.
Catherine says, "We're a connection-seeking species. We want to feel someone can see us and our distress. It's like when someone calls out your name at Mile 22 in a marathon – that connection gives you the ability to push through. It's one of the core features of building resilience."
Benefitting from the kindness of others has made me resolve to be a better person now I've returned. Making my daughter's bed no longer feels like a chore, but a way to surprise her when she's home from school. Although this may not be completely altruistic, as Catherine explains, "We get a bigger hit of dopamine when we help others than when someone helps us!"
What we also realised after nearly six weeks at sea is how much can be achieved in a short time if you organise yourselves and work together as a team. Our speedy crossing would not have been possible without adherence to a strict timetable, division of labour, and mutual support. But how do we use those skills which get us across oceans, up mountains, or through marathons once we are back home?
"Don't box your achievement away and put it on a shelf," Paula says. "Keep it front of your mind so you can remind yourself what strengths and capabilities you have. Weave and fold into your home and work life some of those new ways of thinking, and new understanding.
"You've learned self-discipline and self-reliance: you know you can get things done and you can enforce that discipline process even when it doesn't feel natural. You've spent several weeks crammed in a small space with other people, so you have more understanding about how people tick. That means you can be collaborative and work with others, while also proving you are self-reliant and resilient. Adventurers make great employees, the only challenge for the employer is to stop them getting bored."
Ah, boredom – the feeling that drives us to do these crazy challenges in the first place. But let's not beat ourselves up about the desire to experience something new. Catherine says, "We all have a different threshold in terms of novelty-seeking and thrill-seeking. But we need to tune into what our actual threshold is as opposed to the culturally imposed threshold. There are huge benefits to routine, structure and predictability, but we need novelty in order to experience the full range of human emotion. Experiencing the unfamiliar will bring a sense of being alive. It takes us out of autopilot."
What's more, it <does> make it easier not to sweat the small stuff. Out there on the Atlantic we learned not to try to control the uncontrollable. Every day, the sea threw something different at us, from flying fish to 20ft waves, to broken water-makers. Now, when something minor threatens to derail my day, I take a deep breath and remember I've rowed an ocean.
"One of the pillars of resilience is looking back on when you solved problems in the past," Catherine explains. "You have a memory bank of when you have overcome a challenge. It helps you tell the difference between something that is really quite a small problem and something that is semi life-threatening. Going on an adventure helps your brain re-evaluate what is actually dangerous and risky."
If all this makes you feel like throwing caution to the wind and signing up for an expedition, remember that adventures look different for everyone. You don't have to row an ocean – doing something small like signing up for a park run might be a good first step. I loved lying back in the boat and drinking in the beauty of the night sky, and that feeling of awe I experienced gave me a sense of perspective about my place in the world. But that night sky is also above my own back garden, and yours. You may not have to go very far to take yourself out of the ordinary.
[boxout one]: Five ways to make more space for adventure
Remember adventure does not have to involve travel: it can be revisiting who you were when you were 20, before responsibility took over. See old friends, or stay in a hotel by yourself.
Plan a holiday or something to look forward to. "Even the anticipation of novelty can help us break out of the ordinary," says Catherine.
Finding a higher purpose to motivate you, like fundraising for a charity, helps give us the resilience to take on a challenge.
"Tiptoe into uncharted territory," says Paula. "You don't immediately have to row an ocean. Go wild swimming instead of heading to the leisure centre."
Find a role model who inspires you. "Women who do challenges can inspire other women, because they show us what is possible," says Paula.
READ MORE
What daily habits can improve your life?