I don't know what I want to do
Psychologies beauty and wellbeing director Eminé Ali Rushton decided to stay true to her passions and follow multiple career paths. The life lessons she learned along the way are invaluable for anyone wanting to have several strings to their career bow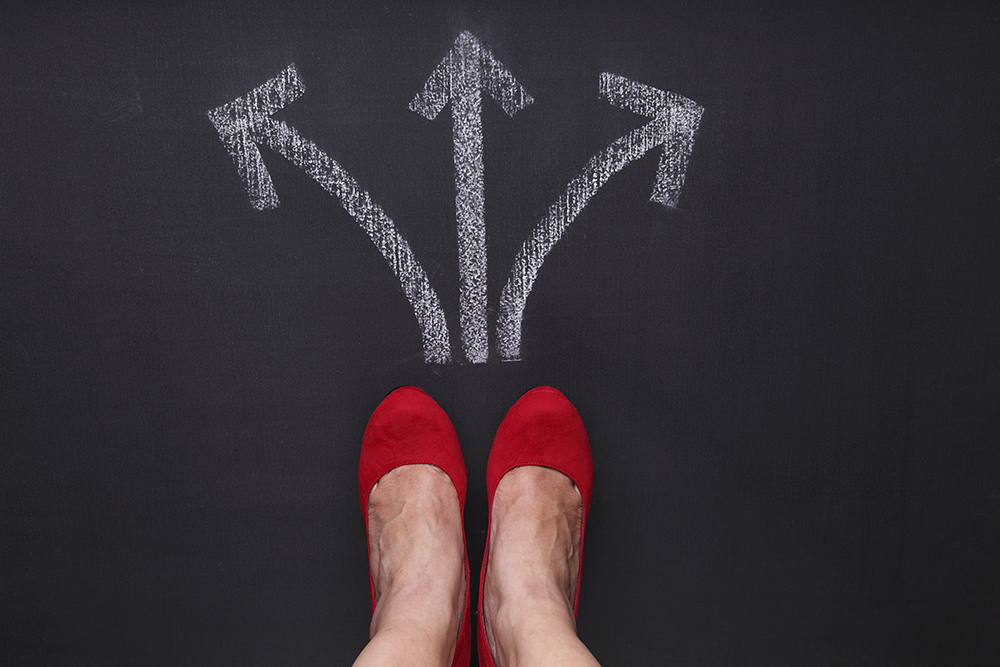 The economic downturn in 2008/9 hit me hard. The regular freelance writing work I'd always relied upon began to dry up and, for the first time in almost 10 years, I had a very real sense that my career as an editor and writer didn't have indefinite longevity. I'd enjoyed a stable, and sometimes lucrative, career as a freelance editor, but it was time to rethink things. I also knew I couldn't continue to work for magazines that wrote unendingly about celebrity diets and cellulite. I was bored and jaded (and feeling like a hypocrite).
Necessity sparked the process, but it also forced me to really think about what I wanted to spend the next 10 years doing. At the latter end of unpaid maternity leave with my first child, and with money thin on the ground, the idea of a staff role grew increasingly appealing. I knew I wouldn't earn as much, but I also knew I'd get security – sick pay, holiday, a pension, life insurance – which, as a new parent, mattered even more. A month later, I heard about a role at Psychologies. My husband and I had the big talk, and we realised he'd be much happier being at home with the children all the time. As I had more earning potential, it made financial sense, too. I got the job, negotiated a four-day week, and four years later, I still love it.
But, I've also had to diversify – partly due to economic necessity, but also for my need to pursue my other passion projects. I wanted to write a book. I wanted to train as a facialist. I wanted to open a health and wellbeing space/café with my husband, where people can enjoy amazing Ayurvedic food, world-class facials and massages, and incredible yoga. I had to be realistic. I had no capital, but I did have contacts, so I pitched my book idea, about decoding Ayurveda for busy modern life, to a leading literary agency, and they liked it. A year later they sold it to Watkins, a respected wellbeing publisher. I was now an editor and an author… and so began the 'portfolio career' – which is simply defined as doing several paid activities at once.
The implication is also that each job is the result of personal choice – Charlie Ball, at careers website Prospects, estimates only 20 per cent of today's portfolio careerists have more than one job because they have to.
The third string came to fruition while I was pregnant with my second child. I'd toyed with the idea of becoming a facialist for more than five years. II woke up one morning, with a very strong 'it's now or never' feeling – knowing that once the new baby arrived I wouldn't be able to train. So I enrolled on an intensive Advanced Facial course and spent the next 12 weekends studying, practising and ultimately passing my exams (with distinction, grin!). It was gruelling but I loved it, and knew I'd done the right thing.
Plaiting the various threads together isn't easy, but I've learned a huge amount in the last two years. I've also seen friends walk similar paths – an editor who's also an illustrator, a PR director who's also a yoga teacher and homeopath. If it's something you're interested in pursuing, these five tips will help you weigh up the passionate pros and the realistic cons, so you can make a wholly informed decision.
1. Are you worth it?
Elle Luna, author of The Crossroads Of Should And Must: Find and Follow Your Passion (Workman, £11.99), says that the first step is to ask yourself the following:
Do I love it?
Am I very good at it?
Will someone pay me to do it?
If you can only answer 'yes' to the first question but not, in all honesty, the second, this is probably a hobby that's worth keeping just for your own pleasure. If you answer 'yes' to the first two questions, move on to point 2, below. And if you can honestly answer 'yes' to all three, you should certainly consider taking the plunge.
2. Don't quit the day job (just yet)
Without my 'day job' at Psychologies I wouldn't have had the income or contacts to branch out further. I didn't want to risk losing money by renting a location from which to offer my facials. So I began in the smallest way possible – inviting close friends and family into my home, where I inexpensively converted my loft into a treatment room. I scoured eBay and Gumtree, where I found a salon selling perfect equipment at a fraction of the retail price. Several months later, during which time I also apprenticed for half a day every weekend to improve my skills, word of mouth began to spread.
I got referrals from friends, and friends of friends, then I designed my website (free with WordPress) which brought in new local clients.
Life coach and co-author of Find Your Dream Job, Carole Ann Rice, is a believer in small steps, too: 'If you really want to make a living from your passion, invest in a marketing course, set up social media channels, begin networking and devote as much time to being commercial and entrepreneurial as you devote to your hobby. And if you simply want to explore a second career, but do not want to lose the security of a salary, start small. A self-designed website or free blog, a stall at the school fair or a craft market, or leaving fliers for your service in a local café or shop, could get the ball rolling in a way that allows you to fit things neatly around your main work commitments,' she says. 'Remember, with your day job secure, there's no rush to hit the big time and you have the privilege of an income to fund you as you build your business.'
3. Don't try to do it all
To juggle different pursuits, you need to be strict with yourself and your time. The facialist/editor strings of my bow are what cause me the biggest time-management issues. Clients need to be able to book in advance, but I rarely know where I'll be from one month to the next! After six months of trial and error, I decided to cap my client list at 10, which allows me to see my loyal ladies in just two days a month. I have a waiting list, so if a client cancels, I'm able to see a new client in that slot. If I took on more regular clients work would take over, negating the point of having a portfolio career in the first place: flexibility.
Psychologies editor, Suzy Greaves, is also a leading life coach. We both work four-day weeks, which has been crucial in allowing us the time to manage successful portfolio careers. Suzy's 'day off' is spent with her life-coaching clients. Critical to Suzy's success though, is her Virtual Assistant (VA), who takes care of her administrative tasks. Just one day a week is enough to take the paperwork off Suzy's desk, and leave her better able to focus on being creative. Suzy uses assistantguru.co.uk, while I rate timeetc.co.uk.
4. Reach out to your circle
When I decided to write a book and build a supporting wellbeing brand and website (balanceplan.co.uk), I commissioned a big branding agency and was prepared to use all my savings. Then my car packed up and I had to buy another one. Goodbye savings, hello bank loan. I couldn't risk spending any more money, so I had to walk away from the agency. After a chat with my mum and dad, I realised the answer was right in front of me – my brother's girlfriend, a tech and e-commerce whizz, knew lots of freelance designers. Asking for help saved me a lot of money and brought me the best branding I could've wished for.
I realised that my circle of friends and family had dozens of skills I was seeking to pay a lot of money for, and all I needed to do was ask for help.
So ponder the help you may be able to garner from your close circle, but always value the friendship most of all. Acupuncturist and aromatherapist Annee de Mamiel once said to me, 'Asking someone for help pays them a kindness, that is then paid back to you.' I've remembered this advice every time I've reached out to friends who have helped me make my portfolio career a success, and every time those same friends have come back to me to seek my help, too.
5. Edit yourself
At some point you may find the part-time pursuits start to take over. You'll need to create a contingency plan for this. Sitting down with a journal once a week – we love the Daily Greatness Business Planner (Dreaming Room, £34.95) – will help you keep on top of things. Ask yourself: are you still satisfied with all the 'strings'? Could you lose one element and feel happier and still be financially secure? Are you working harder than ever and have lost sight of why you're doing this?
You need to ensure you're creating time to 'review' within your portfolio career, and make it as crucial as any other part of your working day. It will allow you to recognise what, if anything, needs to change.
What if I don't know what I want to do?
Try out lots of different things. Any keen interest, hobby or passion could lead to a potential business or career. Start with a taster course (try floodlight.co.uk), sign up for open days, seminars, talks, one-off workshops and talk to people who have found their passion. If you feel really stuck, consider hiring a life coach or contacting a business mentor (see below.
FURTHER READING:
Start Your Dream Business by Sarah Wade & Carol Ann Rice (Marshall Cavendish, £12.99)
Finding Your Own North Star by Martha Beck (Piatkus, £9.99)
The 4-Hour Work Week by Tim Ferris (Vermilion, £12.99)
GO ONLINE:
Photograph: iStock