Dog-tastic stays
Hanging out with your dog is good for your mental health. Our editor Suzy Greaves and Oscar the dog try out a holiday cottage in Devon, which not only tolerates dogs but welcomes them
Recent research has shown that it only takes between 15 and 30 minutes with your dog to feel more calm. Playing with your dog also raises your brain's levels of dopamine and serotonin, which are neurotransmitters that are associated with pleasure and tranquility.
We know this all too well at Psychologies as Oscar, our office dog is with us every day in the office and lights up our day with his antics.
Which is great for our working week, but not so great when Oscar and I want to go on holiday. Trying to find lovely accommodation (Oscar is a bit of a diva!), which welcomes dogs, has always been a struggle. Until now…
Dog-friendly cottages
Premier Cottages are actively promoting a new collection of dog-friendly cottages, which truly welcome dogs rather than just tolerates them. They offer all the essential kit they need, as well as dog crates, beds, blankets, dog towels and water-bowls.
We were delighted to be invited to stay at the Tractor Barn part of the Devon Country Barns, in the charming Thrushell valley near Launceston, Devon. Part of five luxury self-catering holiday cottages, each has its own private hot tub, which overlooks the valley, and it feels like you are entering your very own oasis of calm. Especially after you climb into the hot tub with a view after a four-hour drive – utter bliss.
The barns sit within 12 acres of land with river frontage and are within easy reach of the North Cornwall Coast, Bodmin and Dartmoor so, ideal for a trip to the beach or a walk with the dogs.
The owners have six dogs themselves so know exactly what is needed to keep them happy. Dogs are welcome in all of the barns, but there are also kennels on site if you want to visit somewhere like the Eden Project in Cornwall, 45 minutes away, that doesn't welcome dogs.
The Tractor Barn, which sleeps six, is high-end luxury with fantastic views over the river valley. I could quite easily have just stayed indoors for the whole weekend admiring the view or sleeping in my four-poster bed (with duvets so light, it feels like you're sleeping in a cloud). With a luxury kitchen more well equipped than the one we have at home and huge bathrooms, Oscar and I wanted to move in.
Local walks
However Oscar wouldn't allow me to sit still for long and encouraged me to go on several dog walks. We shot up to the North Devon coast to visit Barnstaple on the River Taw. This ancient town was granted its charter in 930 AD by King Aethelstan – the grandson of Alfred the Great. It lies to the north of Dartmoor and to the west of the beautiful Exmoor National Park.
We found ourselves walking on the two mile beach Westward Ho, between Hartland Point to the south and the Saunton Sands to the north, on an expansive, long and wide sandy beach, known as Golden Bay.
The following day we tried The Tarka Trail, one of the country's longest continuous traffic-free walking and cycling paths, which forms part of the Devon Coast to Coast Cycle Route. It's named after the journey of Tarka the Otter in the classic tale written by Henry Williamson.
Ideal dog-friendly base
With Tractor Barn as our base, we were spoilt for choice of the various places we could have visited. With the dramatic, bleak landscape of Dartmoor and Exmoor, it creates the perfect backdrop for a winter escape, for me to connect with nature and Oscar to chase a few rabbits.
Starlit evenings with a glass of wine in the hot-tub make this the ultimate, truly dog-tastic, stay.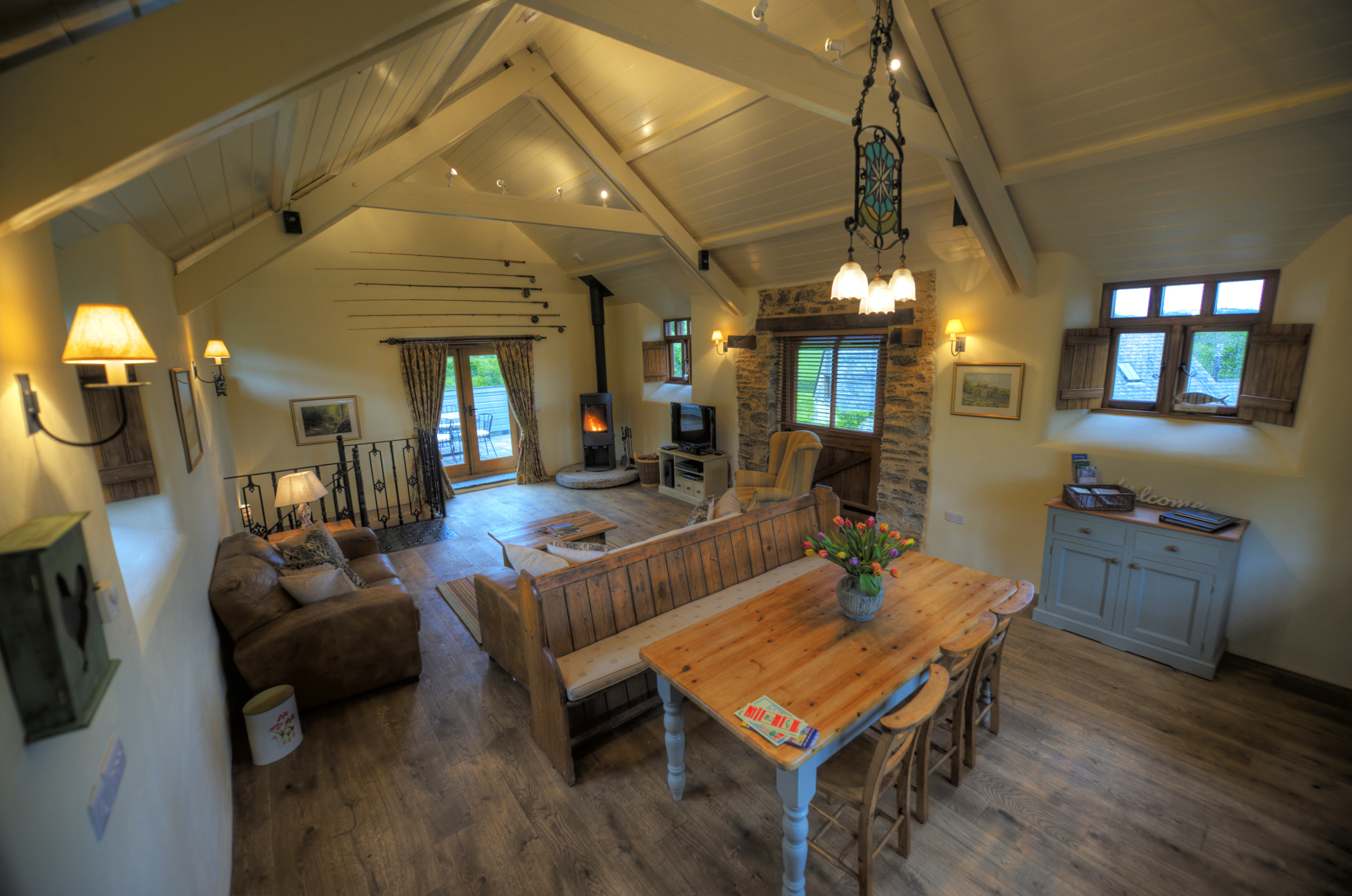 Find out more:
Premier Cottages' collection features almost 1,000 four and five-star self-catering cottages across the UK. Properties range from small, romantic boltholes to large family-friendly country estates. The collection includes pet-friendly accommodation. It also offers the widest range of accessible properties in the UK and many properties have onsite facilities like swimming pools, gyms, spas, indoor games rooms and children's play areas.
A week's stay in Devon Country Barn's Tractor Barn for six guests starts from £985 and a two-night weekend break starts from £550. For more information visit www.premiercottages.co.uk or call the owner on 07500 702248.