Cleansing your skin – 10 ways, 5 minutes
Cleansing your skin should never feel like a chore. Eminé Ali Rushton shows how to repurpose your precious time with these pleasurable holistic tips, designed to boost both your skin and emotional health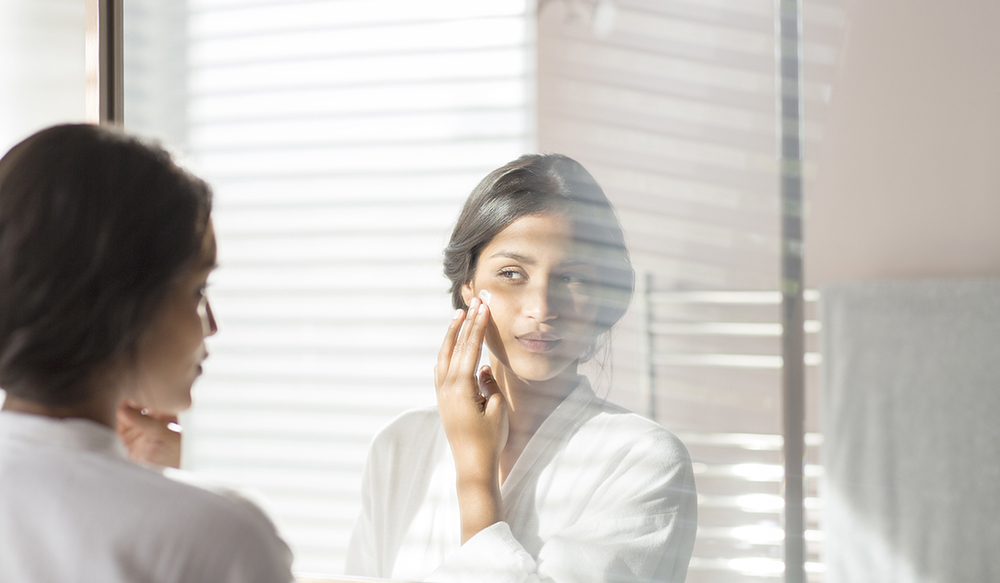 These 10 suggestions are not meant to be used in tandem. Simply dip into the list and pluck one thing, once a day. There's no order, no prescription. But each will do two things: make you feel better, and make your skin look better, too.
CRÈME de la CLEANSE
Your cleanser – be it cream, foam, oil or milk – is a wonderful massage medium. Make it work harder for you, says facialist Emma Hardie. 'Once your cleanser is massaged in, take a warm damp microfibre cloth to remove all traces of cleanser in long downward strokes – not circles. This linear method will help to drain away toxins and fluids held in the deeper layers of the skin, helping to give a toned, luminous look and detoxify and brighten.' Emma Hardie Amazing Face Dual Action Professional Cleansing Cloths, £14 for three.
EYE OPENER
'Before applying serum or cream, massage for three minutes around the eye area,' says facialist Sarah Chapman. 'Lightly pinch under the eye to stimulate blood flow, apply light tapping and pulsing to pressure points around the eye and lightly drum your finger underneath, which will help stimulate drainage.'
ESSENTIAL OILS
Fill your sink with hot water and add the following essential oils, depending on your skin's needs (two drops of each): geranium, camomile and lavender to soothe sensitive skin and de-stress the mind; rose absolute and frankincense to hydrate skin and boost optimism; eucalyptus and fragonia to heal blemished skin and clear the head; and roman camomile and lavender to calm redness and encourage sleep.
SAY ALOE
'A healthy liver and good circulation are essential for glowing skin. A couple of tablespoons of a good-quality organic aloe vera juice, made from the inner gel of the whole plant, is a great liver cleanser. You can also apply Pukka Aloe Vera Juice (£11.95/500ml), topically to soothe sore or sensitive skin,' says Sebastian Pole, co-founder and herbal director of Pukka Herbs.
REBALANCE SKIN'S pH
When healthy, the skin's acid mantle is just that, acidic, with an optimal pH of 5.5. One of the easiest ways to maintain skin's pH (and health) is by sweeping an acid-based toner over the face after cleansing. I love Grown Alchemist Balancing Toner, £22, and Sarah Chapman Liquid Facial Resurfacer, £36 – the former is gentle and soothing, the latter is exfoliating and refining.
PRO TREATMENT
The right gadget can optimise your routine and improve your skin's condition, while also reducing the time it takes to cleanse. I love the Foreo Luna Mini, £99 – it's entirely non-abrasive, and the vibrational action feels wonderful – I can sense the tension melting away when I use it on my forehead and around my jaw. Oh, and one charge lasts for seven months – a dream for someone like me who always forgets to charge her sonic toothbrush.
OUT OF PUFF
'Pour a small amount of water into a small balloon, secure, then put in the freezer. Once frozen, wrap in your usual muslin cloth or a flannel and, once the cold has penetrated the cloth, use it to stroke upward over the face. This mini treatment will de-puff and bring an instant rosy glow – I swear by it,' says Chapman. Once you're finished, pop it back in the freezer for future use.
HIGH BROW
The muscle that sits between our brows – where vertical frown lines tend to be most prominent – is called the corrugator due to its structure. This accordion-like muscle can hold a surprising amount of tension, so take five minutes to pinch along the length of your eyebrows, rolling the skin upward with your thumbs and forefingers, before releasing. If it's a tad painful, that's a good thing – you have obviously hit tension and should stay in that area, kneading and rolling until it eases – similar to working out a knot in the shoulders during a massage.
FRESH BREATH
The simplest way to boost your cleansing routine is to breathe deeply throughout – try inhaling through your nose up to the count of six while you massage cleanser onto your face, then exhaling out to the count of six while you rinse your skin. Repeat with each step of your routine – in and out breaths, as you apply serum, cream or oil. Keep an eye out for products with aromatherapeutic benefits that will also boost your relaxation levels while you inhale – I love Aurelia Probiotic Skincare Cell Repair Night Oil, £45, and De Mamiel Restorative Cleansing Balm, £37.
YOU SHOULD COCO
Keep a small pot of organic virgin coconut oil in your bathroom cabinet – it's a great make-up remover, massage medium (ideal for the moves above, in lieu of a cleanser), and if swirled around the mouth and teeth, it also helps to keep gums healthy (solid at room temperature, it turns to liquid in your mouth). I like to massage through the scalp and hair to moisturise – leave in overnight and shampoo out during your morning shower.
Photograph: Imagesource