Be you. Be seen. Be heard.
Learn to recognise your own needs as a business owner as well as the needs of those alongside you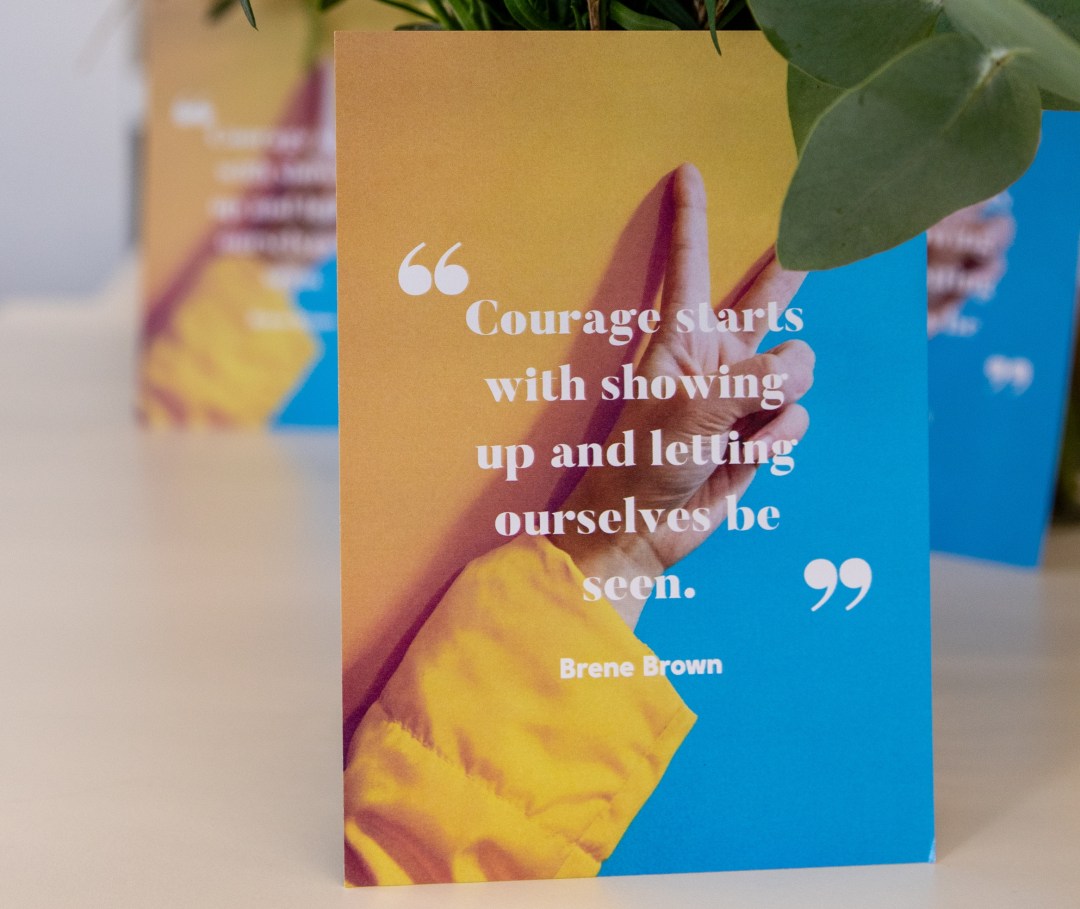 Inspired by Emily Maitlis (because let's face it, aren't we all?!) we're going to cut straight to the chase.
The dominant entrepreneurial narrative provides cliched images of businesses being purely driven by profit. Where if can't claim a 90 hour week, with two funding rounds under your belt well then you're just not doing it right. And let's be really honest – the dominant narrative reflects a dominant group – white, straight, able-bodied entrepreneurs.
When a narrative for an entire career path doesn't look, sound or behave like you, considering it – let alone stepping onto it – is daunting.
And if when you make that step you're faced with an eco-system of support (investment opportunities, accelerator programmes, networking and events) which has been designed with a set of needs, challenges & responsibilities that are different to yours, well then you can feel like you're going to have to tread this path alone.
In her brilliant book Invisible Women, Caroline Criado Perez describes that so often the thinking that sits behind products, services and entire ecosystems are not deliberately ignorant of gender in a malicious or exclusionary way; rather those different needs are just not seen at all. It's as though they don't exist.
But they do exist. 6 in 10 women cite confidence as their biggest challenge when starting their businesses. Female entrepreneurs – on average – have a different risk profile to male entrepreneurs. Women are less likely than men to believe they have the required entrepreneurial skills to start a business. And women are less likely than men to know another entrepreneur or have strong female role models. Which when you think about it is hardly surprising given the dominant narrative.
So guess what? That's a different set of needs. And when we recognise how beautifully diverse those needs are we start to see the stories and experiences of women. Women of colour. Women from the LGBTQ community. Differently abled women. Straight women. White women. And as every successful entrepreneur knows – the more we see those experiences and needs the more able we are to design products, services and ecosystems that serve the many not just the few.
So what next?
We could wait for the existing ecosystem to change. But why wait – we've got business to build! We love Stefanie Sword-Williams 'f*ck being humble' call to action and believe it can act as fuel for recognising your own needs as a business owner as well as the needs of those alongside you. But how?
Seek out stories
They may seem harder to find but scratch beneath the surface and you'll discover a beautiful collective of disruptors and change-makers. Women boldly designing their own career paths by building their own businesses. Women like Chernise Neo who with her Coventry-based artisan bakery – Proof Bakery, is creating good jobs for refugees. Or Annie McGee who set up her business Northern Bird Designs as a way to flexibly manage the pain of Endometriosis. Or Mo Ford, setting up her side-hustle, Live & Breathe Coaching having moved to a new City so that she could be with her wife – the woman she loves.
Real women. Real Stories. Real Impact.
Seek out stories. Share your own. And champion each others.
Show up as you
There's great freedom in showing up as you are. Confidently able to say 'this is who I am, what I need, what I have to offer'. The most complementary feedback we've received from our Community has been:
"I feel I can leave my armour at the door. I don't have to show up in a particular way. I can just be me".
Showing up as your authentic self – owning your story, sharing your fears and your aspirations – creates the opportunity for others to connect with you. And allows you to inspire others to do the same.
Find spaces where no-one's trying to turn you into the next Alan Sugar but instead celebrates who you are. Where you are challenged, motivated and inspired to build the business you dare to dream about.
Be clear on what you need
No-one shows up to their business knowing all they need to know. There will be days when you put your knowledge & experience to great use and days when you feel you don't know where to start. And that the support you need has been designed in such a way to feel inaccessible to you. Being clear on what you need (even if the existing ecosystem of support doesn't seem to provide it yet) is the first step to being able to ask for what you need. And when we ask for what we need, we guarantee we're more likely to find it. Feel empowered to use your voice for what you need. And keep asking until you find the people who will listen.
To learn more about Chernise, Annie & Mo's stories why not read we are radikl's Kitchen Table Interviews.
Claire Dunn & Sarah King are co-founders of we are radikl. With the women they serve and via an online community and eLearning resources they're on a mission to disrupt the ecosystem of support that is available for female founders.
Photo: Karina Lyburn