Travel: India and the rise of the spirit spa
Paul Rushton travels to India for a tour of its finest healing destinations – where the spirit takes precedence over the body, and you are rejuvenated both inside and out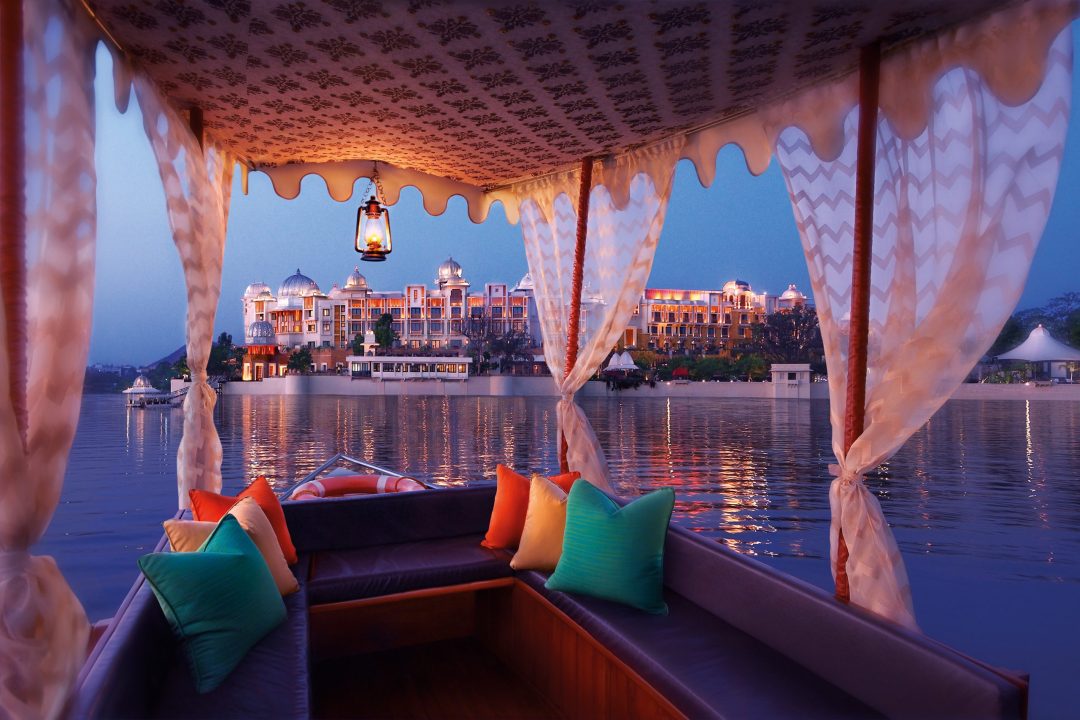 Travelling in India reveals the true meaning of the spirit; in the kind resilience in people, their ability to be, and the frenetic thrum of energy that is life itself. Natural, organic living is old news. Ancient threads of learning have flowed through the generations for more than 5,000 years. Such learning bonds the inspired founders of the three distinctive properties I visited.
Indian majesty meets cultural cures at The Leela Palace, Udaipur
Captain CP Krishnan Nair, founder of the Leela hotels, was often to be seen gardening in their grounds. He made his fortune in the textile industry with his Bleeding Madras fabric, which used natural dyes that were guaranteed to bleed when washed. He expertly pitched unique character against the uniformity of mass production, and his spirit captured the imagination of the western fashion houses.
His hospitality is in this same spirit. The idea that luxury must be globally homogenous is exploded by his uniquely Indian, world class hotels and spas. He believed India could compete with the rest of the world on its own terms: his mantra was Atithi Devo Bhava – 'Guest is God'.
There is a quiet confidence in the artisan furniture, art and flora; the sweeping, open-arched windows and the tented spa that evoke tribal Mughal heritage; symmetries that summon the brocaded palaces of shahs and maharajas. The language is history and artistry. Then there's the almost unimaginably beautiful setting on the banks of Lake Pichola. Arriving by boat in the low-lit dark, flanked by the Aravalli Mountains and the City Palace, my spirit is fired.
Leela has collaborated with ESPA to offer spa treatments with a nod to Ayurveda. Abhyanga massage and natural oils offer traditional Indian healing for the luxury traveller. Hot stone and aromatherapy treatments draw further on things gifted to us by nature.
I move easily between morning yoga and meditation in the Guava Garden, a sandalwood-soaked pooja at the ancient Shiva temple and a sunset boat cruise. There is Rajasthani folk dancing on the lakeside water fountain and tantalising thali dinners on the water's edge. I visit ancient temples among the lotus fields and enticing old-town streets, humming with charm. All these things are lit by the warmth and familiarity of my hosts.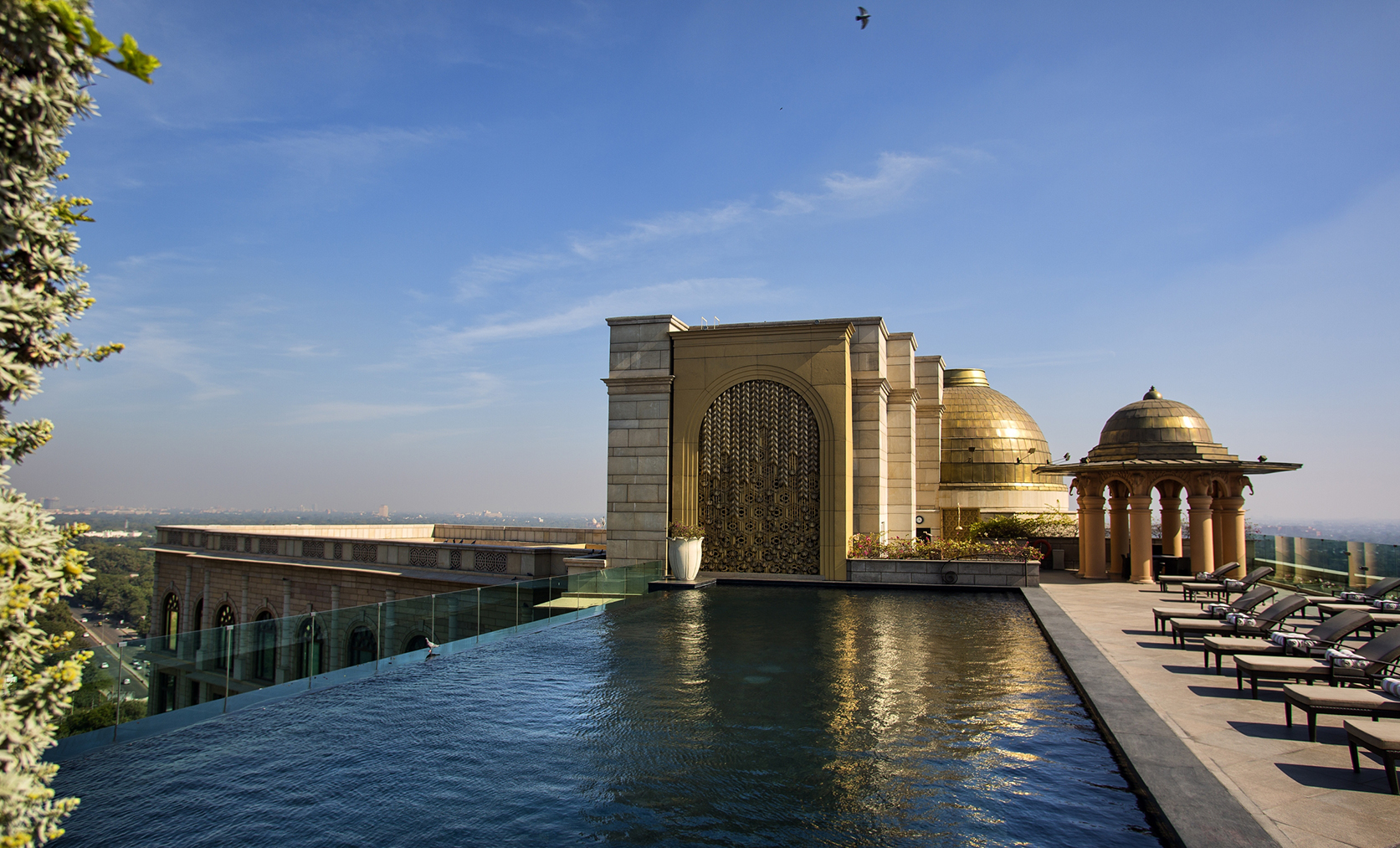 In the restaurant, there is an excellent global menu, but the Indian food here is something else; delicious, sourced with care and offered with sincerity.
It is this foundation that makes The Leela Palace special; the traditional mortar, the green initiatives and the glimpses of Indian art and history, all delivered with grace. Hospitality can often seem stilted in the 'hospitality industry' – here it is as natural as can be.
The Leela Palace New Delhi offers rates in a Deluxe Room from £111 per night, including breakfast. The Leela Palace Udaipur offers Spa and Spiritual Journeys from £1,011 per person for a three-day journey, to include the wellness programme and accommodation in a Lake View Room with breakfast. For further information and reservations, visit theleela.com or call 0800 026 1111. British Airways operates a service from London Heathrow to Delhi with lead-in return fares from £432. To book, or for information, visit ba.com/delhi or call 0344 493 0787.
Lightness of touch and superlative treatments at Vana, Malsi Estate, Dehradun
Next, I travel to Dehradun, nestled among the Himalayan foothills, the rice paddies and the green opulence of its natural landscape. My destination is Vana, and a healing, holistic retreat. Vana, like its inspiring founder, Veer Singh, boasts far-reaching vision when it comes to wellness.
Like Veer Singh, Vana is multilingual. It speaks travel, art, music and dance. It speaks of Singh's experience in organic farming and the pared-down cool of London. He has furnished his retreat with both the prescribed spiritual massage and a keen cutting edge.
Sharp, grey, concrete-block buildings become earth or stone against the sal forests and gardens. Natural light, bamboo and mango wood meet rusting metals and moving water, ancient flute raags and beautiful, surprising music.
The experience is personalised. My nature, preferences and objectives are carefully assessed and administered to holistically; in water and in the yogasala, in the restaurants, consultation rooms; through music, scent and nature.
Treatments drawn from Ayurveda, yoga, Tibetan and Chinese healing, are combined with soothing Ai Chi (water-based strengthening and relaxation), mindful chai tea, and Watsu (aquatic bodywork) in a forest-green pool. Chanted mantras and home-prepared oils and herbs contribute to the fusing of traditional, modern and natural.
Ayurvedic treatments are true to traditional processes and remedies. Yoga sessions are invigorating. A trip to witness joyous Hindu music, chanting and ceremony by the Ganges in Rishikesh is the greatest treatment.
My meals are imaginative plates of texture and flavour; organic, seasonal and fresh. Vana understands food, and the satisfaction is the fullness of the experience. It's tailored to my dosha, desires and disposition. Beaten copper and earthen cups, like our white kurta pyjamas and my balcony pressed against the forest, wrap our medicine in elemental pleasure.
My healing is seamlessly handled, like the restaurant verandas that mist us with fine water from above as we sit down to dinner. It is the generous and expert curating of this gallery of elements that secures Vana's importance. It is truly the new, drawn from the ancient and the earth.
Healing Holidays (healingholidays.co.uk, 020 7843 3597) can arrange a five-night wellness programme at Vana from £1,595 per person, sharing a room. This includes flights, transfers, accommodation in a Garden/Forest Room, full board, wellness consultations, complimentary daily classes and all daily treatments according to the personalised programme.
Medical brilliance meets healing prowess at Soukya, Bangalore
Finally, I go to the southern garden city of Bangalore and a 30-acre, organic plantation, where Dr Issac Mathai and his wife Suja Issac have raised rural Kerala from the suburbs. Soukya teems with healing herbs, barks and spices, dairy stock, vegetable gardens, butterflies and liquid birdsong.
Dr Mathai is a world leader in integrated health – the drawing together of traditional disciplines with days framed by nature and wholesome routine.
The treatments are not pampering, but authentic and purposeful. The plantation and gardens provide the herbs, oils and poultices. Ailments are treated holistically through Ayurveda, naturopathy and homeopathy.
Programmes are designed with the focus on individual needs
and nature; a rounded picture provides treatment of the whole person over the immediate, most worrying symptom.
Of course, this level of attentiveness and dedication is expensive, but Soukya also runs centres in India for those without money, yet with urgent need of medicine.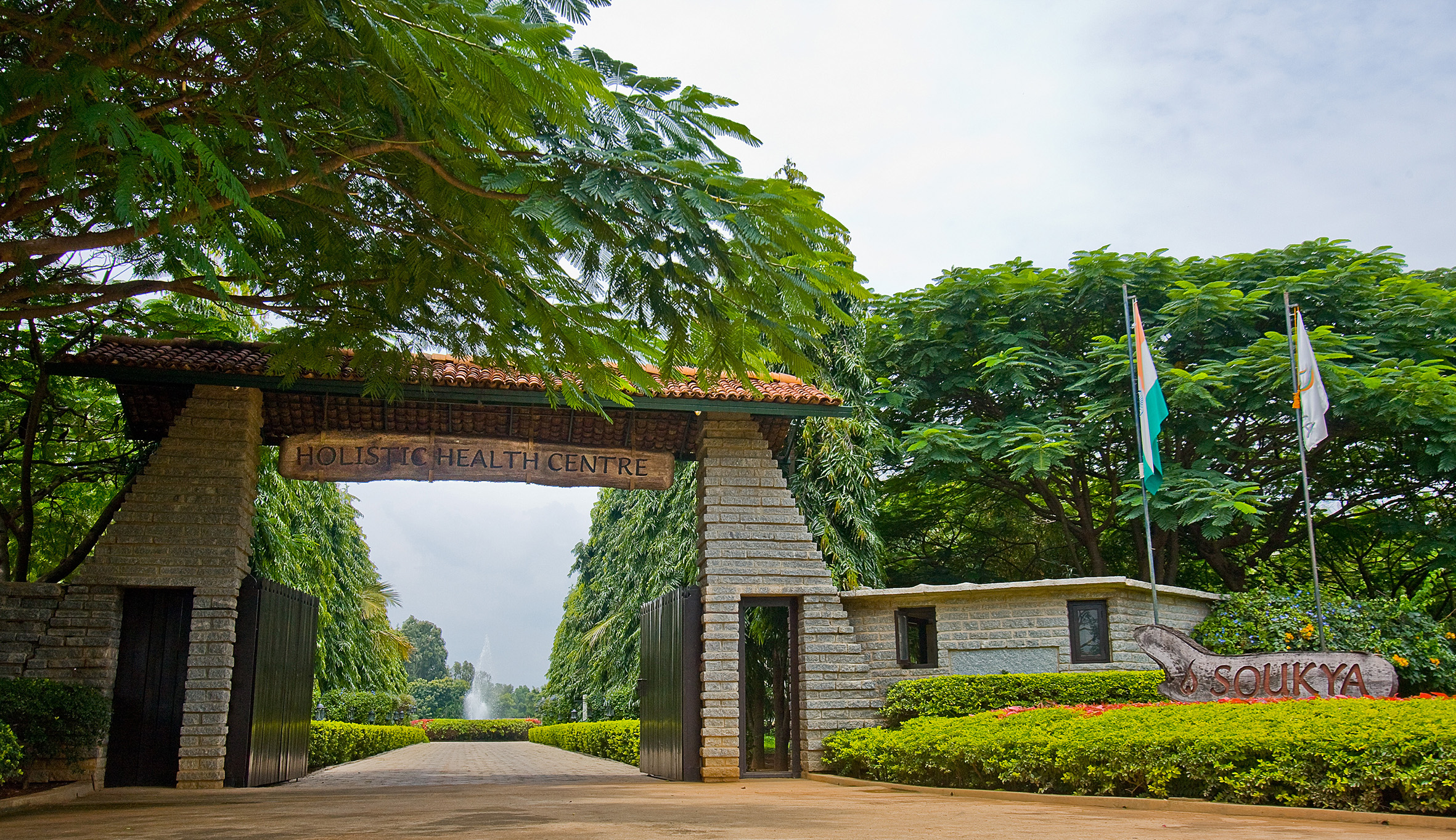 Morning yoga is a gentle awakening; we stretch, we greet the sun. In the evening, we breathe and slow. We tour the medicinal gardens. We taste the amla fruit straight from the trees. Meals are slow, mindful and delicious. The rooms are beautiful and spacious, and the outdoor showers bring further peace and natural communion.
The Sanskrit word Soukhyam refers to wellbeing through mind, body and spirit. It is 5,000-year-old thinking that has lost no relevance and it is language that is closest to birdsong. I have a renewed appreciation of true hospitality and new benchmarks, both for the healing retreat and for modern modes of medicine. Most of all, resounding around
the ancient foothills, lakes and leafy palms, I have the understanding that none of these is anything new.
A seven-day Swaad programme at Soukya costs from £2,895 per person, including flights, transfers, seven nights' Deluxe Room accommodation, vegetarian full board, an initial health evaluation, daily group yoga and
all treatments according to the Swaad programme, healingholidays.co.uk.