Yoga, luxury, meditation? Here's our low down on the best retreats…
Do you need physical invigoration, emotional bolstering, creative inspiration or spiritual comfort? Caroline Sylger Jones shares a collection of health breaks with wide-ranging appeal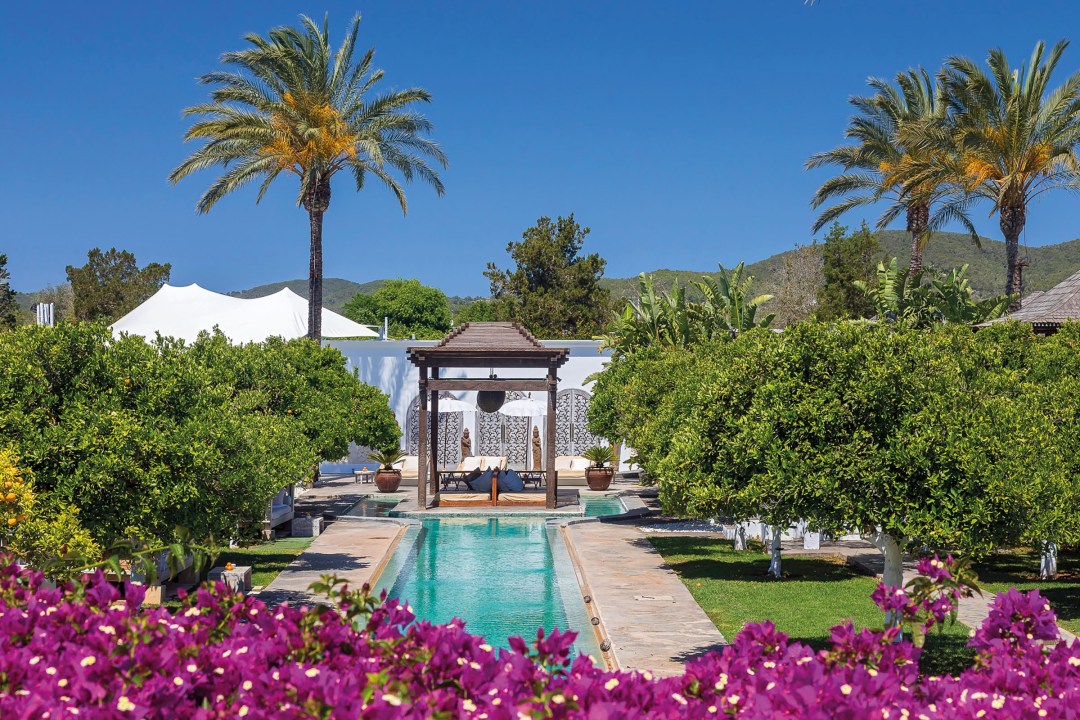 9 minute read
The nights are getting longer, the days are getting colder and a new decade is beckoning. It's the perfect time of year to press pause and create the space you need to decide what's next for you. At Psychologies, we advocate time out if possible, however brief, to consider your life and work on your self-development, instead of just constantly firefighting the challenges of the daily grind.
There are so many types of retreats where you can re-energise, unplug, pinpoint a new direction or regain your equilibrium. Whether it's a trip to a Greek island to write, a transformational life-coaching break, a wellness holiday in India or a mini retreat in an adults-only hotel in Cornwall, the following pages feature a truly beautiful collection of retreats that will cater for your needs, no matter what you crave at this point in your life.
Cold therapy in Scotland
Test your strength and come alive at Allan Brownlie's Wim Hof method retreat in the Scottish Highlands
This retreat is based on the method of 'Ice Man' Wim Hof, who summited Kilimanjaro wearing only a pair of shorts and can maintain full-body contact with ice for 80 minutes. Come to find your 'inner fire' through breath work, cold therapy and commitment. You'll build resilience as part of a group in the stark wilderness of the Scottish Highlands.
Experienced instructor Allan Brownlie leads morning barefoot 'cold exposure' on the dewy grass before a daily workshop on deep conscious breathing. After breakfast, the group takes a cold-water immersion in one of Alladale Wilderness Reserve's stunning rivers or lakes. Lunch might be a picnic during a scenic hike and afternoons are free for meditation, rest and exploration. Dinner is prepared together and evenings may be spent chatting or playing games by the log fire.
Power in nature
Come to discover how the body can adapt to trying conditions and how rewarding that can feel. This retreat is about learning to be comfortable with discomfort and reversing the effects of central heating and modern life through exposure to raw nature.
Time spent in the beautiful reserve, north of Inverness, is a delight. Wim Hof retreats are based in the refurbished Deanich Lodge in the heart of the reserve, reached by an 11km hike. Guests will appreciate the flora, wild deer, Highland cattle and the occasional golden eagle circling above.
All meals are prepared as a group, as part of the communal living embraced on a Wim Hof retreat. Ingredients for three wholesome meals a day are provided and all dietary requirements are catered for.
All are welcome, and expect a mix of men and women of all ages, who are either cold-water devotees or those curious to try something new for their wellbeing.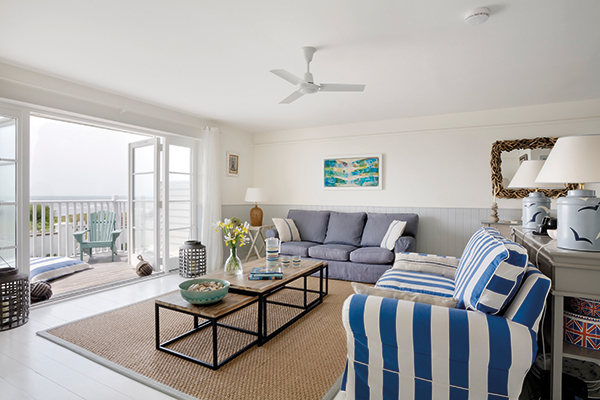 Healing and meditation in West Sussex
The Bespoke Retreat Company offers tailor-made, getaways with a mystical, spirit-enriching twist
You might think you know what to expect from a meditation retreat, but Lynn Jackson's bespoke retreats defy categorisation. For a start, you are the only guest, and you can pick from a range of accommodation – treehouse, yurt, elegant hotel or luxurious seaside house right on the beach in West Wittering. Bespoke means bespoke, and you can choose to do whatever you want on your retreat.
Free as a bird
An advance phone conversation with Lynn gives her an idea of your needs, goals and desires, so you arrive to a personalised timetable. This might range from calming guided meditations on the beach or in a woodland labyrinth, entry to Goodwood Estate's smart gym and pool, horse riding along the golden sands, forest walks, massage, creative art projects or time to rest.
The pièce de résistance is a healing session with Lynn, who is a gifted and experienced healer, with training from tantra to tarot, from London to Bali. She tunes into your energy field, an experience which can evoke sensations and colours, or simply promote deep sleep.
Lynn has a range of rituals for you to experience if you wish, some of which are familiar and some less so. She offers a close cousin of tarot – inner child cards – which, like their better-known relative, can be used as a guide to what ails you or what might lie ahead. Crystal therapy is in the mix, as well as meditation and intuitive life coaching, and Lynn can arrange massages, holistic treatments and sessions with a nutritionist or a counsellor, depending on your needs.
Choose to cook for yourself, have a restaurant booked for you or have your meals provided. The alchemy of food is an important feature of The Bespoke Retreat Company's retreats and menus are devised in line with the overall focus of your break. This is healing freedom for body, mind and spirit.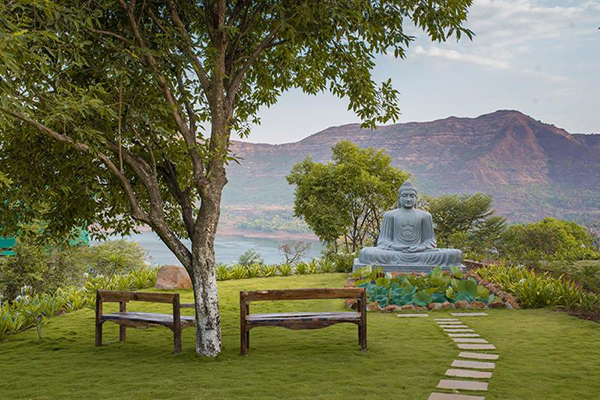 Ultimate wellness in Maharashtra, India
Top up your wellness reserve at the award-winning and serene Atmantan Luxury Spa and Wellness Resort
This idyllic, luxurious destination overlooking sun-dappled Mulshi Lake is perfect for retreat newbies and seasoned retreaters accustomed to elaborate Eastern health programmes.
There is a choice of seven holistic and personalised packages, to which you can add your own bells and whistles. From Ayurvedic panchakarma (detoxification involving massage and herbal therapies) to holistic treatments, all include a mixture of therapies and fitness recommendations, from acupuncture and shirodhara (a treatment involving oil gently being poured onto your forehead), to paddleboard yoga and spinning classes.
A hike to the top of the mountain for sunrise or sunset is a heart-expanding must, as is the divine 'Atmantan signature massage', which includes hot stones and guided meditation. Whether you need your muscles kneaded, your body exercised or your life re-evaluated, you will find what you are looking for here.
If you're on a cleanse, enjoy the juice and tea menu at the restaurant, otherwise sample a tempting array of delicately put-together Buddha bowls, thalis and imaginative multiple-course meals. Quality not quantity is the order of the day. Atmantan is a glorious setting for rest, relaxation and reprogramming.
Retreats vary from three nights to 28-day packages. From £975 pp for three nights, including meals and spa therapies; atmantan.com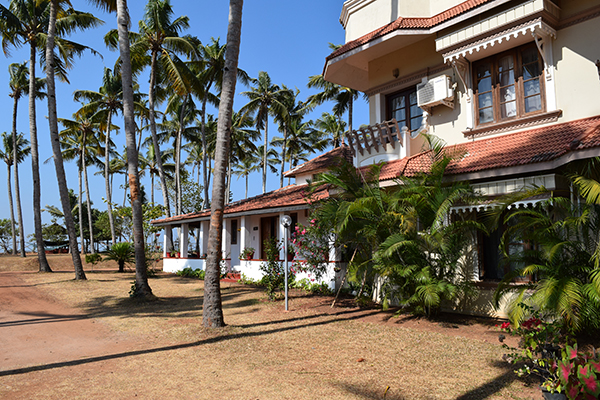 Yoga and ayurveda in Kerala, India
Begin the year with a rejuvenated body and mind on tour with Tamsin Chubb in the spiritual home of yoga
Start 2020 with your best foot forward on a 10-day retreat in the peaceful town of Varkala with retreat leader and owner of Little French Retreat Tamsin Chubb. At the Blooming Bay Resort, you'll have an Ayurvedic cleanse, personalised health advice, twice-daily classical hatha yoga, treatments and coaching to provide practical, easy solutions to help you bring the changes you most want to your life. Tamsin's yoga classes are suitable for all levels, in a steady, gentle flow focused on breath, strength and rest – to realign energy and increase vitality.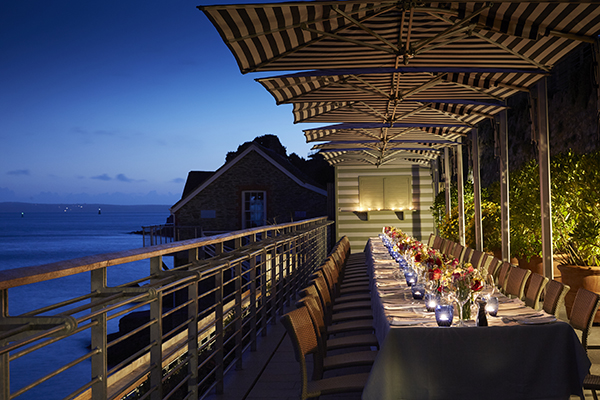 Exercise body and mind in Cornwall
Yoga with Movement for Modern Life's Zephyr Wildman complements holistic treatments and coastal walking
Set in the seaside village of St Mawes with stunning sea views from its terraces and rooms, Hotel Tresanton is a calm, understated and stylish place to go on a retreat. Every November, a special yoga and coastal walks retreat takes place here with vinyasa flow teacher Zephyr Wildman – a perfect way to prepare for the festive season.
Come for twice-daily yoga and meditation, blended with guided or solo daily coastal walks, a meeting of like minds over lavish, nourishing meals plus ample opportunity for downtime and body- and soul-enriching treatments.
Zephyr is a passionate teacher who offers plenty of yogic philosophy. Practise in spiritual surroundings after using angel cards to help you find clarity on where you are in life. Evenings are spent on restorative yoga, followed by a group meal. Enjoy daily treatments with holistic therapist Sarah Greenhalgh, from holistic massage and reflexology to aromatherapy and hot Thai poultice massage, all using lovely locally made organic products.
The next retreat is 4-8 November. From £1,550 pp, all-inclusive and sharing a room, plus transfers from St Austell train station; tresanton.com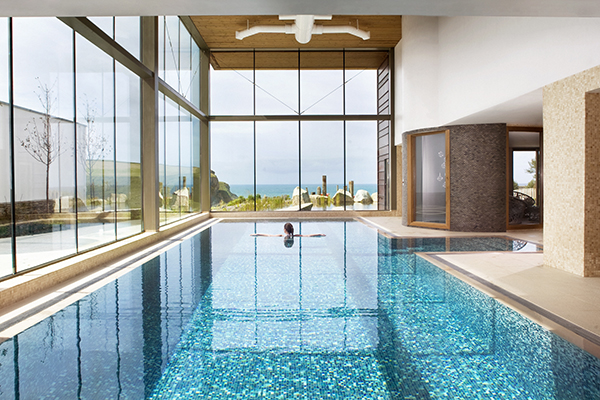 Renewal and rest on the Cornish coast
Have a mini retreat surrounded by natural beauty and inspiring art in a venue for adults only
Above the shortbread sands of Mawgan Porth and on the South West Coast Path, the luxury eco Scarlet spa hotel offers a three-night 'Eat, sleep, treat, repeat' retreat which delves a little deeper into Ayurvedic principles.
The retreat begins and ends with an advisory call with Brighton-based Keralan Ayurvedic doctor Shijoe Mathew, who will diagnose your dosha (body type) imbalance and advise Scarlet's therapists of your needs. He also offers bespoke dietary and lifestyle advice to retreaters.
Between treatments, spend time soaking in a hot tub overlooking the beach and visit the outdoor wooden sauna with a magnificent ocean view. Be brave and have a dip in the reed-filled outdoor pool and emerge renewed. Staff at the Scarlet are friendly and attentive. Ask for a room with a sea view and emerge from this revitalising experience with a renewed sense of calm.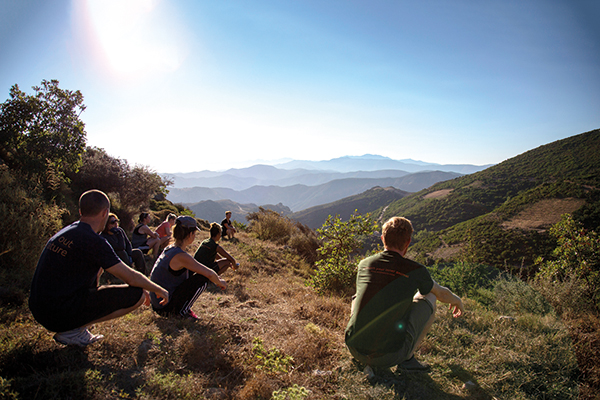 Mindful movement in Menorca, Spain
Reconnect with yourself on a Wildfitness retreat on the island of Menorca – an experience like no other
Reinvigorate your life and develop a bespoke approach to exercising body and mind on one of these brilliantly crafted fitness breaks. Your base is a gorgeously renovated remote country villa, situated 15 minutes' walk from the beach and surrounded by ancient woods and farmland lined with stone walls.
Days are filled with a playful approach to exercise, and focus on moving naturally. Walk to the beach in silence, take in the stunning, deserted cove, then launch into a joyful game of beach Frisbee. Sprint through the magnificent landscape to take an invigorating dip in the sea, explore an atmospheric cave and haul rocks – yes really – to build strength; hang, swing, box and try sock wrestling (the aim is to take off your opponent's sock with your foot!). It's never long before you're laughing uncontrollably with your group, but there is a serious intention to this activity – to focus your attention on developing a healthy, strong body and mind that serve you well and are nurtured by doing the things you enjoy.
Awareness brings great rewards
High-intensity sessions are balanced with breathing techniques and flexibility sessions, when coach Grant Cartin urges you to 'find the good stuff' and learn to sit better, stretch, balance and be flexible – in your body and life. Therapeutic massage aids the process.
All meals are made by local chefs using fresh, organic ingredients, and following traditional Menorcan recipes – a typical evening meal might be an aromatic seafood paella followed by a mouthwatering mousse of banana, avocado and pure cacao. Learn to eat mindfully with blind tastings and cooking lessons so you can return to your life with improved practical skills. You will be encouraged to consider a healthier work-life balance for your future.
Wildfitness retreats attract diverse personalities with a similar goal, and you'll find the tribal vibe is exactly what is needed to help you power through any challenges. This is a treat of a retreat on an exquisite island and it could help you reinvent your life.
Six-day Wildfitness retreats are from £1,463, all-inclusive in shared accommodation. Transfers from Menorca airport are included and preand post-retreat assessments are provided. Catch the last retreats of 2019 on 26 October and 2 November, or from 18 April to 13 June; wildfitness.com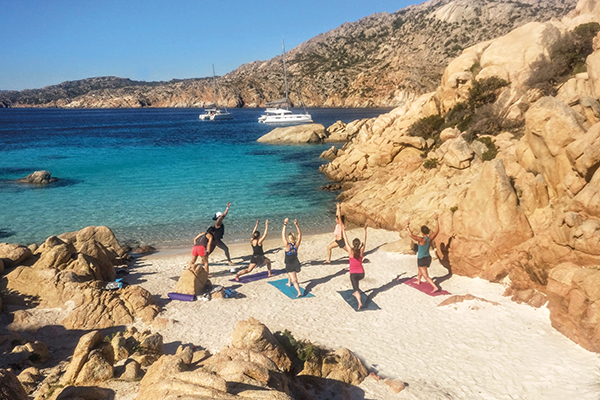 Outdoor thrills and fitness in Italy
Take an immersive break with Mountain Beach Fitness Retreats in a revitalising area of geographical splendour
Escape to the La Maddalena Archipelago National Park, a cluster of islands in a stretch of sparkling azure water between Sardinia and Corsica, for a week of outdoor adventure with Mountain Beach Fitness Retreats. The moonlike landscape, pine forests and a plethora of sandy coves provide the optimum backdrop for a schedule of challenging, natural movement-based fitness.
Led by personal trainers Emma Bodkin and Lottie Pridham, highlights include hiking to numerous incredible viewpoints, cycling the circumference of the two largest islands with stops for cooling sea swims, beach circuits featuring cavewoman rock sequences and sunrise vinyasa yoga on the beach. The programme pushes you to the edge of your comfort zone physically but, thanks to the small group size, options to modify all activities and individual expert attention, it is accessible to all.
An abundance of fresh food keeps you fuelled, and the pretty villa in a quiet corner of the only inhabited island provides a comfortable place to rest. Mindfulness and a break from technology enhance the wellness experience.
Retreats run from 30 May to 5 July. From £1,850 pp for seven nights, all-inclusive, with transfers. Mountain Beach Fitness Retreats also run group and private active breaks in Switzerland, Italy, Sri Lanka, Iceland and the UK; mountainbeachfitnessretreats.com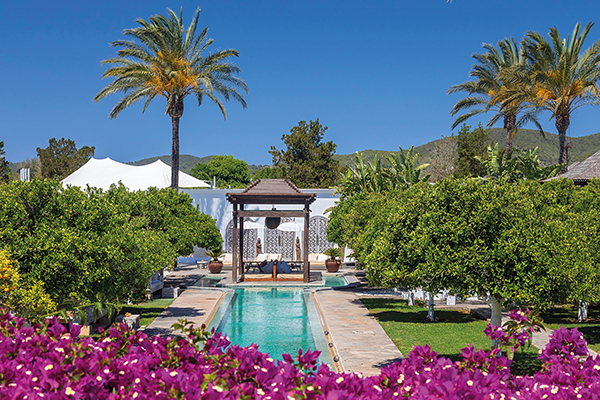 At one with nature in Ibiza, Spain
This sunny isle is the backdrop for cycling, walking, rest and reflection – come back to yourself in nature
There is a range of short restorative retreats on offer at the Atzaro boutique hotel, where everything is designed to enhance the natural beauty of Ibiza. Enjoy the use of spa facilities and yoga and wellness classes as well as guided bike rides and the joy of exploring the countryside and its unique natural wonders.
Meals follow a farm-to-fork philosophy – most of the fruit and vegetables are grown onsite, and the hotel owners keep their own chickens for fresh daily eggs, while meat is sourced locally. Kick back in a spacious villa and enjoy the hotel's dip pools and day beds.
Retreats run from November to April, from £216 for two people on a onenight nature-walking package. Three-night packages available; atzaro.com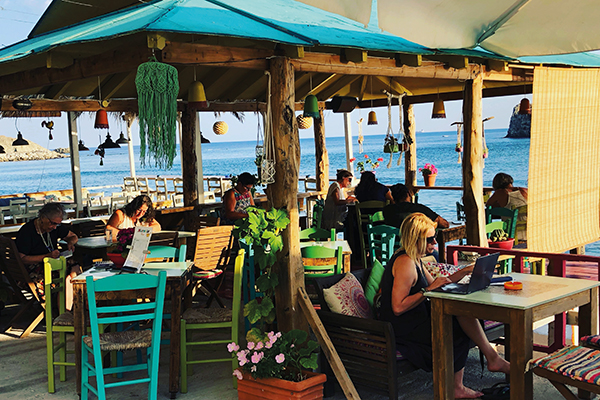 Tell your story in Lesbos, Greece
Bring your writing dream to life or consolidate your work on a creative writing break or sabbatical
The writing room offers a creative writing retreat and a creative writing residency every year in June on this relaxed, mystical and inspiring Greek island. Led by charismatic and energetic South African authors – literary agent Sarah Bullen and life coach Kate Emmerson – breaks are aimed at writers of all levels who want to begin to tell their story or finish their work in progress. Sarah and Kate radiate enthusiasm for the craft and it's a privilege to have them nurture your talent.
The artist's way of life
Choose the seven-night retreat if you are writing non-fiction or memoir and need help with technical techniques, working through your personal and creative blocks and finding ways to access your memories and plan your story; or the 10-night residency if you are writing a novel, memoir, biography or nonfiction and you need a focused space in which to write and structure a publishable book. Experienced guides Sarah and Kate will help ease this process.
There are surprise inspirational events, such as a magical evening in a flower-strewn courtyard in the captivating company of a traditional storyteller, as well as visiting authors and poets who will share their work and wisdom. The holistic approach on this retreat means your journey is supported however you need. Benefit from coaching with Kate, silent morning walks, 'letting-go' rituals on the beach and morning swims across the bay to reignite your spark.
Your base is a simple, serene, family-run B&B with balconies overlooking the sea in the laid-back, friendly coastal village of Skala Eressos – the birthplace of poetess Sappho. Apart from breakfast, most meals are eaten in delightful restaurants in the village, which are also perfect writing spots. There are craft shops to visit and a tiny historic church where you can light a candle to honour your creativity.
This retreat will free your creative spirit and rekindle your fire for writing – an unforgettable and valuable experience for aspirant and established writers.
The next writer's retreat is from 10-17 June and the creative writing residency is from 18-28 June. From £2,500 pp in a single, sea-facing room, including breakfast, select dinners, activities, private sessions and transfers; thewritingroom.co.za/retreats.html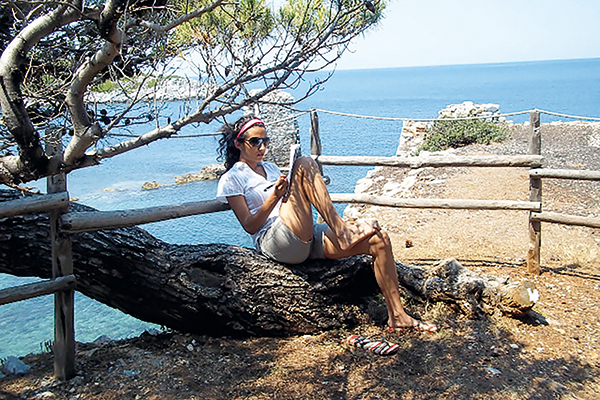 Find your voice in Skyros, Greece
Editor-in-Chief Suzy Walker starts her novel alongside fellow creatives on a magical isle in the Aegean Sea
The writers' lab is an inspiring environment and Skyros is an idyllic backdrop for the creative process. Rediscover your passion for the craft in a traditional Greek house on an unspoiled island with a longestablished way of life and without mass tourism.
This is the perfect place to unplug from daily life and write without interruption. I began writing a new book in a class of around 10 other writers – all at different stages of their creative process – some beginners, some published novelists but all seeking time away from their normal routines to write in a group forum and share the joy and challenges of getting words onto the page.
The Writers' Lab has been led by some excellent tutors, from Hanif Kureishi to Margaret Drabble. It is a wonderful place to reconnect with your innate creativity.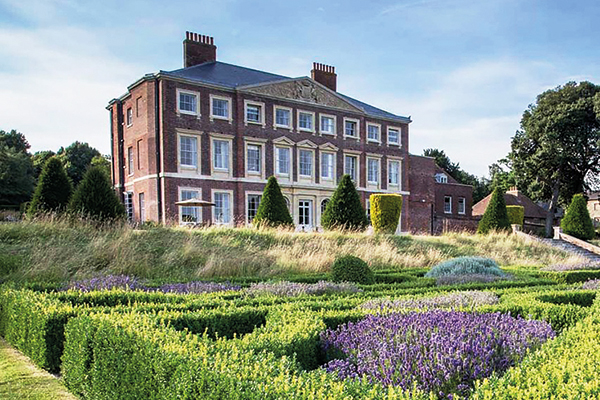 Life-coaching adventures around the world
Find the answers you seek and change your life with an inward journey at an exceptional destination
Executive life coach Tania Carrière of Advivum Journeys offers immersive adventures for those who are ready to explore life's biggest questions. Perhaps you wonder what you want your legacy to be, how to change career, move into the relationship you deserve or escape the labels you've outgrown? Take stock and rediscover your sense of purpose on these special retreats in soulnourishing environments. Come prepared for deep, meaningful work as you experience a beautifully curated sanctuary in England, France or Hawaii.
This in-depth and creative exploration will help you renew yourself, your sense of who you are and what you can accomplish. Each sabbatical is carefully designed down to the tiniest detail, ensuring that you leave feeling both joyful and transformed. Life-coaching retreats are perfect for people with the niggling feeling that 'there must be more to life than this'.
Upcoming dates include Hawaii from 18-25 January and Kent from 18-22 May. From £2,800 pp, all-inclusive, for a five-day retreat in the UK; advivumjourneys.ca/retreats
Read 'Psychologies' Retreat Editor Caroline Sylger Jones's story here.
Reviewers include: Sasha Bates, Elizabeth Bennett, Lauren Cooney, Emma Douglas, Eve Kalinik.