The man behind the brand: Burt's Bees
Following the sad news of Burt Shavitz's death earlier this week, Psychologies' beauty and wellbeing director, Eminé Ali Rushton, talks about her visit to Burt's Bees' HQ in the States, and how this iconic brand became the success it is today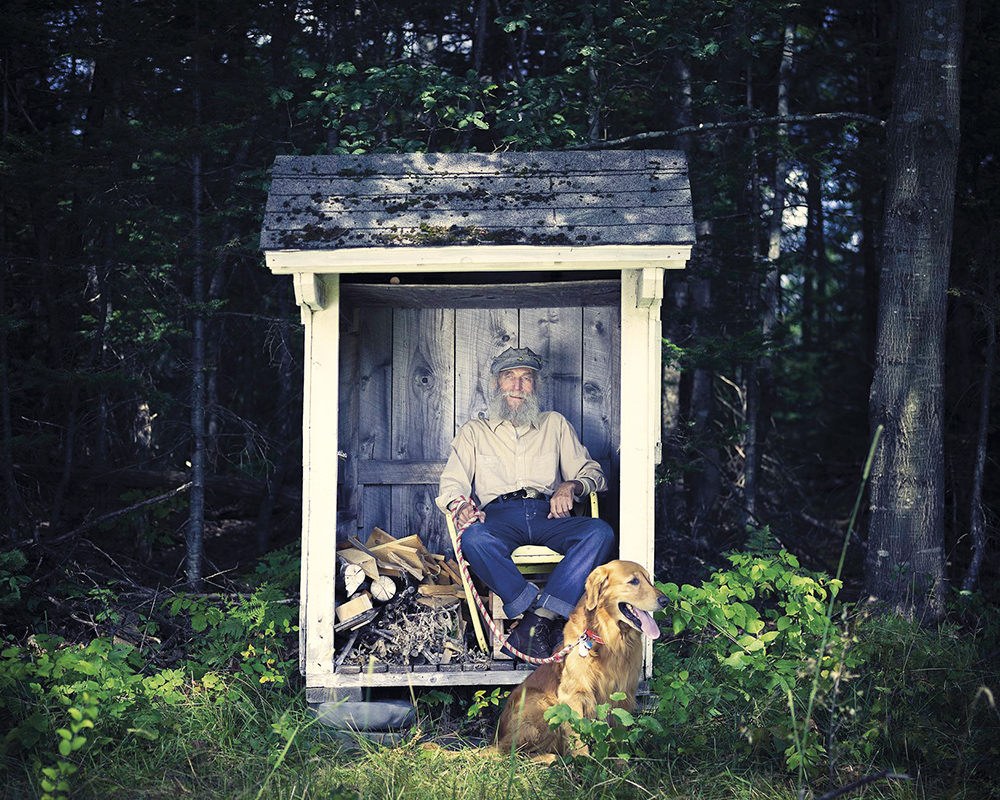 When I travelled to the States to visit Burt's Bees, I'd already heard the story: 'It was the summer of '84 and Maine artist Roxanne Quimby was thumbing a ride back home (back when you could still do that sort of thing). A yellow pick-up truck pulled over, and Roxanne recognised Burt Shavitz, a local fella whose beard was almost as well-known as his roadside honey stand. Burt and Roxanne hit it off and before long, Roxanne was making candles with unused wax from Burt's beehives. They made $200 at their first craft fair, and within a year, they'd make $20,000. Pretty auspicious beginning – but just the beginning all the same.'
Today, Burt's Bees is a global beauty brand – immediately recognised, a household name. One would have thought that in the luxury beauty market – with its insistence on innovation and 'immediate' anti-ageing solutions – a company such as Burt's Bees would have felt pressured to ditch the grassroots and follow suit. In fact, the opposite is true. The brand has been on my radar for over a decade, yet I cannot once recall them using the term 'anti-ageing'. Instead, I hear a lot about 'kitchen chemistry' and 'nature as laboratory'. And, I have seen this for myself within the US factory – the approachable methodology, and the simple ingredients – shea butter, coconut oil, beeswax – which they pass around in their raw forms for us to smell, feel and rub onto our skin.
Back to basics
There's no gimmickry or snobbery with Burt's Bees – very few heads of research would be happy to admit that they looked to the past rather than the future for their innovation, but that's precisely what Celeste Lutrario, vice president of research and development, tells me when we meet. 'I worked in innovation for Chanel, Elizabeth Arden and Avon prior to Burt's Bees, so I went from a very synthetic approach to the complete opposite,' she explains, 'and I assumed this would be easy – because, it's natural. But, on my first day of being in the lab, I could not get anything to work! So, we decided to spend six months researching how people used to make lipcare and skincare before cosmetics became a big industry, and we've just been making it better and better ever since.
'Your skin is beautiful, naturally. I firmly believe that if women knew how their skin worked, they would make different skincare choices. Most people, and even most chemists, know nothing about how skin works. We aim to support the skin's inherent balance and promote skin health, because if you have good skin health, all other issues go away,' says Lutrario. 'The life cycle of a cell is 28 days – and the dead cells stay on the surface of your skin for another two weeks. That's when your skin is healthiest – in this six-week cycle. The only cell that can grab moisture and hold onto it is a dead skin cell,' says Lutrario. 'Your skin is moisturised more from the atmosphere than from the internal body. If you get rid of this layer of dead cells, you have no way of moisturising or protecting skin.'
Nature's laboratory
'I was working at a big consumer brand when they invented Alpha Hydroxy Acids. Before that, all anyone ever expected from their face cream was moisturisation. AHAs create a slight irritation to the skin, but not so the consumer knows it. The skin will think it's hurt, and the first thing your body does when it's hurt is become inflamed. And, lo and behold, fine lines and wrinkles vanished (temporarily of course). This began the anti-ageing craze. Then came exfoliation that takes off this dead skin layer to reveal live cells which look wonderful – but this also removes the skin's protective epidermal layer. So you have no way to moisturise or protect the cells beneath. You're also speeding up "skin renewal", forcing the skin to make new cells faster than it naturally would.
'At Burt's we're not focused on hurting or manipulating the skin; we want to get it back to the six-week cycle, naturally. My theory is if you use a lot of harsh products for a long period of time, you'll look worse than if you didn't.' So, what should we do? 'Feed the skin, just as you would your own body. Our products contain antioxidants, essential fatty acids, vitamins, minerals and phytonutrients. We look at the chemical and nutritional breakdown of each ingredient to ensure we're giving the skin a balanced diet. And when we have a skin issue we need to fix, we look for a plant that's exposed to the same conditions that we're exposing the skin to. So, for intense hydration, we'd look to a desert plant that is amazing at retaining moisture; for repair, we'll use plants that are exposed to intense sunlight all day, and evolutionarily have had to adapt to survive those conditions, so they'll have extraordinarily high antioxidant content,' says Lutrario.
These 'simple' products are also developed to be 'complete'. 'The body does not often recognise single ingredients. Women were once told to take calcium to make their bones strong. Then the thinking changed and we were told to take calcium with magnesium or your body won't recognise it. And now it's calcium, magnesium and vitamin D – and now they've added folic acid onto that! Your body has a way of recognising ingredients that are paired and partnered. That's what we look to do with our skincare, too.' Hearteningly, this 'nature's laboratory' approach is paid back via the brand's exhaustive environmental policies, too. Their operational footprint (or lack thereof) is seriously impressive. Energy, water and greenhouse gas expenditure and production is continually monitored. 'We are carbon neutral and also offset the energy that we do use,' says Paula Alexander, director of sustainable business at Burt's Bees. 'We store water in the watersheds in the US, most importantly in the Colorado River, to offset our usage. Since 2010, we have sent zero waste from our US operations to landfill.'
I spot the multiple sorting stations throughout the factory, and Alexander smiles when I mention it, 'Yes, we have impeccably sorted waste streams to ensure that every single thing goes to the right place: to compost, recycling, or waste to energy.' This tireless focus on less waste is particularly impressive given that we're talking about a 'beauty' brand. Packaging is, after all, not just seen as a hygienic and safe way to transport and store product, but as the arbiter of aspiration; the promise of the beauty that lies within. 'Of course beauty products need to be beautiful,' she concedes. 'That's what editors want to photograph, and what consumers pick up off the shelf. But that is not always the most sustainable packaging. For us, it comes down to using fewer materials, making it recyclable and putting more recycled material into our packaging.'
Protecting the bees
Alexander's other remit is overseeing the private foundation that has donated to many non-profit organisations over the years. 'Originally, we supported organisations that dealt with environmental and social issues. But recently, we've focused on the intersection of human and honeybee health. We source a lot of bee products – beeswax, honey and royal jelly – but bees are incredibly important to all of us. They are responsible for one in every three bites of food that we enjoy,' says Alexander.
To break this down – between 75 and 95 per cent of all flowering plants, including fruit, vegetables and grains, require pollination to survive. 'Bees need healthy, nutritious food, just like us, so we launched the US Bee Buffer Project. If we plant one acre of healthy honeybee flora alongside agricultural land, it then positively impacts 33 acres of agriculture. It really benefits the pollinators and the agricultural systems. Burt's Bees is consumer- and trend-guided, but our convictions inform everything we do,' says Alexander.
Even, I venture, since its purchase by big multi-national Clorox in 2007 (for $925 million) – a company more famous for kitty litter than peppermint lipbalm? 'When you're a "for profit" company, there is pressure to be more efficient, but there's also the long-term view of sustainable practices, and if we don't manage those resources today, we won't have the resources for the future. Clorox saw the wellness and sustainability trend coming, which is why they bought us. I came from Unilever, so I know what the resources of a large company can do for a brand – we were supported throughout the recession, so we came out of that well. Most importantly, there are a lot of passionate people at Burt's who have been here since before the purchase by Clorox, and are still with us. We just believed that the business had a real potential to change the world.' That Alexander says this with absolute sincerity does not surprise me. It all points to a business that has managed to maintain its ideology.
Where the magic happens
Off-paper, and back to the bricks and mortar – the site of Burt's Bees HQ, in Durham, North Carolina, situated within the old Tobacco quarter – which kickstarted the large-scale regeneration project that has since breathed business and culture back into the waterside. This place smells amazing. Coconut, pear, mango, peppermint… wafts of it rise from vats and pots, bubbling under the smiling eyes of the cheeriest bunch of factory workers I've ever seen. 'Employee engagement is a big part of what we do,' says Alexander. 'We're a small team, but everybody at Burt's Bees is responsible for sustainability.' Staff are all on first-name terms and everyone's performance is followed via colourful infographs on the walls – a sort of 'sticker reward' system, if at the highest level. The factory and lab are flooded with natural light – fitting given that the average naturals content of the products being made here is 99 per cent (over half are 100 per cent natural).
But what about beyond the walls of their factory and lab? Who has their eye on those practices? That would be Shannon Hess, Senior Manager, responsible for sourcing and sustainability. 'We need to know what goes into every one of our products, and that everything is socially and environmentally sound in its sourcing. We have close relationships with our raw materials suppliers, and when we don't feel we have enough information, we have third-party audits to ensure we have a full and clear picture,' says Hess. 'For every product that we launch, there are roughly 20 new ingredients that we will review, scrupulously, with an extensive team of people. We test for regulatory compliance for naturals, but also that the communities from which we source our ingredients are looked after, and practices and sourcing principles are consistent with our social and environmental principles. Also that we have traceable and transparent "back-to-origin" rules in place.'
It's rare to encounter a brand that lauds simplicity; that talks in black-and-white terms; that possesses little opacity, beyond, perhaps, the fact that Burt himself – whose face can still be found on many products – made little money from 'his' brand (he sold his share of the business to Roxanne in 1999). Burt, in true Burt style, has said money is of no matter to him; all he needs to be happy is the earth and, of course, his bees.
Despite skincare that has bona fide scientific trials to back up its efficacy, the emphasis at Burt's Bees is never on quick fixes, simply long-term natural skincare solutions. Skin health, environmental ethics, social responsibility – all are dealt with in the same way. After all, Burt's Bees' enduring success is built on the firmest foundation of all: two million-year-old nature. It owes nature everything – but, rare for a big and successful brand, it also seeks to respect and repay its dues.
For more information, see burtsbees.co.uk