Recipe: Lemon sorbet
Try this delicious, light dessert from Kate Doran's book, Homemade Memories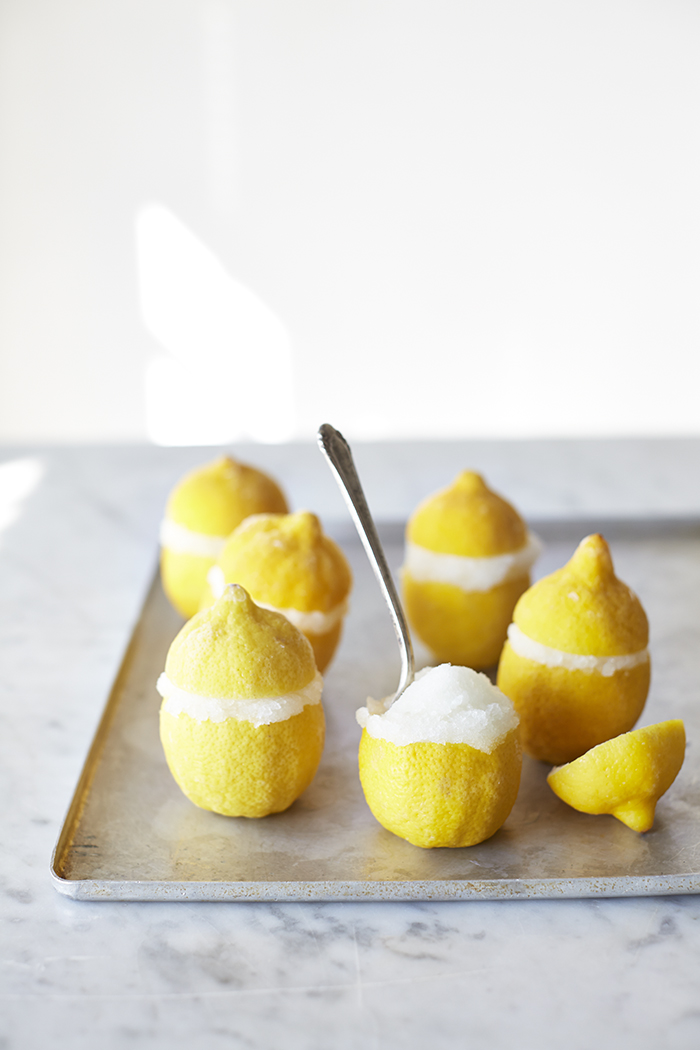 After a big meal, there's nothing more satisfying than a spoonful or two of sweet, palate-cleansing sorbet. Inspired by one of my favourite trattorias in Italy, these hollowed-out lemons are the perfect size. Serving sorbet in this way not only saves on washing up, it adds an extra lemony oomph. Depending on the size of your lemons, you may end up with a little more sorbet than will fit inside. If so, freeze any leftovers in a small container or just eat as you go.
Serves 6
6 medium lemons
175g caster sugar
tiny pinch salt
1 sheet platinum-grade
fine leaf gelatine
Using a sharp knife, cut the top third off each of the lemons: these will be your lids. Scoop the flesh out of each lemon to create a hollow 'bowl', taking care not to puncture the bottom. Pass the flesh and any additional juice through a fine mesh sieve into a measuring jug and chill.
Cut a sliver off the bottom of all 6 lemons: this will help them stand upright. Freeze the lemon bowls and lids for 1 hour.
In a medium saucepan, warm 175ml water with the sugar and salt until the sugar has dissolved. Simmer for 5 minutes until syrupy. Meanwhile, soak the gelatine sheet in a bowl of cold water for 5 minutes. Remove the syrup from the heat, squeeze as much water as possible out of the gelatine sheet and add it to the syrup, stirring to dissolve. Leave to cool completely.
Once the syrup is cool, add 125ml cold water and 175ml of the chilled lemon juice. Taste. If you'd like it zingier, add a little more juice. The flavour will flatten slightly when frozen so your mixture should taste slightly too sharp and sweet.
Strain through a fine mesh sieve to remove any lemon pith, then churn in an ice-cream machine. If you don't have an ice-cream machine, see instructions below*.
Divide the churned sorbet between your frozen lemon bowls. Carefully replace the lid on each lemon, and freeze until ready to serve.
The sorbet will keep in the freezer for up to 1 week.
*Pour the chilled syrup into a shallow container with a lid and freeze for 45 minutes. After this time, a few ice crystals will begin to form around the edges. Take the sorbet out of the freezer and use a metal fork to whisk the mixture until smooth, scraping down any frozen edges. Return to the freezer and repeat the process every 30 minutes or so, until the sorbet becomes almost too thick to whisk. At this point, beat with a hand-held electric mixer. Smooth the mixture flat, put the lid back on and freeze for a minimum of 3 hours until solid.
Homemade Memories by Kate Doran (Orion, £18.99) is out now. To be in with a chance of winning a copy, click here
Photograph: Helen Cathcart