Recipe: herby chicken tabbouleh with oven-dried tomatoes
Try this delicious dish from culinary wizard Jo Pratt - ideal for entertaining alfresco while you still can!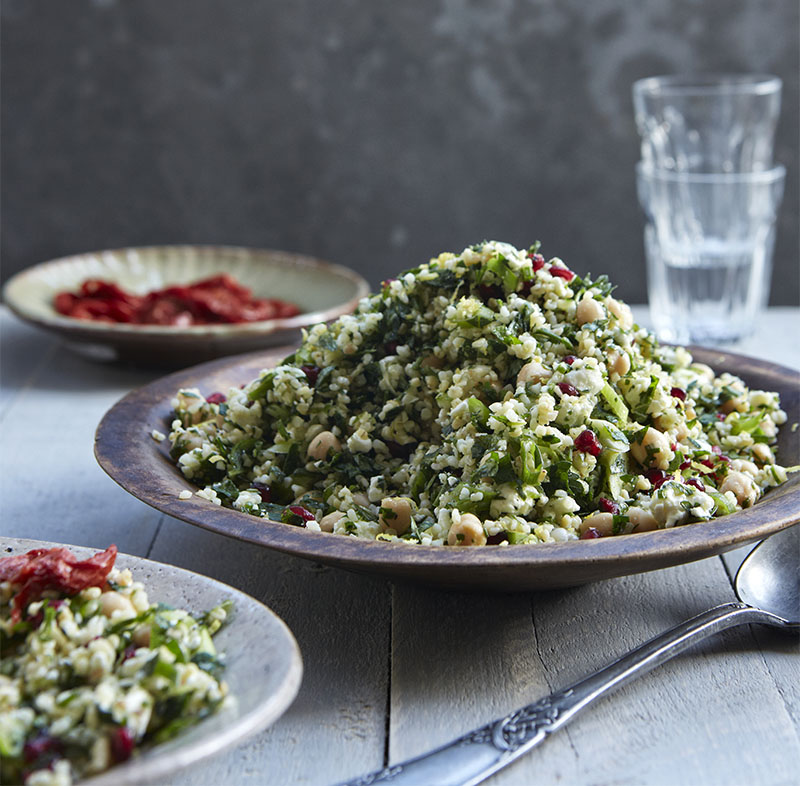 The healthy cookbook crescendo shows no sign of abating – we've had raw, vegan, Paleo books aplenty in the office – but at Psychologies, we're less about eating regimentally (and cutting out or doing without), and much more about finding a way to celebrate the deliciousness of food that hasn't been messed around with, and delivers a healthy, satiating, pleasurable experience with as little fuss as possible.
Jo Pratt, author of several bestselling books, including Madhouse Cookbook (aimed at busy parents) excels here, with wholesome, honest dishes – think Korean Courgette Pancakes, or Braised Venison Stew – and comforting puds without the sugar hit, such as her Carrot Cake with Coconut-Lime Frosting. There is also inviting family inspiration – from speedy soups to fun, goodness-filled muffins and wholesome loaves. The sort of things you'll want to enjoy often, without fear of over-indulgence.
Herby Chicken Tabbouleh
Tabbouleh, a Middle-Eastern parsley salad, contains very little bulgur wheat and is served as part of a mezze platter. However, I've increased the bulgur wheat and added chickpeas and feta, making this
a more filling salad. This can be made a day or so ahead of time and stored in the fridge.
Serves 4
12 smallish (golf ball size) ripe tomatoes, halved
125g bulgur wheat
400g tin chickpeas, drained
1 bunch of fresh flat-leaf parsley, roughly chopped
1 bunch of fresh mint, roughly chopped
1 bunch of spring onions, finely sliced
seeds from 1 pomegranate, or 100g ready-prepared pomegranate seeds
3 tbsp extra virgin olive oil
finely grated zest and juice of 1 lemon
200g feta cheese, broken into small pieces
sea salt and freshly ground black pepper
STEP ONE Preheat the oven to 120ºC. Cut the tomatoes in half lengthways, sit on a baking sheet cut side up, and bake for 1-2 hours. This is just enough time for the tomatoes to start to dry out and begin to shrivel around the edges, which will intensify their flavour, making them wonderfully sweet and juicy. Remove from the oven and leave to cool.
STEP TWO Cook the bulgur wheat according to the packet instructions, then rinse under the cold tap to cool it down. Drain really well, shaking the sieve to separate all the grains, then tip into a large mixing bowl.
STEP THREE Add the chickpeas, herbs, spring onions, pomegranate seeds, olive oil, lemon zest and juice to the bulgur wheat and season with salt and pepper. Gently stir in the feta, spoon onto plates, and serve with the tomatoes.
This recipe is taken from In The Mood For Healthy Food by Jo Pratt (Nourish Books, £20), out now.
Photograph: Tamin Jones