Poached plum salad with pecans
Try an early autumn treat from Sally Butcher's latest recipe book, Salmagundi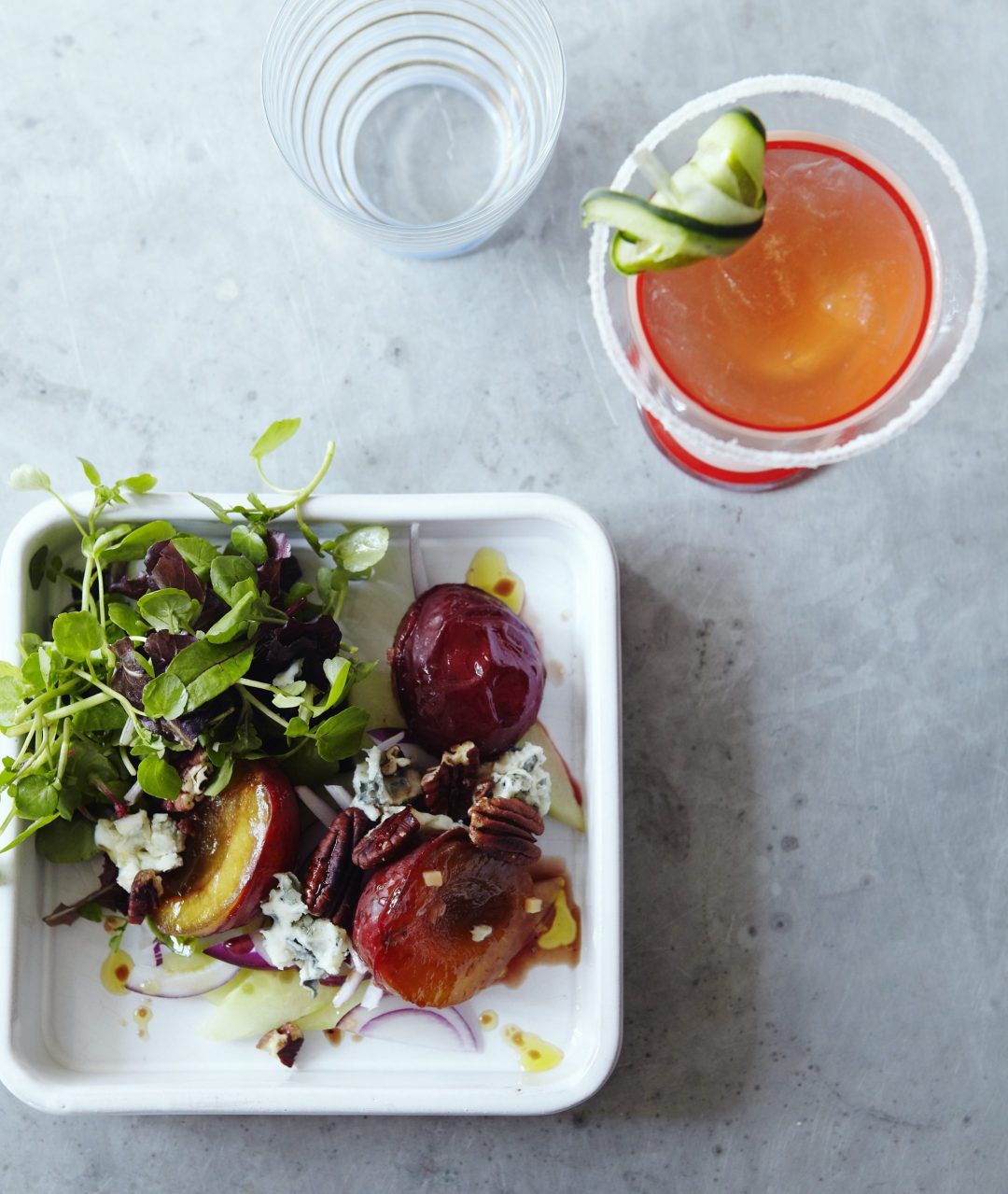 One of our customers at Persepolis, the Persian deli we run in Peckham, South London, is from Bulgaria – and recounted this rather fun plum-related Bulgarian folk tale to us one day. I do feel that plum-related Bulgarian folk tales are probably best shared, so if you're sitting comfortably…
Once upon a sugar plum, in old Plovdiv (which those who can pronounce it may know as Philippopolis), there lived a wily market farmer and his five sons. The farmer was anxious to find a wife for the eldest boy; but he wanted a girl as virtuous as she was beautiful, and pondered how he could find such a maiden.
It was late summer and his plum trees were groaning with fruit. This gave our farmer an idea, and he set about boxing up all the plums. On market day, he set off with a determined look on his face. He set up stall, but when his regular customers demanded the price, he requested that they pay in household dust. The women assumed the old boy had lost his marbles, but eagerly rushed home to sweep up whatever dust they could find. The farmer kept his word and measure for measure exchanged his crop for dust: he soon had a big pile of dust… and a crestfallen expression. There had been plenty of pretty girls buying his fruit, but he knew that none of them matched his requirements.
Just as he was clearing up, an attractive, thoughtful-looking lass with raven locks and deep, velvety eyes came to hover by the stall. 'How much are your plums, sir?' she asked. 'I've heard that today you are charging in dust: I couldn't find much I am afraid. Do you have any left? I couldn't get here earlier as my folks are poorly and I had to run their errands before I could think of my own.'
At this, the old man noticed that she was clutching the smallest bag of dust. 'Well if that's all you've got, my dear…' he said, smiling enigmatically, 'You'd better take the rest of my load.' And with that he gave the astonished girl two whole boxes of juicy red plums. 'Just one thing: I would love to see what you make of the fruit. My son and I are heading this way tomorrow: may we call on you?' The girl happily showed the farmer where she lived, and set off with her load. And the farmer, for his part, did a little ancient Bulgarian happy dance…
Rumour has it that she prepared this lovely salad for them. But I wouldn't be listening to rumours if I were you.
Serves 2–3
Ingredients:
150g sugar
150ml water
300ml dry cider
2cm fresh ginger, peeled and diced
3–4 allspice berries, lightly crushed
⅓ tsp chilli (red pepper) flakes
500g plums, halved
50g shelled pecan pieces (or walnuts)
80g mixed salad leaves
1 red onion, sliced
¼ cucumber, peeled and sliced into half-moon shapes
150g Roquefort cheese, crumbled
1 tbsp balsamic vinegar
2–3 tbsp extra-virgin olive oil
⅓ tsp ground black pepper
Salt
Method:
1. Put the sugar, water, cider and spices into a little saucepan and bring to the boil. Carefully lower in the plum halves and poach them for 10–15 minutes, or until just cooked (watch them carefully otherwise you will end up making jam). Remove the fruit with a slotted spoon, but leave the poaching liquid simmering so that it reduces by three-quarters.
2. Toast the pecan pieces in a frying pan for around 2 minutes, stirring constantly.
3. When you are ready to serve, toss the salad leaves, onion, cucumber, cheese and pecans in a bowl. Place the remaining ingredients in a jug and strain around 50ml of the remaining syrup into it (keep the rest to add to your evening cocktail*): whisk well and adjust the seasoning to taste. Arrange the still-warm plums on top of the salad and cover with the dressing. Serve with warm bread and try not to drool.
* Bonus cocktail recipe:
Rub the rims of 2 glasses with a slice of lime, then dunk them into sugar to achieve that pro-frosted look. Fill the glasses with crushed ice and to each add about 100ml tonic water, followed by the remaining plum syrup, 1 measure of Calvados, ½ measure Triple Sec and the juice of ½ lime. Garnish further with lime, cucumber and mint.
A prize for whoever comes up with the best name for this little creation…
Salmagundi: A Celebration of Salads From Around The World is published by Pavilion, £25, and is out now