Matt Pritchard's vegan Scarlet Salad
From daredevil in cult TV show Dirty Sanchez to endurance athlete, Matt Pritchard is colourful and creative – just like the gorgeous dishes in his new vegan cookbook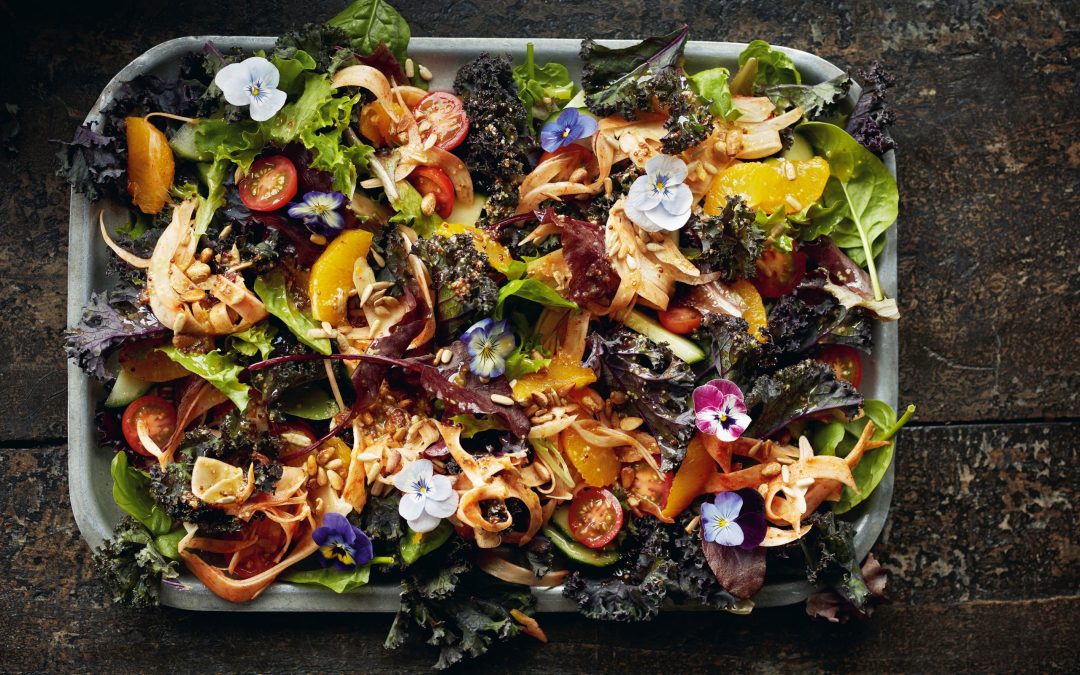 4 minute read
Edited by Danielle Woodward
A documentary about Matt Pritchard aired earlier this year called Wild Man To Iron Man. It traced his journey from zany TV star to the triathlete who credits becoming vegan as the key to a healthy life. Also, see him on the BBC's first vegan cookery programme, Dirty Vegan, in which Matt creates vegan food for people with specific nutritional needs, from a women's rugby team to members of the WI.
'I've always found happiness in the kitchen; it's where I chill out,' he says, and he studied at catering college before co-creating Dirty Sanchez.
Pritchard wrote his book for 'those who are new to vegan cookery; looking for simple ideas for tasty grub'. His philosophy is 'to cram as many nutrients as I can into every meal and make it taste bangin'!'
We've selected three scrumptious dishes and, in the book, you'll also find 'The Full Hangover Pile Up', an alternative to the fry-up; 'Squash and Shroom Momos With Yuzu Dip', an Asian dumpling dish; plus filling salads, soups, stews and desserts. The science behind vegan substitutes for eggs and dairy is fascinating, and shows that you don't need to make a big effort to cook great vegan food.
The Scarlet Salad
This went down a treat with the Scarlets rugby team as it's packed with flavour and vibrancy, and the vinegary, garlicky dressing brings the leaves to life. I get my leaves from Cae Tan, a Community Supported Agriculture project in Wales. Using biodynamic produce makes an unbelievable difference to a salad!
Serves 4
For the marinade
2 oranges, segmented and juice collected
2 fennel bulbs, cut into wafer-thin slices
1 tsp paprika
For the dressing
4 tbsp extra virgin olive oil
2 tbsp white wine vinegar
1 tsp wholegrain mustard
1 small garlic clove, crushed
1 tsp maple syrup
For the salad
3 tbsp sunflower seeds
3 tbsp pine nuts
150g Russian or regular kale
100g mixed salad leaves
½ a cucumber
300g rocket
10 cherry tomatoes, halved
Handful of edible flowers
1. Start with the marinade. Put the orange segments and juice into a bowl with the fennel slices as soon as you cut them (to stop them from browning), then add the paprika and stir. Leave to stand, ideally overnight, or as long as possible.
2. Put the sunflower seeds and pine nuts into a heavy-based pan and toast them over a low heat for 5 minutes, until they take on a rich brown colour – be careful not to char them.
3. To make the dressing, put all the ingredients into a bowl, season to taste and mix thoroughly. The mustard should emulsify the mixture to make a smooth dressing.
4. Next, prepare the Russian kale. This leaf is good raw, but the stems can be tough. Remove the stems and slice the leaves into bite-sized sections. Put the salad leaves, the cucumber, kale, rocket and tomatoes into a serving bowl. Pour half the dressing into the bowl and toss the salad by hand. Drain the fennel from the marinade, reserving a few orange slices for decoration, and add it to the bowl. Sprinkle over the sunflower seeds and pine nuts, arrange the orange slices on top, then drizzle the remaining dressing over the salad. Garnish with the edible flowers and serve immediately.
Photographs: Jamie Orlando Smith and Chris Terry