Live life as a local: Copenhagen
Copenhagen charm by Emily Laurence Baker and Zoe Baker-Peng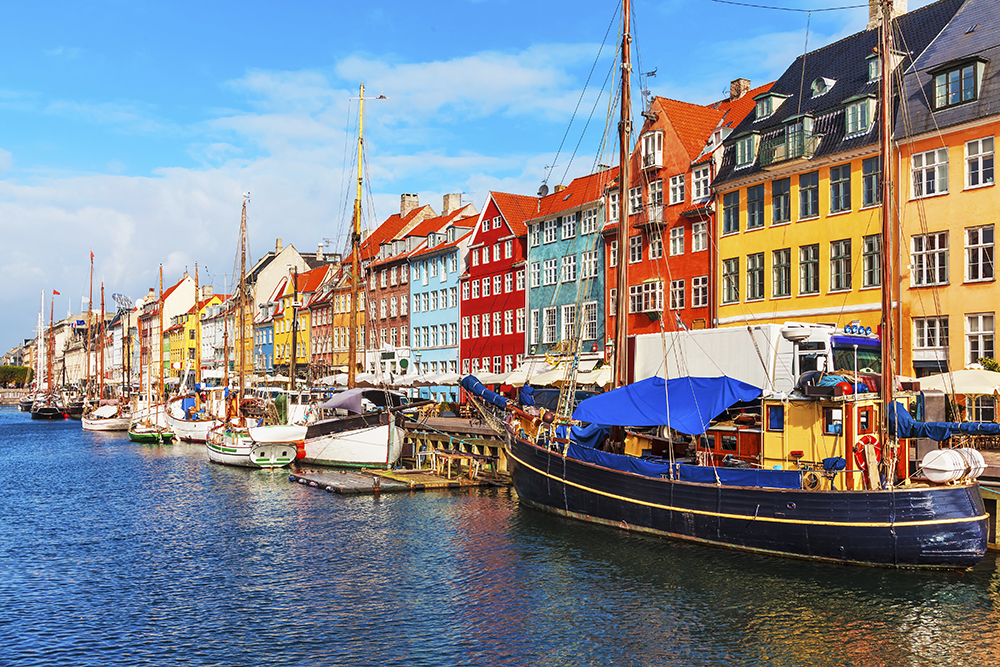 We explore the back streets of Paris, Lisbon and Copenhagen, to taste life among the locals of these three diverse cities, with an emphasis on combining the hip and the healthy.
It takes time to get to know Copenhagen, but spend a while here and you'll find that its quiet charms seep into your soul, and you'll want to return again and again. Café Retro is a great place to chill. This non-profit café inside a former home oozes hygge, that particular Danish cosiness, with its large sofas and fireplace. All staff volunteer, with profits going to projects in India and Africa. Try the hyldeblomst, a delicious hot elderflower drink.
The Black Diamond Library, Copenhagen's waterfront national library, has public reading rooms where you can plug in your laptop and escape the frenzy. The hot chocolate in the café is some of the best in the city and the roof terrace has some of the best harbour views.
Take a walk in a cemetery. Locals treat the beautiful gardens of Vestre Kirkegårds like a public park and Assistens is home to many Danish heroes, including Hans Christian Andersen and Kierkegaarde. In April, go and see the avenue of cherry trees at Bispebjerg Cemetery in Frederiksberg.
Vegan or veggie?
Head to 42Raw, Copenhagen's first raw food café – and it is still hugely popular. But you can still get a coffee with lactose-free or nut milks. Or travel 15 minutes from the city centre to Christiania, a green, car-free, self-governing enclave that's home to Morganstedet, a vegetarian café located in a small house with a garden, staffed by volunteers. Cuisines from all over the world are represented; it depends which chef is on duty. Food is priced by weight and is good value.
Copenhagen is the capital of healthy eating, so you're really spoiled for choice. For breakfast, it has to be Granola in leafy Frederiksberg. This convivial café serves an authentic ultra-Danish breakfast of hard-boiled egg, rye bread, a pot of jam, cheese and granola. The only downside is securing a table. BioMio is the largest organic restaurant in Denmark and one of the first to re-energise the former meatpacking district in Vesterbro. The cavernous space is remarkably cosy, with long wooden, candlelit tables
.
Copenhagen can be expensive, but you can just about squeak by at Den Okologiske Polsemand, the organic hot-dog stand located by the Round Tower in the centre of Copenhagen. Even the remoulade and fried onions are organic and it all tastes great. You can sit on one of the nearby stone benches and munch. In summer, head straight for Paper Island in Copenhagen harbour, where former warehouses are packed with food trucks selling cuisine from all over the world. Chefs work hard to produce high-quality food at low prices. You can eat by the giant fireplace indoors or sprawl along the banks of the harbour. Find out more at copenhagenstreetfood.dk.
Buy a cinnamon roll at Café Rosa, the Swedish bakery run by a Japanese woman (go figure) and take it over to Coffee Collective, where you can perch at the high bar by the window and watch people pass by, both inside and outside the market.
To best understand Copenhagen, take a walk along the revamped harbour between Nyhavn and Langebro Bridge. After leaving the cobbled streets of Nyhavn, you'll pass the quirky trampolines in the street, and have views of the Black Diamond Library and brand new Cirkelbroen (Circle Bridge) with traditional church spires in the background. Just past Langebro Bridge is the Islands Brygge swimming area. On a sunny day, everyone will be outside, enjoying their city. That's Copenhagen.
Kompagnistraede is an unusually attractive shopping street, with flowers abounding in spring and summer. Check out Tortus at No 23 for beautiful, hand-crafted ceramics; Kirk at No 11 and Liebe for playful ceramics. Just around the corner is Amagertorv, where the Royal Copenhagen flagship shop is at No 6; and Illums Bolighus at No 10 for fabulous homewares.
Jægersborggade in Norrebro is a charming street for wandering and shopping. In summer there is a flea market and, at other times, the mix of ceramics, gourmet food and jewellery shops make this an interesting place to be. It has a great vibe.
You can't leave Copenhagen without riding a bike. It is exhilarating, if not downright joyful, to pedal through busy urban streets. Biking is the essence of Copenhagen: practical, efficient, convivial and fun. Bike lanes are wide and separated from traffic so it's easy and safe.
If you only want a bike for a short time, consider hiring a City Bike; register on the website before you leave home. If you want a bike for several days, there are many hire shops around town.
If you're feeling carefree, visit the trampolines built into the ground at Havnegade Harbour Promenade near Nyhavn. Bouncing into the air beside the waterfront embodies the free-spirited nature of Copenhagen. If bouncing is not your thing, climb the serpentine spire of the Church of Our Saviour. The final 150 steps wind around the outside of the tower, providing spectacular views (but it's closed in January and February). (Skt Annæ Gade 29, 1416 Copenhagen K; vorfrelserskirke.dk.)
Insider tip:
The Danish don't have an exact equivalent for 'please', so it's extra important to have your thank yous at the ready. 'Tak tak' (pronounced 'tack tack') or just 'tak' is what you need to say.
Photograph: iStock