Overcoming fear in Madeira
A leap of faith - Leanne Bracey travels to the island of Madeira to experience new heights, daring descents and to overcome her fears...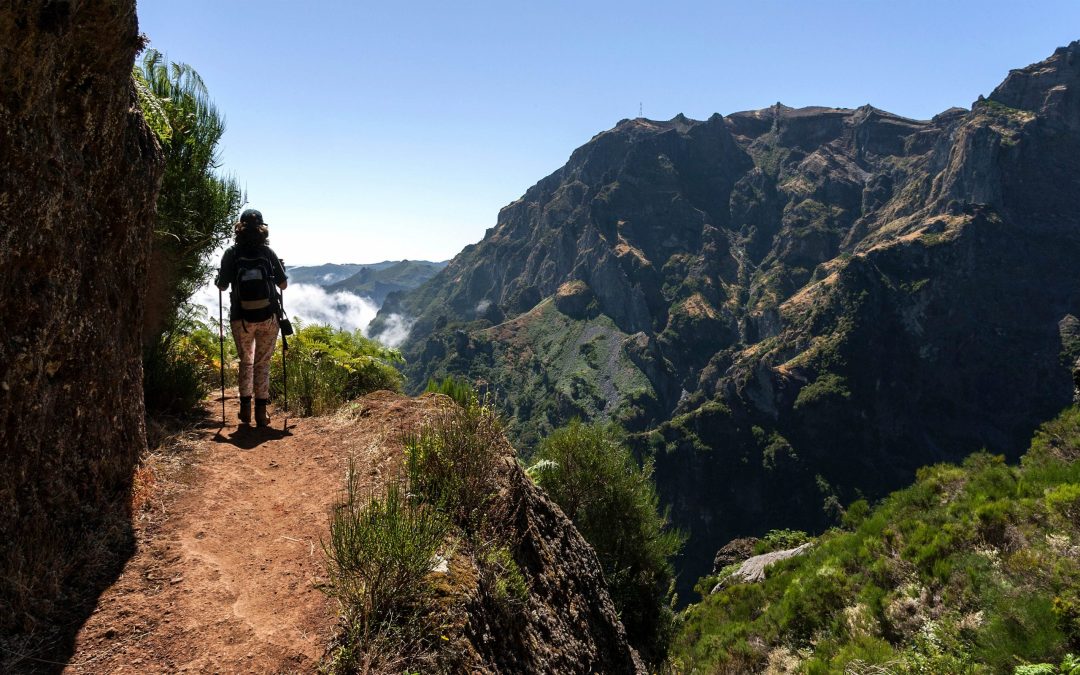 Standing on the edge of a waterfall in Ribeira das Cales, deep in the verdant mountains of Madeira, I contemplate my first canyoning jump into the cold depths of the water below. I've hung back from the group, feeling out of my comfort zone. This is a girl who's tried abseiling on the Isle of Man, paragliding in Switzerland and caving in the Ardèche (zipwire in a pitch-black cave). Over the past few years, I've pushed my limits when it comes to conquering my fears, both in my personal life and my chosen experiences.
However, I remain petrified of being in open water, so resolve to combat this. Madeira isn't just for the cruise posse and weekend warriors in search of winter sun. Extreme sports-seekers get sucked into the mountains and surrounding waters in search of a natural high; a three-hour plane journey, the promise of good food and interesting activities is all it takes to convince me.
This small volcanic island in the Portuguese Archipelago has been a UNESCO World Heritage site since 1999. It sits on the same latitude as Morocco and has a jaw-dropping airport right on the sea with an amusing statue of Cristiano Ronaldo at its entrance. Madeira's diverse terrain and unique climate makes it a great venue for outdoor activities, from watersports to mountain biking, interspersed with gentle nature walks. The capital, Funchal, is vibrant, cosmopolitan and on the right side of hip. There are plenty of hotels to stay in, however, Hotel Vine's location is rather unusual; slap bang in the middle of a busy shopping centre, albeit on the top floors.
Funchal's interesting mix of cobbled streets, hand-painted benches and beautiful gardens sit alongside vibrant bars and cafes, Michelin-starred restaurants and foodie markets, where a huge range of fresh produce and scabbardfish are in abundance, if a little ugly to look at.
Come along for the ride
A thrilling speedboat ride to see whales and dolphins is first on the agenda. We bash through choppy seas, reaching a few miles out from the coastline. Pilot whales dip in and out, while a pod of common dolphins dart around the speedboat chasing squid. Our tour operator is respectful, backing away and allowing them to feast in peace. Exhilarated, we dine at Adega da Quinta restaurant, where typical Madeiran food is on the menu. Espetada beef seared on laurel branches arrives on tall skewers, bolo do caco – Madeiran bread – is crunchy and garlicky, poncha, a honey, lemon and sugar cane rum is sipped, and Madeiran wine from its original wine cellar is poured.
The next morning, mustering a can-do attitude, I find myself cosseted in an ill-fitting, unglamorous wetsuit above a waterfall, about to abseil down. My group of friends is supportive, aware of my trepidation. Madeira is well known for its fantastic canyoning, which is, essentially, hanging off some rocks while a waterfall hurtles over you. I realise quickly that I need to be aware of the natural obstacles. And, with that first step onto the rocks, all my worries and concerns, not just about this experience, but my life as it stands right now, are eliminated. To be safe is to be mindful of every movement; a slippery piece of moss here, a loose rock there could mean instant injury. But then, before I know it, I'm jumping into a dark pool of water below without a care in the world. Aside from freezing hands, I'm in a kind of rapture.
Two hours fly by in a watery haze as our group take turns to descend six waterfalls, each of us shouting encouragement when needed. An unusual group experience can be incredibly bonding so, over lunch at Abrido Do Pastor, there's non-stop chatter about our individual takes on canyoning. We welcome the cosy, family-friendly alpine-style vibe, where hearty stews and scabbardfish are on the menu. Somehow, we need to garner enough energy for an afternoon of mountain biking. Biking trails in Madeira are impressive; there are 150km in total. Pedro, our calm instructor, informs us that we're about to do a 17km, mostly downhill cycle from Poiso to Santo Serra.
So far, the drives around Madeira have left me wondering just how many brake pads a garage gets through in a year, such are the steepness and frequency of hills. I confess, I find anything more than just a casual saunter on a flat road a bit of an ordeal but, with so much remarkable scenery, I ignore the fact that my posterior feels like bone on knives and enjoy the liberating sensation of fresh air hitting my face.
The next day, we explore the east of the island in a Jeep, complete with our very own Indiana Jones. We take a walk through one of the many levadas trails, surrounded by laurel trees. At one of the viewpoints, a Madeiran chaffinch joins us, charming us with its song. We come across an oblique-shaped fruit which turns out to be a banana passion fruit; apparently there are more than 500 species of this fruit on the island. The market in Funchal is testament to this, where we try just a small sample of sharp passion fruit, vivid in colour and tempting like sweets.
Sadly, a storm sets in rapidly and puts a stop to our excursion. The road becomes impossible for the Jeep to navigate, so we head to Quinta do Furaol restaurant, which has epic views out to sea, and wait for the raging tempest to pass.
Storm abated, no visit to Madeira is complete without an exhilarating toboggan ride from Monte Parish down 2km of Madeira's steepest streets. It's quite a bizarre tradition, being pushed down a hill in a wicker and wooden basket by two men, but it's a joyous experience. I leave Madeira ticking a few more things off my list, proud of myself for trying the canyoning. I certainly didn't think I'd like it as much as I did. Now, where's that wetsuit?
Magnífico Madeira! Enjoy white-knuckle adventure, glorious food and nature at its finest
Image: Getty