Cajun chicken and lettuce tacos with carrot fries
Mindful Chef, the healthy recipe box delivery service, has created this super healthy take on chicken tacos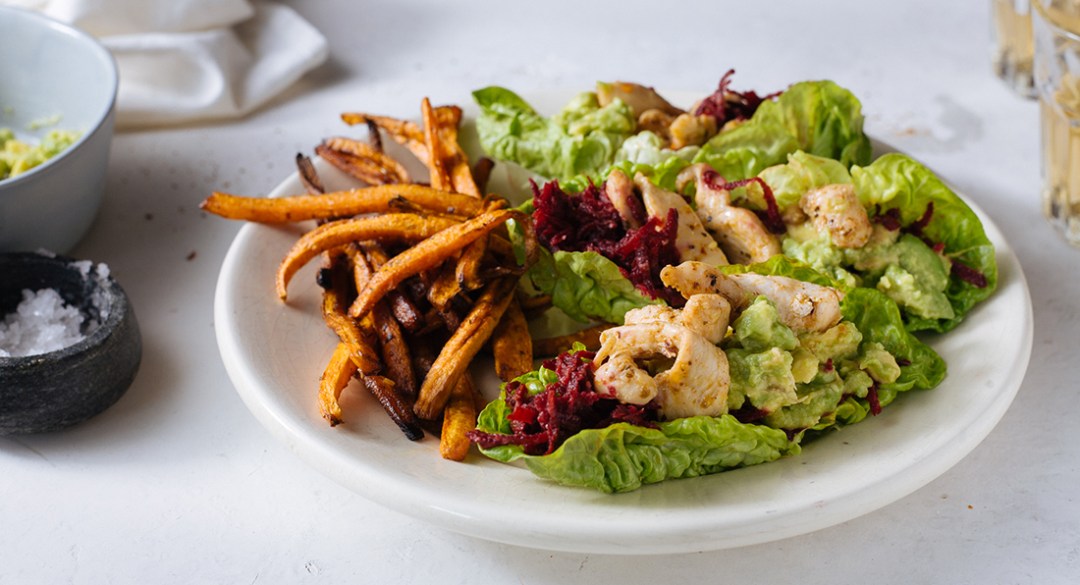 As part of their series of carrot recipes, Mindful Chef have put together this yummy alternative to chicken tacos with all the trimmings. A fantastic mid-week treat or a healthy and gluten-free option instead of a Saturday night takeaway.
The company offers organic, sustainably sourced ingredients from small West Country farms in a bid to provide people with the tools and know-how to make fast, fresh and nutritious meals for the whole family.
Here are the ingredients and a step-by-step method for Cajun chicken and lettuce tacos with carrot fries:
Cooking time: 25 minutes Calories: 540 calories Macros P: 46g / C: 41g / F: 24g
Ingredients
2 x 170g chicken breast
2 tsp cajun spice (mustard)
400g carrots
100g beetroot
2 tsp tahini (sesame)
1 lemon
2 gem lettuces
1 avocado
Method
1. Preheat the oven to 200°C / gas mark 6. Peel and cut the carrots into fries.
2. Place the carrots in a bowl and sprinkle over half of the cajun spice and drizzle with 1⁄2 tbsp oil, mix well. Place on a baking sheet in the oven for 20 minutes, turning halfway through cooking.
3. Slice the chicken into strips and place in a bowl with the remaining cajun spice and 1⁄2 tbsp oil and season with sea salt. Toss the chicken making sure it is well coated. Heat a frying pan on a medium heat and add the chicken, cook for 10 minutes turning often, until cooked through.
4. Whilst the chicken is cooking, peel and grate the raw beetroot. Mix the tahini in with the beetroot and half of the lemon juice.
5. Peel and de-stone the avocado and scoop into a bowl. Roughly mash with a fork and mix with the remaining lemon juice and season with sea salt and black pepper.
6. To prepare the lettuce wrap, cut the base of each lettuce at the head, carefully peeling it away so it stays in one piece. Use 2-3 leaves per wrap.
7. To assemble the tacos, place equal quantities of the grated beetroot in the lettuce leaves and top with the avocado and chicken strips. Serve alongside the carrot fries.