The beauty bond
Sharing a mirror and swapping make-up tips are simple rituals that strengthen the ties we have with other women, says Alexandra Friend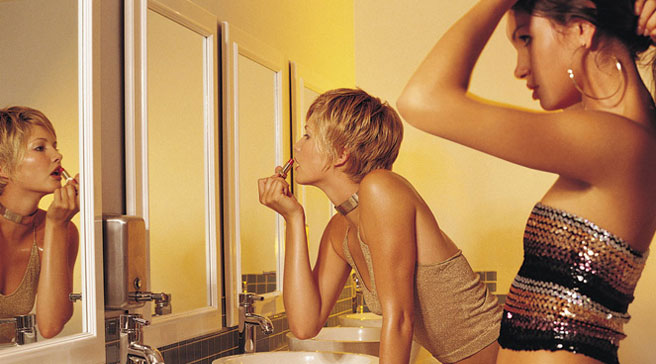 While some may regard beauty as a narcissistic pursuit, others know that our increasingly busy lifestyles make it harder to foster human contact. The sharing of a make-up tip, a visit to a spa with friends, or even buying a body lotion from a community-conscious brand can offer new ways to reach out to and strengthen the connections we feel with other women.
'As well as demonstrating a sense of self-love, grooming is a great form of bonding between close friends and even between women who've never met before,' says facial therapist Emma Hardie. 'How much more likely are you to share your deepest feelings than when you're bundled up in a warm robe after a massage, or have helped a friend to choose make-up that makes her feel truly beautiful?'
Animal instinct
No matter how far we think we've come from our simian roots, the many ways in which we mark moments of intimacy with a grooming gesture (smoothing a lock of hair behind a friend's ear when she's upset, or picking a stray thread from a sleeve as we share a secret) tell us we're closer to our animal ancestors than we think. 'Many of our everyday behaviours mimic those of primates, who spend ages working through each other's fur,' says Dr Joanna Setchell, lecturer in anthropology at Durham University. 'Mutual grooming offers pleasurable and practical benefits. Studies show that it reduces stress levels and increases endorphin release in primates.' All cultures in the world have shared grooming rituals, from plaiting hair and rubbing pigment into the skin to visiting spas, she says. 'It's instinctive, and such co-operative relationships can help us navigate our way through life, and through being a woman.'
Family ties
As well as hinting at the animal heritage that's never far from our civilised surface, the way we demonstrate feelings of intimacy by physically fussing over one another is also rooted in our own early years and in our first experiences of bonding with other women, says Ingrid Collins, Harley Street consultant psychologist and spiritual healer. 'Some of our very first experiences of love and support take place as our mothers wash and dress us as infants,' she says. 'While men usually develop other ways of bonding with one another (in order to establish their separateness from their mothers, and commonly resulting in group-based, rule-governed activities such as playing or watching sports), women continue to use grooming rituals to form loving bonds of friendship.'
The power of touch
Is it any wonder, then, that we form bonds with those who care for our appearance — hairdressers, manicurists and massage therapists?
'Some women aren't comfortable enough even with their closest friends to share their truly private thoughts, but when you combine the sense of being groomed by another person with the power of touch, you have the makings of a great emotional outlet,' says Hardie, whose facials, priced from £85, have gained a loyal following. 'I want everyone I treat to leave feeling nurtured. I often feel as if I've become as one with a client during a facial. I have to in order to heal their skin, because true healing comes from the heart.'
Mirror, mirror
Off to powder your nose? Chances are, you're not going solo. 'The age-old practice of crowding round a mirror to do your make-up is about much more than swapping make-up tips,' says Collins. 'When women prepare together for a night out, it's more about belonging to a group than applying lipstick. It reinforces the bonds that hold you together before venturing into the wider world and is also a form of back-scratching — be good to your friends and they'll be good to you.'
But when you and your companions are searching for an alpha male, the gossipy vibe of a crowded powder room will be laced with an element of competition, too. 'No one wants their friend to look prettier than they do,' says Collins, 'so there's an aspect of keeping up with one another, but equally, women love to reassure, encourage and offer feedback – it's a jungle out there and we need our allies.'
Confidence tricks
The ritual of recruiting a wing-woman over a shared blusher brush is something that Katie Reynolds, make-up artist and founder of The Powder Puff Girls, knows well. She and her team of beauty professionals visit groups of women all over the UK to help them throw a pamper party or prep them for a big night out.
'Being made-up together provides a chance for women to show their mutual admiration and boost one another's confidence,' says Reynolds. 'They become openly complimentary and by the time we leave, they've built up a supportive rapport.' The beauty tips women pick up and pass on also help to build bonds. 'Sharing a beauty tip is like giving someone a personal gift and when it makes them feel better about the way they look, it can be a moving experience, whether you're a make-up artist or a friend.'
Sweet charity
The business of beauty also allows women to form bonds of support with women they've never met. 'It's important to us to support the women whose work contributes to our brand, and that extends from internal work policies to the way we source our ingredients,' says skincare guru Liz Earle. 'Working with collectives in northern Uganda benefits local communities and provides women with a source of independent income.'
Closer to home, Earle's website offers women in the UK an opportunity to communicate with each other. 'The common ground of looking good helps women to form friendships with other women they may not otherwise meet and discuss not only the contents of their make-up bags,' says Earle, 'but also share opinions on everything, from Botox to Fairtrade and animal cruelty.'