Roast duck crown with a cherry and red wine sauce and dauphinoise potatoes
With the long Easter weekend not that far away why not think about getting your family and friends together for a roast duck feast?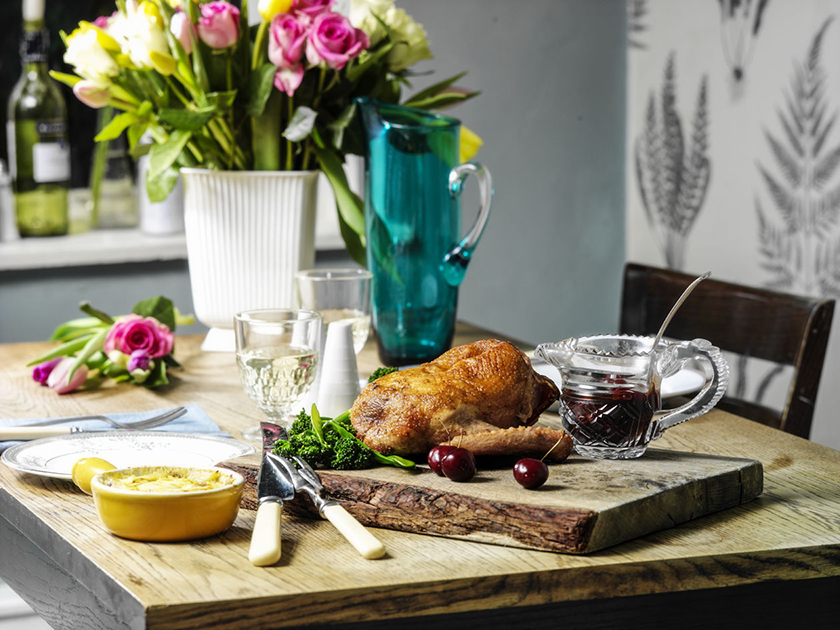 Gressingham Duck is delicious in a variety of recipes including this tasty roast duck crown with a cherry and red wine sauce.
Serves 2
Preparation time: 5 minutes
Cooking time: 1 hour & 15 minutes
Ingredients:
1 Gressingham Duck crown
Salt and pepper – season to taste
For the sauce:
12 pitted cherries
50g caster sugar
3 tablespoons red wine vinegar
400ml chicken stock
175ml glass of red wine
1 teaspoon cherry or redcurrant jam (optional)
For the dauphinoise potatoes:
3 large floury potatoes (approx. 850g) – peeled and thinly sliced
300ml double cream
2 garlic cloves
2 sprigs thyme
A knob of butter
Salt and pepper
Method:
1. Preheat the oven to 180°C. Firstly prepare the potatoes. Mix the cream, garlic and thyme together in a bowl and season with 1/4 teaspoon of salt and a pinch of pepper.
2. Butter an oven proof dish and layer half the potatoes. Lightly season and then pour over half the cream mix. Layer the remaining potatoes on top, lightly season again and pour over the remaining cream mix. Cover the dish with foil and place in the oven for 45 minutes. Remove the foil and cook for a further 30 minutes. Remove and set aside.
3. Once the potatoes have been placed in the oven it's time to prepare the duck. Pat the duck crown dry with absorbent paper and season inside and outside. Place the duck crown on a rack in a roasting tin and roast for 45 minutes or until the skin is crisp and golden. Remove from the oven and set aside to rest for at least 10 minutes.
4. While the duck and potatoes are cooking you can prepare the sauce (this can also be done in advance and reheated).
5. Place the sugar and red wine vinegar in a pan on a medium heat and reduce until you have a sticky caramel.
6. Pour in the wine and the stock and reduce by 2/3. When you have the consistency you desire, add in the cherries. Taste and if you feel it needs more sweetening, mix in the jam.
7. While the duck is resting you can prepare and simply blanche seasonal greens of your choice.
8. Once all the ingredients are ready, serve and enjoy.
For more information, Gressingham has lots of recipes along with 'how-to' videos on its website www.gressinghamduck.co.uk