Quinoa and beetroot stuffed baubles
Healthy food brand Gosh! have turned a tasty vegan treat into something fabulously festive...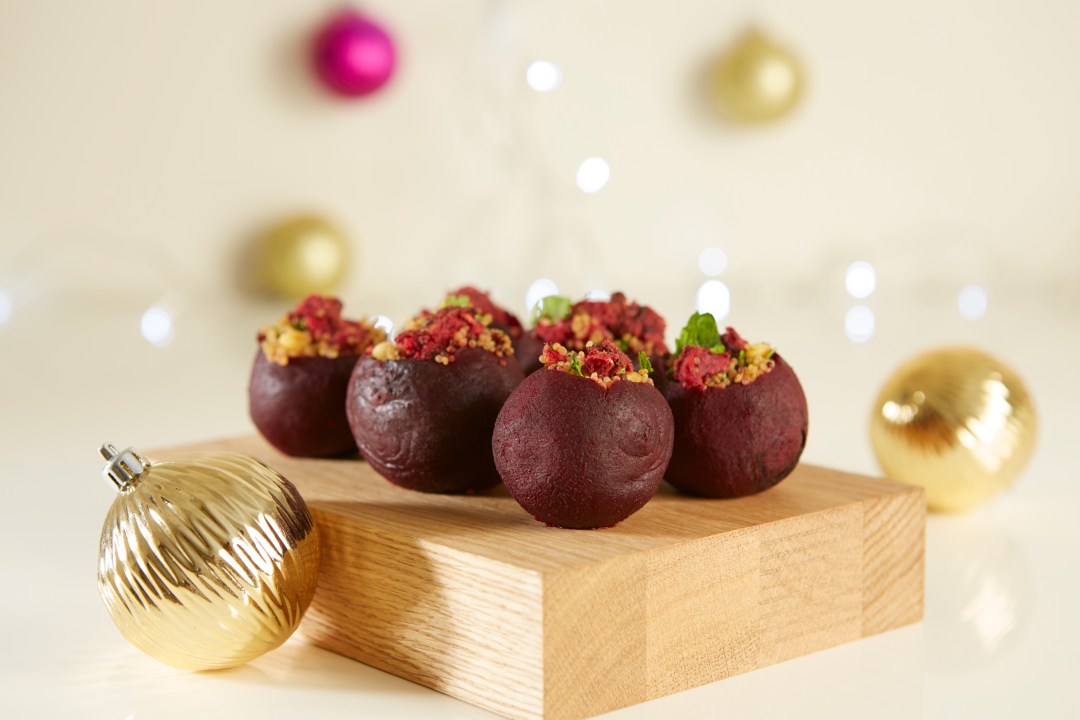 Gosh!, the healthy vegan 'free-from' brand, has created this super festive recipe that is sure to impress as a Christmas canape.
These quinoa and beetroot stuffed baubles are vegan, dairy-free, gluten-free, nut-free and soy-free. The recipe uses beetroot burgers as a stuffing for the beetroot baubles and the deep red and purple colours fit nicely with the festive theme.
Serves 4
Ingredients
1 beetroot burger
6 large pre-cooked beetroots (not pickled)
140g quinoa
1 clove garlic
handful fresh mint, finely chopped
2 teaspoons toasted pine nuts
small bunch fresh coriander, finely chopped
3 tablespoons olive oil
juice of a lemon
salt and pepper
Method
1. Preheat oven to 170°C.
2. Cook the quinoa according the packet instructions.
3. Whilst the quinoa COOKS stand the beetroots in an shallow baking dish drizzled with a little rapeseed oil. You might need to cut a little off the bottom to make them stand.
4. Carefully cut a circle out of the top of each beetroot, and then scoop out the middle. You can use a melon-baller, or a teaspoon for this. Ensure the beetroot is still sturdy enough to stand, but has enough space for stuffing.
5. Bake the beetroot burger according to the packet instructions. Once heated, chop the burger into small pieces no bigger than a cm.
6. Stir the oil, lemon, salt, pepper, mint, coriander and pine nuts into the cooked quinoa, and then gently stir in the diced beetroot burger.
7. Spoon the quinoa into the 6 beetroot cups.
8. Cover the dish and bake in the oven for 10 – 12 minutes until beetroot is warm.
As well as this recipe, Gosh!'s nutritionist Laura Southern has shared her top tips for surviving Christmas with food intolerances and allergies.