Minestrone soup recipe
Cooking from scratch is best – but we won't say no to a few culinary shortcuts. Try this simple minestrone soup recipe for a quick, healthy and nutritious meal...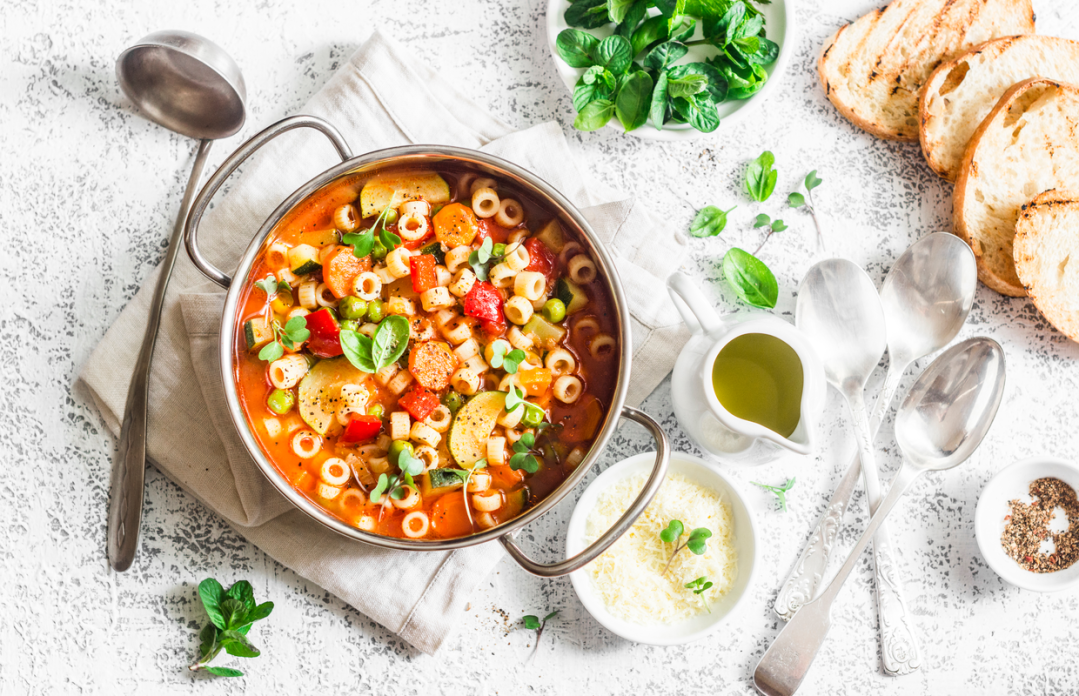 Let's face it, life is busy, with constant demands on our time, so it's no wonder we get to the end of the day tired and scratching our heads for dinner ideas. Takeaways are tempting but knowing a couple of quick alternatives in the kitchen – like this quick minestrone soup recipe – can save you time and money. Plus, you will know exactly what you are putting into your body.
Chef and author Rosie Reynolds believes in more flexible methods when preparing great-tasting food in less time. In her new book, The Shortcut Cook (Hardie Grant,£15), Reynolds shares her time-saving tips for creating appetising dishes that don't compromise on freshness and taste.
You'll discover a straightforward and practical approach to preparing meals and permission to use your microwave, shop-bought bits andfood from the freezer. Below, you'll find her quick and easy minestrone soup recipe, without the endless chopping…
Minestrone soup recipe
An Italian-inspired minestrone soup recipe full of comforting goodness that can be made with whichever pasta you fancy. Broken-up spaghetti works a treat, with a generous glug of olive oil, Parmesan and garlic-rubbed toast…
SERVES 4
Ingredients for minestrone soup:
1 tbsp extra virgin olive oil, plus extra for drizzling
100g smoked bacon, lardons or pancetta cubes
2 carrots
1 onion, peeled
1 celery stalk
2 garlic cloves, peeled
2 fresh or dried bay leaves
½ tsp dried oregano
400g tin good-quality chopped tomatoes
1 tbsp red or white wine vinegar or cider vinegar
100g kale, chopped
75g orzo pasta or small soup pasta
75g Parmesan or Cheddar, finely grated
Sea salt and freshly ground black pepper
How to make minestrone soup:
Heat the olive oil and the bacon or lardons together in a large saucepan over a medium heat.
Holding a box grater over the top of the pan, use the coarse side to grate in the carrots, onion and celery, then turn the grater and finely grate in the garlic. Increase the heat to high and cook for 2-3 minutes, stirring frequently until the vegetables are soft.
Throw in the bay leaves, oregano and tinned tomatoes. Use the tomato tin to measure out 2½ tinfuls of water and add to the soup, along with the vinegar. Stir in the kale and orzo, pushing them down with a spatula to submerge them in the liquid.
Bring to a simmer, then partially cover and cook for 10 minutes, stirring from time to time.
Remove the pan from the heat, add a quarter of the grated Parmesan and stir in until melted – the soup should turn a creamy red colour and thicken slightly.
Season well with salt and pepper and leave to stand for a few minutes. Ladle into bowls and serve drizzled with olive oil and plenty of the remaining Parmesan.
Make ahead: You can cook this up to the point of stirring in the cheese and keep in the fridge for 2-3 days, or freeze for up to 3 months.
The shortcut: Grating instead of dicing will save you time. Stirring in the Parmesan thickens, and adds a slow-cooked taste and feel without the time deficit.
More inspiration: Easy and cosy vegan shepherd's pie recipe with lentil mince