Easy and cosy vegan shepherd's pie recipe with lentil mince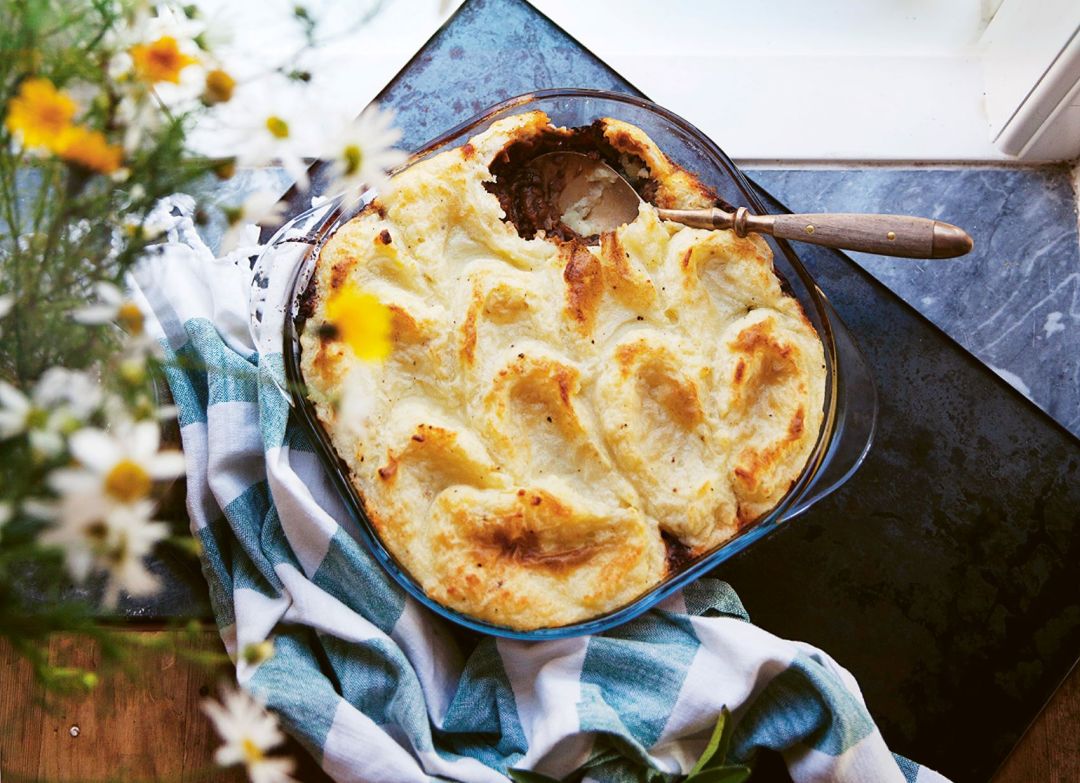 Every January, millions of people across the globe start a New Year's 'revolution' and try going meat-free for a month as part of the Veganuary challenge. Not only is a plant-based diet good for your health, its beneficial for the planet too. Plus, going green need not be daunting or dull when you have a few recipes up your sleeve – like this easy vegan shepherd's pie recipe!
Author, photographer, and TV-chef Karoline Jönsson knows a thing or two about creating simple and satisfying meat-free meals that bring comfort and warmth. In her new book Happy Vegan Comfort Food, Jönsson invites us into her Swedish country home and to her table to enjoy traditional dishes that make us think of home.
Easy vegan shepherd's pie recipe
SERVES 4-6
Ingredients for the mash:
1.2kg potatoes, peeled and cut into chunks
75g tbsp dairy-free spread
Approx. 150ml plant milk
Salt and black pepper
Ingredients for the lentil mince:
3 brown onions, finely chopped
2 carrots, finely chopped
5 large field mushrooms, finely chopped
Olive oil for frying
1 tsp white pepper
1 tbsp finely chopped fresh rosemary
2 tbsp finely chopped fresh sage
3 tbsp tomato purée
120g dried red lentils
85g dried beluga lentils
3 tbsp tamari
1 tbsp vegan bouillon powder
2 tbsp plain flour
Method:
Preheat the oven to 200°C/Gas 6.
Boil the potatoes in a large pan of salted water, covered with a lid, for about 20 minutes, or until soft.
For the lentil mince, fry the onions, carrots, and mushrooms in a generous glug of olive oil until the onions have started to colour. Add some salt, the white pepper, and the herbs.
Next, add the tomato purée and fry, stirring, for another few minutes. Then, add 800ml water, the lentils, tamari, and bouillon powder and stir well. Cover and leave to simmer until the lentils are almost cooked through.
Sprinkle over the flour and whisk into the mince, preferably using a steel whisk to make sure you get rid of any lumps of flour. Add up to 200ml water until you've reached a good consistency.
Drain the boiled potatoes and mash them using a potato masher. Stir in the spread and milk and mash together until smooth. Season to taste with salt and black pepper. Scoop the mince into a baking dish and top with the mash. Bake for 25 minutes, or until the mash is golden brown.