Malaysian tofu and carrot noodle laksa with flaked almonds
Enjoy this flavoursome vegan and gluten-free meal created by Mindful Chef, the healthy recipe box delivery service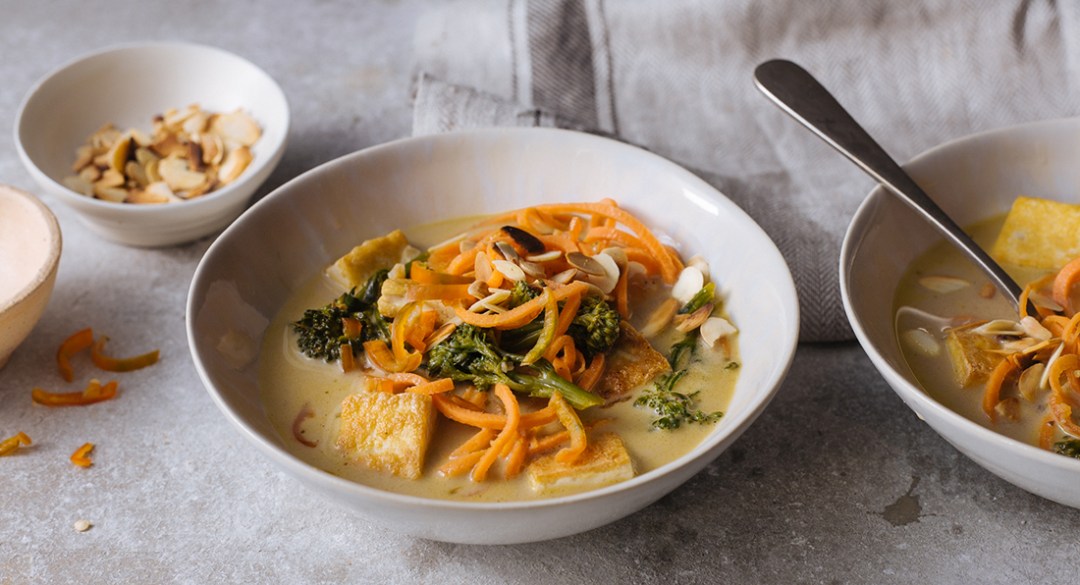 Here's another delicious dish from the company's carrot-inspired series of recipes, this time with a vegan twist.
Mindful Chef provides sustainably sourced ingredients from small, organic West Country farms so busy people can make fresh and nutricious meals, fast.
Check out the ingredients and this step-by-step method for making gluten-free Malaysian tofu and carrot noodle laksa with flaked almonds:
Cooking time: 30 minutes Calories: 428 Macros P: 17g / C: 30g / F: 29g
Ingredients
300g firm tofu (soya)
1 fresh lemongrass stalk
2 garlic cloves
4cm fresh ginger
100g tenderstem broccoli
300g carrot
200ml coconut milk
1 vegetable stock cube (celery)
1⁄2 tsp tamarind paste
1 red chilli
10g flaked almonds (nuts)
Sea salt and black pepper
Coconut oil / olive oil
Method
1. Trim the ends of the lemongrass and finely chop. Peel and finely chop the ginger and garlic and finely slice the chilli (remove the seeds for less heat). Trim the ends of the tenderstem and cut into 1 inch pieces.
2. Peel the carrot and trim the root end. Prepare the carrot noodles using a peeler and slice the carrot into long thin strips (or use a julienne peeler or spiralizer if you have one). Drain and rinse the tofu, cut into 2cm cubes.
3. In a frying pan, heat 1⁄2 tbsp oil on a medium heat and fry the tofu for 10 minutes, turning occasionally. Season with sea salt and black pepper.
4. Meanwhile, boil a kettle. Dissolve the vegetable stock cube in 200ml boiling water.
5. Heat a medium-sized pan with 1 tsp oil. Add the lemongrass, ginger and garlic and fry for 2 minutes, then add the tenderstem and fry for a further 3 minutes. Then add the coconut milk, vegetable stock, tamarind paste and carrot noodles. Bring to a simmer and cook for 5 minutes. Then stir the tofu into the laksa soup.
6. Spoon the laksa soup into a warm bowl and scatter over the flaked almonds and the sliced red chilli.