Hot and sour vegetarian duck broth with noodles
In celebration of National Vegetarian Week, here's a tasty recipe from Linda McCartney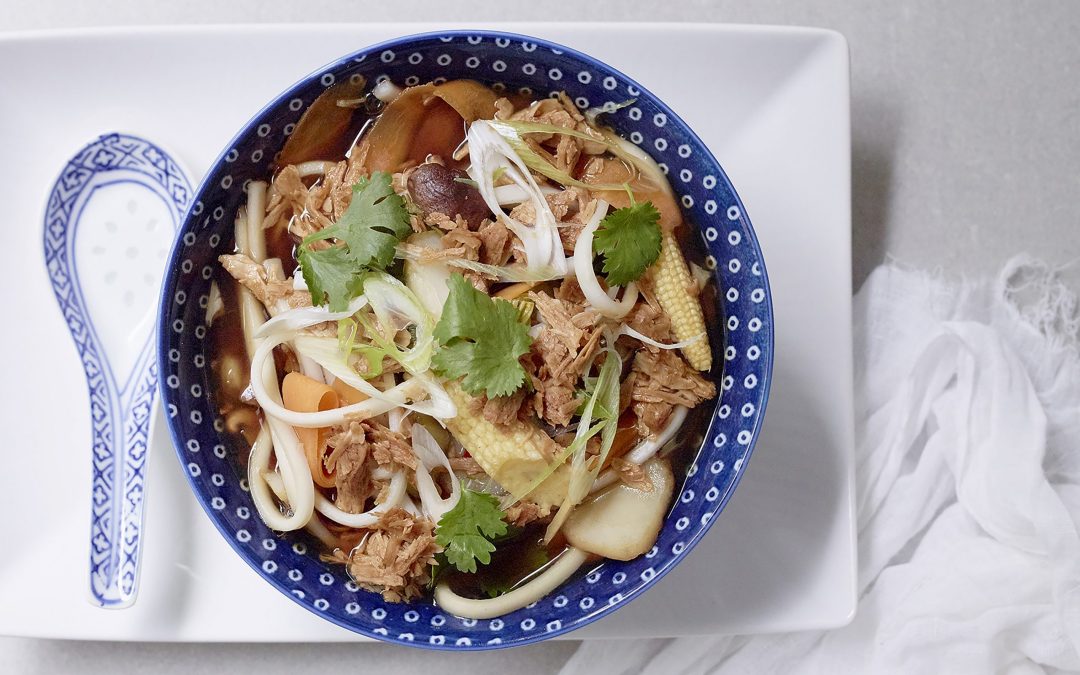 Linda McCartney's Thai style hot and sour vegetarian duck broth with noodles is light but still filling enough to feed a hungry family of four.
With bold flavours and fresh vegetables, this dish can be cooked and served within 25 minutes.
Preperation: 10 mins
Cook: 15 mins
Serves: 4
Broth
1.2 litre veg stock
1 tbsp sesame oil
4 tbsp rice wine vinegar
1 large piece of peeled and grated ginger (about 40g)
2 cloves of garlic (crushed)
1 red chilli finely chopped
1 tablespoon of tamarind paste
50ml soya sauce
salt to taste
Garnish
250g dried udon noodles
120g baby sweetcorn (sliced)
2 large carrots (ribboned using a peeler)
4 spring onions finely sliced
1 small tin water chestnuts, sliced
good hand full chopped coriander
2 baby pak choi sliced
300g Linda McCartney's shredded Hoisin duck
juice of 1 lime
Method
Cook the udon noodles according to the instructions, refresh with cold water and reserve.
Put the veg stock in pan and bring to a simmer, add the other broth ingredients and gently simmer for ten minutes, adding more chilli and vinegar to suit your taste.
Next add the harder vegetables, the baby corn, carrots and water chestnuts, cook for a few minutes then add the shredded Hoisin duck, spring onions and pak choi and finish with the lime juice and the coriander, keeping a little for garnish. Simmer for a minute and remove from the heat.
Warm the udon noodles a little by pouring a recently boiled kettle of water over them and then drain, divide between four warmed bowls, pour the soup over and garnish with coriander.
This week, there's a Linda McCartney Veggie Table Cookery Workshop hosted by Jay McGuiness in London. For more information, click here.