How life-long learning will benefit you
Ever miss your student days? Love gaining new skills whether it's DIY, ancient history or a foreign language? There are lots of ways to keep that love of learning alive as you go through life, writes Rin Hamburgh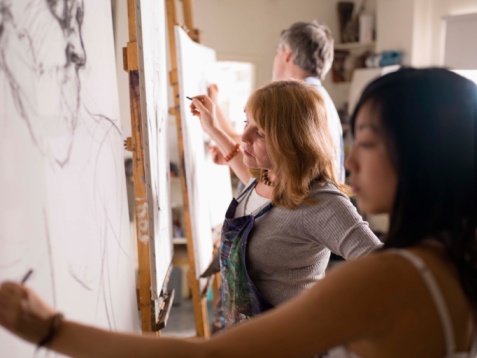 There's something about mastering a new skill that feels so good. And not just a practical one; any kind of learning can boost your wellbeing, and there's a growing pile of research to prove it. Studies have found that learning throughout our lives can improve self-esteem and increase life-satisfaction, optimism and belief in our own abilities. It can even help those with mental health problems, such as depression and anxiety, and some GP practices actually prescribe education as part of the treatment package.
Self-development, adult education – no wonder experts consider learning to be essential to a rounded life. In fact, it is so important that 'Keep Learning' is one of the New Economic Foundation's (NEF) Five Ways to Wellbeing, along with the phrases 'Connect', 'Be Active', 'Take Notice' and 'Give'.
'Learning addresses competence,' says Saamah Abdallah, senior researcher at NEF's Centre for Wellbeing. 'It can boost your self-esteem and show you that you can do things. But it also builds that sense of autonomy, and a lot of learning happens in groups, in classes and courses which, if done well, means people can build relationships too.'
So how can we keep that eternal student within us alive? Dr Ryan Niemiec, psychologist, coach and education director at the VIA Institute, an American non-profit organisation founded on the principles of positive psychology, suggests that the best place to start is to discover what interests you.
'Research has found with love of learning, one of the best ways to build it up is curiosity,' he says. 'Ask yourself, what am I passionate about, what am I curious about, what am I interested in? And then ask yourself where that leads you.'
Here is some inspiration, notebooks at the ready:
1. The School of Life
These clever clogs were ahead of the curve on the importance of lifelong learning, offering 'good ideas for everyday life', including workshops on subjects ranging from how to find a job you love and how to stay calm, to how to be a better friend and how to realise your potential. They also provide one-to-one therapy – you could have a Creativity MOT or a Career MOT – plus there's an online shop and a library of resources (blog posts, books, photos and videos).
2. FutureLearn
This innovative company works with top UK universities across disciplines from business to the arts to offer free online courses to all. Find management courses that could help your working life or creative writing courses (if you've just been inspired by The Artist's Way), to sessions that will help you turn your kitchen into a chemistry laboratory…
3. The Open University
If you're looking for a formal qualification but don't really fancy going back to eating beans on toast and drinking student union beer, you could enrol on a distance learning course with the Open University. As well as offering full undergraduate and postgraduate programmes, there are also short courses and vocational qualifications available, from business management and leadership to career guidance and travel-planning.
4. Frui
Much-loved for its inspiring, tailored creative holidays that help you learn to paint in Tuscany or cook a tagine in Morocco, Frui also offers UK-based courses, specialising in photography (in London, Leeds, Bristol, Birmingham and Brighton). Choose a lesson in the art of street photography or learn how to master shooting in black and white.
More inspiration:
Sign up for our Life Labs Practical Wisdom online course Achieve Your Goals here