Greece – focus on the spirit
Ali Roff brushes up on ancient Greek myths in Athens and the Greek islands, and discovers her inner goddess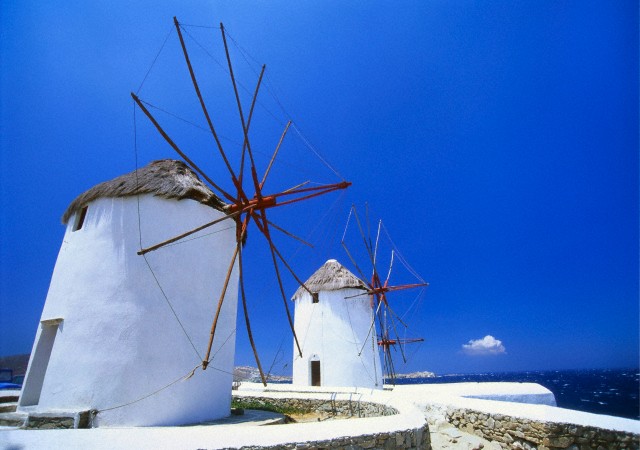 As I stepped out onto the hotel terrace, I faced one of the most grand, imposing and unique city skylines I had ever seen. There, looking watchfully over the city of Athens, was the Acropolis; my introduction to the history that this city's foundations are literally built on.
Walk around Athens and you'll come across many reminders of ancient Greece – all around are old city walls and buildings, excavated with a kind of uniformity as the new Athens is built on top of it, with 11th-century churches still standing among the restaurant terraces and shiny new buildings.
From food markets to flea markets, I ambled around Athens with a tour guide, stumbling over history wherever we went. Early on in the tour, we came across a bronze statue of an ancient Amazon – a female warrior, arrows propped under her arm ready for battle. The feminist in me roared an inner war chant, excited to find this ancient example of female empowerment.
We walked on to the Academy of Athens, where marble statues of philosophers Socrates and Plato welcome you as you approach, and Apollo and Athena stand proudly on columns, towering majestically above. It was Athena's story that really grabbed my attention; her birth is illustrated on the pediment of the building itself. Zeus gave birth to her from his head and Athena was born the goddess of wisdom and military victory, heroic endeavour, courage, inspiration, justice, mathematics, strength, strategy and the arts. An impressive all-rounder!
These myths tell something of the ancient Greeks. It may not have been a matriarchal society, but their ability to see women as something other than feminine wallflowers is inspiring. They celebrated female power, strength and ferocity, as well as their beauty – the opposite of many gender stereotypes we hold today.
In search of more Greek history, we travelled to the beautiful island of Mykonos (a 40-minute flight away). It was almost unbelievable to have shifted from the grandeur and bustle of the city to a restful, serene, beach-chic atmosphere, all in a long weekend.
We hopped on a boat to the uninhabited island of Delos, historically, archaeologically and mythologically one of the most important sites in Greece, and supposed birthplace of Apollo. Once a hub of trade and finance, covered top-to-toe in marble statues and temples, it is an eerie yet fascinating place.
A tour guide is a must here – I was hooked by the legends, told with such vigour and enthusiasm. Back at the hotel, I soaked up the last sunrays of the weekend, drawing their warmth onto my skin. I closed my eyes and thought about Athena, strong and wise. A few days away from the humdrum of home and I had explored a city, found ancient Greece and indulged in the serenity of island life. But more than that, I had rediscovered my inner goddess; the wise and courageous one, the one who is strong and artistic, strategic and skilled. I took her home with me.
Athens: Stay at King George, a Luxury Collection Hotel. Rooms from €235 per night, room-only, including taxes. Go to www.starwoodhotels.com. Eat at Giouvetsakia in the Plaka district
Mykonos: Stay at Santa Marina, a Luxury Collection Resort. Rooms from €369 per night, including breakfast and taxes. Go to starwoodhotels.com. Eat at Kalita
Photograph: Corbis