Choose confidence-boosting hair colour
Josh Wood, aptly named the King of Colour, explains how the correct hair shade can give you that inner and outer glow. By Amy Jones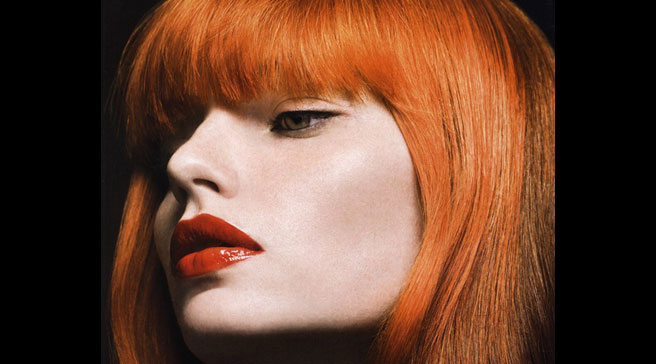 If, like me, you often dye your hair, you'll agree that with the infinite shades, tones and hues available to us, choosing the right colour just got a whole lot harder. In 'Shades of You', Caroline Brien's insightful article on our emotional attachment to hair colour, (in February's issue – out now), the industry's most consulted colour expert, Josh Wood reveals what our hair colour really says about us. Who better, then, to steer us in the right direction?
'Like any other colour that we embrace, hair colour is fundamental to our self-confidence and the way we want the world to perceive us.' Josh believes that even the subtlest change in hue can make the difference between a drab looking skin tone and a glowing complexion.
'Hair colour is unique to everyone and there is a shade in every category to suit us all – as the statement "there is a blonde in us all" suggests!' With so many to play with, selecting the perfect shade is part of the fun. When a client is embarking on a colour change, there are two main factors that Josh initially takes into consideration: eye colour and skin tone. Such an assessment needs to be carried out on a one-to-one basis so he stresses the importance of a detailed consultation. 'Handing over such an important identity marker can be difficult but it is important that you seek your colourist's opinion.
Make sure you explore different options within the colour palette that has been recommended but, most importantly, don't immediately reject change, as keeping hair colour looking modern is the best way to remain looking youthful.' He explains that providing we choose the tones that best compliment our skin, a radiant complexion is still possible even if you opt for an entirely different colour. 'If you are a golden warm blonde and you stay in the golden tone you can slide up and down the light/dark scale as much as you like. For blondes, the biggest fear seems to be not looking as 'bright' but quite often if they go a little darker their skin and hair can still glow just as much.'
When it comes to finding the right colour tones for aging hair, Josh suggests that we need to let the grey hues influence how we move towards a dynamic colour. 'We lose pigment in hair and in skin tone, so getting a professional to assess which colour is most suitable is a must. I always say have a really good review of your colour at 40 and another major reassessment at 50. If you have lots of grey around the face, I personally feel that it is much better to stay lighter so that when the re-growth apprises it isn't as obvious. If you're losing pigment around the front of the hairline, it's better to accentuate rather than cover it. Adding champagne or suede highlights to the hairline maintains a light glow and is a great way to brighten the face.'
Having made some unwise colour choices myself, Josh invited me along to his new Atelier of hairdressing in Holland Park, where I was given a consultation with one of his colourists, Heidi. Heidi took one look at my hair and instantly explained that the colour was too icy for my skin, which already exudes cool undertones. Fear of turning orange and brassy has had me pleading hairdressers for bleach for years but, unbeknown to me, the cool-cool combination had left me looking slightly drained and had stripped all the warmth from my formally rosy cheeks. Heidi soon got to work adding a blend of caramel, golden, buttery and biscuity tones from the roots through to the ends of my hair to break up the solid block of bleach.
The results are phenomenal. To the untrained eye I am the same colour but the melange of warmer hues have subtly brightened my complexion and restored a healthy glow. Heidi has instructed that maintaining the roots every 8 weeks will play a huge part in preventing fade and avoiding the colour turning brassy. Best book myself in for my next appointment then…
Josh Wood Atelier, 6 Lansdowne Mews, London, W11 3AN. To make an appointment email reservations@joshwoodcolour.com or call 0203 393 0977. Appointments with Josh himself are priced by consultation; Wella colour with his team starts at £120 and styling from £35.