Psychologies Real Natural Beauty & Wellbeing Awards 2018
Natural. Naturally Derived. Of Natural Origin. Organic. Non Toxic. Clean. Conscious. Eco. Green. What do these words MEAN when it comes to the products you are investing your hard-earned money, and trust, in?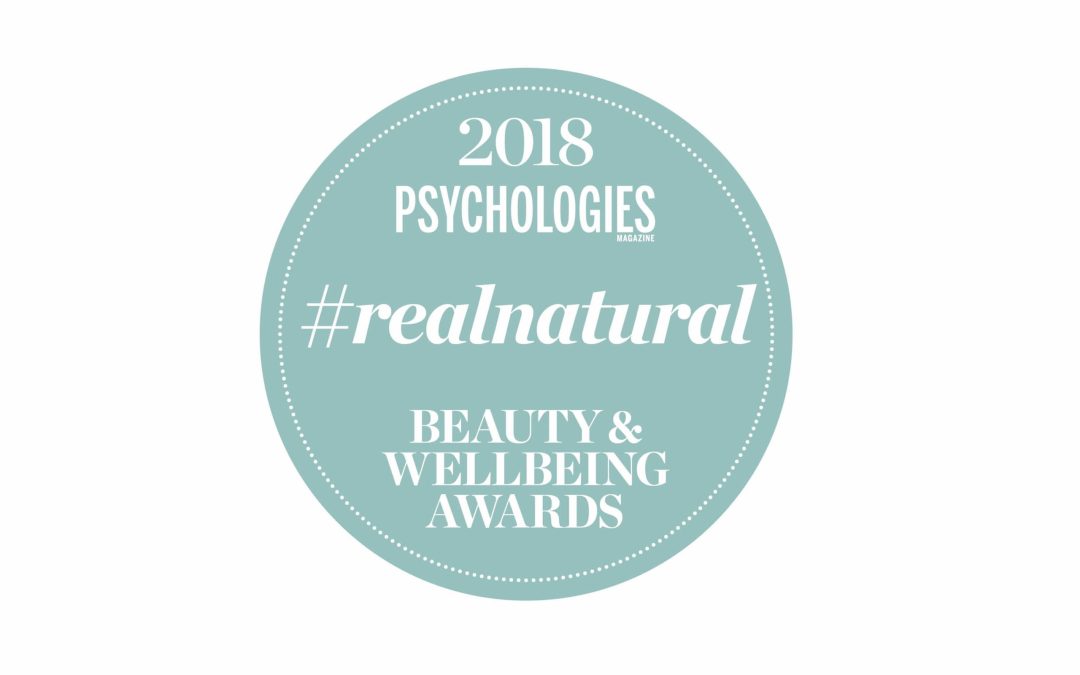 When you walk into a store, or browse online, we hope to find something that will repay our investment – offering a wholly transparent, pleasurable and efficacious experience, to boot. But, the beauty world has always been notoriously wooly – there is nothing stopping anyone from inventing their own terminology, and when it comes to things such as perfume, it is perfectly legal to sell bottles of the stuff with not the first idea about what is in them (protected as they are, by intellectual property laws, which enable the juice's ingredients to be kept a 'trade secret').
Anyone can call their products 'natural' too – it is a wholly unregulated term, sadly – and really does mean that you could be buying something that is full of cheap, questionable and synthetic chemicals, but that simply has a diminutive dash of natural essential oil thrown in, for tokenistic measure. Thankfully, the rising tide of interest in ethical living has led to more and more consumers questioning what actually goes into their products. Change never begins at the top though – it takes a huge consumer movement to apply enough pressure to get biggest corporations to wake up and become accountable (and they tend to do so, only when they know that there is money to be made from change).
This is happening, right now, with consumer appetite for not just 'real natural' products growing exponentially (69% of 35-44 year old women now say that buying all-natural beauty products is important to them; source: Green Beauty Barometer 2017), but also our awareness of whether or not these products are vegan, sustainably packaged, biodegradable, refillable or recyclable, and ethical throughout their production line too.
For the first time in our modern social history, almost all of the big beauty giants are paying attention, and almost all have implemented sustainability charters and more transparent communications for their own products. For you and me, though – and those of us who simply want to buy beautiful products that are a real pleasure to use, safe in the knowledge that they are free of harmful ingredients – we must continue to do a lot of our own legwork. Hence, why the Real Natural Awards matter so acutely. Not only are we incredibly stringent in our selection processes, but we also open these Awards up to all brands, free of charge. You do not need to pay us or advertise with us to 'win' something. You simply need to be really natural, transparent and totally brilliant – and it's always clear which products are, because the same products crop up over and over when we sit to review the voting forms that pour in over the summer.
Here, then, we feel incredibly proud to celebrate brands across the board, from tiny one-woman/man operations to largest companies blazing their sustainable trails – as tested and selected by our industry expert panelists. We call it 'Real Natural' because there is no greenwashing here. Almost all of our selections are 100% natural. This is different from naturally derived, which means that though the original source of the product may be natural e.g. coconut, the ingredient then goes through any number of chemical processes to make it into another ingredient. It's a sketchy term – imagine taking an organic apple and using a chemical solvent to extract part of it, then a synthetic preservative to extend its shelf-life it, then additional synthetic chemicals to get it to behave as you want it to, before presenting it to someone as a 'naturally derived apple.' We have, therefore, avoided 'naturally derived' aside from those products that are almost entirely natural already, but may use one or two safe 'naturally derived' preservatives, which are deemed safe and of the lowest possible risk by EWG.org, and two other very helpful consumer beauty apps, Think Dirty and Skin Ninja (I highly recommend you download them to your phone – the barcode scanners which cross-check the product's ingredients are just brilliant).
There are also certifying bodies, such as NATRUE, COSMOS and The Soil Association, who operate widely within the EU. The US have their own regulatory bodies, overseen by the FDA, which is nowhere near as stringent as ours: 1,328 chemicals are banned from cosmetic usage or sale in the EU, while only 11 are off limits in the US (source: safecosmetics.org). These official 'stamps' and labels really can count for a lot – not least of all because companies have to heavily invest in going through the certification procedure, which is costly and lengthy. But, they are not the whole story. Many little guys simply cannot afford certification – but this does not mean that their products are less pure, natural or safe. And, by that same token, simply because a product is natural, does not mean that it is immediately elevated to the holy grail of cosmetics. Some naturals do not perform well at all – they are poorly formulated, might be inexpertly preserved (thereby oxidising, which if applied to skin, can be both irritating and prematurely ageing), or are simply not suited to your own skin (some essential oils can be extremely irritating to some, while others might flourish when using them).
Everything is subtlety and individuality – one size can never fit all. What we can trust, however, is that by making a conscious decision to avoid products that contain questionable ingredients, from non-biodegrading sulphates, to endocrine-disrupting phthalates, we are choosing to support brands who care about these things too. We are also raising awareness of the murkier sides of the cosmetics industry, and entirely boycotting those ingredients that come from the notoriously polluting petrochemical industry (petroleum jelly, petrolatum, mineral oil), and saying, collectively, that we will have no part in that, thank you very much. Here, instead, we understand that we are the product of our choices. And we want those choices to be kind, ethical and safe. In that we really can trust – and with that, I am so immensely proud to present this year's Real Natural Awards.
Follow along with us as we share more about these brilliant brands and our expert panelist's choices, via our hashtag #REALNATURALAWARDS – on Instagram, Facebook and Twitter – and let us know which of these you have tried and loved, or would love to see included next year too!
Keep it Real Natural,
Eminé x
SKINCARE
Best Cleanser
WINNER
Alexandra Soveral Angel Balm Cleanser
HIGHLY COMMENDED
Harborist Balm-Gel Cleanser
Best Mist
WINNER
BYBI Mega Mist
HIGHLY COMMENDED
Rå Rose Mist
Best Serum
WINNER
Nourish Radiance Rejuvenating Peptide Serum
HIGHLY COMMENDED
Romilly Wilde Advanced Supercell Serum
Best oil-based Serum
WINNER
Lani Tropical Super Serum
HIGHLY COMMENDED
Vanderohe Serum No 1
Best Face Cream
WINNER
Dr Hauschka Rose Day Cream, £30.50
HIGHLY COMMENDED
Therapi Rose Otto and Propolis Ultra Radiance Moisturiser
Best Face Cream with SPF
WINNER
de Mamiel Exhale Hydrating Nectar SPF30
HIGHLY COMMENDED
Josh Rosebrook Nutrient Day Cream SPF 30
Best Face Mask
WINNER
Josh Rosebrook Advanced Hydration Mask
HIGHLY COMMENDED
TWELVE Beauty The London Mask
SPECIAL MENTION
Marie Reynolds Dermabiome Mask
Best Face Oil
WINNER
MV Rose Plus Booster
HIGHLY COMMENDED
de Mamiel Seasonal Facial Oil
Best Lip Treatment
WINNER
Twelve Beauty Hyaluroil Lip Treatment
HIGHLY COMMENDED
Burt's Bees Lip Balm
Best Night Product
WINNER
Neom Perfect Night's Sleep Face Oil
HIGHLY COMMENDED
Amly Rejuvenating Sleep Tight Face Mask & Balm
Best Multi Purpose Product
WINNER
The Organic Pharmacy Rose Balm
HIGHLY COMMENDED
Weleda Skin Food
SPECIAL MENTION
Trilogy Everything Balm
Best Ayurvedic Brand
WINNER
Mauli Rituals
HIGHLY COMMENDED
Samaya
BATH & BODY
Best Bath Oil
WINNER
Aromatherapy Associates Deep Relax Bath & Shower Oil
HIGHLY COMMENDED
Therapie Protect Bath & Body Oil
Best Natural Room Spray
Ilapothecary Beat the Blues Room Spray
HIGHLY COMMENDED
Root & Flower Yoga & Meditation Atmosphere Mist
Best Natural Candle
WINNER
Neom Happiness Scented Three Wick Candle
HIGHLY COMMENDED
Seven Seventeen Hello Calm Moroccan Rose Three Wick Candle
Best Bath Salts
WINNER
Therapie Roques ONeil Himalayan Detox Salts
HIGHLY COMMENDED
Westlabs Epsom Bath Salts
Best Body Balm
WINNER
Twelve Beauty Rewarding Body Balm
HIGHLY COMMENDED
Inlight Healing Ointments
Best Body Oil
WINNER
Isla Apothecary Neroli Body Oil
HIGHLY COMMENDED
Balance Me Super Moisturising Body Oil
Best Body Scrub
WINNER
Weleda Birch Body Scrub
HIGHLY COMMENDED
Herbivore Coco Rose Coconut Oil Body Polish
Best Body Wash
WINNER
Plant Apothecary Get Happy Body Wash
HIGHLY COMMENDED
Dr Bronner's Lavender Pure Castille Liquid Soap
Best Natural Deodorant
WINNER
The Natural Deodorant Co Lemon and Geranium Balm
HIGHLY COMMENDED
Evolve Cotton Fresh Cream Deodorant
Best Natural Toothpaste
WINNER
Weleda Salt Toothpaste
HIGHLY COMMENDED
Comvita Natural Propolis Toothpaste
HAIRCARE
Best Shampoo
WINNER
Tropic Clarifying Hair Wash
HIGHLY COMMENDED
Bouclème Hydrating Hair Cleanser
Best Conditioner
WINNER
Tabitha James Kraan 4-in-1 Conditioner
HIGHLY COMMENDED
Tropic Hair Feast Deep-Conditioning Treatment
Best Shampoo Bars
WINNER
Beauty Kubes
HIGHLY COMMENDED
Christophe Robin Hydrating Shampoo Bar with Aloe Vera
Best Styling Product
WINNER
Flora & Curl Flower Garden Hair Styling Butter
Less is More Lavender Smooth Balm
Best Natural Colourant
WINNER
L'Oréal Botanéa
MAKE-UP
Best Foundation
WINNER
Nude by Nature Radiant Loose Powder Foundation
HIGHLY COMMENDED
Ere Perez Oat Milk Foundation
Best |(Multi-Use) Blush
WINNER
RMS Lip 2 Cheek
Best Eyeliner
WINNER
Inika Liquid Eyeliner
HIGHLY COMMENDED
ILIA Pure Eyeliner
Best Natural Mascara
WINNER
Inika Long Lash Vegan Mineral Mascara
HIGHLY COMMENDED
Green People Volumising Mascara
Best Lipstick
WINNER
Absolution Sweet and Safe Organic Lipstick
HIGHLY COMMENDED
ILIA Beauty Organic Lipstick,
WELLBEING
Best Natural Supplements
WINNER
Wild Nutrition
HIGHLY COMMENDED
Viridian
Best CBD Product
Wunder Workshop CBD Oil
Best Probiotics
WINNER
Symprove
Best Immunity Booster
UnBeelievable Health Bee Prepared Max Strength
Best Teas
WINNER
Pukka
Best Natural Remedies
WINNER
WELEDA
HIGHLY COMMENDED
Neal's Yard Remedies
BEST PERIOD PRODUCT
WINNER
Natracare
HIGHLY COMMENDED
Yoni
SPECIAL MENTION
Thinx Period Underwear