How to live the hygge way of life every day
And bring a new dimension of cozy into your life. The Danish way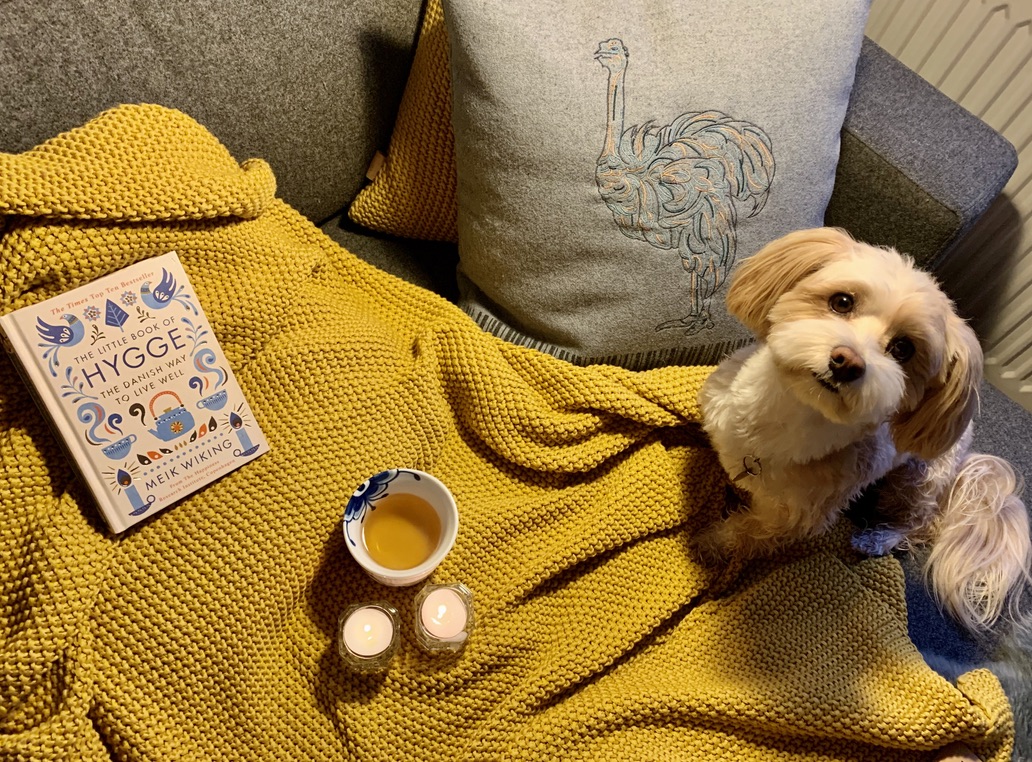 Hygge took the world by storm when Meik Wiking, CEO of the Happiness Research Institute, published The Little Book of Hygge – The Danish Way to Live Well. Now everyone has the opportunity to experience hygge. In real time. Without travelling to Denmark.
The Danes are supposedly one of the happiest nations in the world. Does their hygge way of life have anything to do with it? For them it's the only way of life.
Hygge (pronounced Hooga) is in my blood. I grew up in the UK with a Danish mother. My hygge memories include homemade boller (bread roles) in front of an open fire. Burning a candle at every mealtime, even in the summer. Hygge is together. Together always involved consuming something. Hygge was always there, and part of our way of life. I didn't question it. Or think about it. Some rooms in my family home had candles in the windows for decoration. Most of the time we didn't burn them. 'Why do you have all these candles? Are you afraid of a power cut?' One visiting friend asked. I didn't know what to say. But realized hygge was not everywhere. At least not in the 80s and 90s.
I was lucky to be born into hygge. But anyone can create and enjoy hygge. I promise. My sister has made roots in Australia. And her kids and husband have fully embraced hygge, adding melting marshmallows over a bonfire to their family list. After 20 years in Denmark, I consider myself a hygge expert. I live alone but enjoy hygge daily. I weave hygge into all my hobbies. Hygge is something I consciously look forward to and go out of my way to create. I have a hyggelig time whatever I do. And you can too!
Who can learn to hygge? Anyone and everyone.
A decade ago, I found myself chatting about hygge with an American couple while on a yoga retreat in Costa Rica. They lived in Wisconsin where winters are much colder than I've ever experienced. They had read an article about hygge in a magazine and were inspired to bring it into their life. Now all their dinners started with gratitude sharing as a family over a candle burning brightly. And they frequently reminded each other, what a hyggelig time they are having, whatever they do.
How do you bring hygge into your life?
Focus on the small things in your daily life which bring you pleasure. The simple yet mellow moments which give you energy. Spice them up and go out of your way to prolong these moments of joy. There's no need to spend a lot of money. As Meik Wiking reminds us, the hygge-factor does not increase if you spend more money. The simpler and more primitive an activity is, the more hyggeligt it is.
'Drinking tea is more hyggeligt than drinking champagne, playing board games is more hyggeligt than playing computer games, and home-cooked food and biscuits are more hyggeligt than bought ones.'
Hygge is about being in the moment and savoring life's pleasures. Tasting every bite of your cake or relishing sipping every sip of your drink. It's about being present and not wanting to be anywhere else. In the company of others or alone. No rushing or cutting corners. Hygge is about now and about gratitude.
Hygge comes in taste, sounds and smells. Stock up on the candles, your favourite hot drinks, bring out your cushions, soft blankets and comfy clothes. Hygge is self-love, compassion and reflection with your favourite music in the background, while you read and write.
Pets add extra hygge. I live with a little dog and rarely feel alone. Together we enjoy hyggelig moments in play, while I'm working, cooking or doing yoga. He's forever by my side. He's a hygge bamse (a hygge teddy bear) who loves cuddles and hanging out moments on the sofa, just as much as adventures outside.
Hygge is in nature. By the sea, deep in a forest, or in the garden. Enjoy what each season brings, and nature's elements however harsh. Stormy weather and snowy landscapes are an excuse for extra hygge. A simple picnic (by the sea is extra hyggeligt), an amble in the park or reading under a tree are super hyggeligt too.
Hygge is meaningful conversation with others. At work by the coffee machine, at home in your kitchen or in your favourite café. In person, on the phone or virtually. Skål (toast) over a glass of wine or beer for extra hyggeligness. Showing up to a social event just for the hygge is cool too.
Hygge can be enjoyed solo! Hygge is sometimes known as socializing for introverts. Wear hygge sokker (socks) to warm your feet, curl up with a good book in your favourite chair, or on the sofa with a hot drink. With or without music in the background, you create hygge. Swap the book for a movie and munch some chocolate or popcorn, and you have hygge too.
Christmas is definitely the most hyggelig time of year. It's the combination of the decorations, food and traditions shared with family, friends and colleagues. Julehygge (Christmas-hygge) is planned throughout December. Every weekend is full of hygge while the countdown is on. Add colour and hygge to the darkest and often most dismal month of the year weatherwise by making decorations with delights plucked from nature and baking Christmas sweat treats galore.
The best part of hygge memories is of course making them. Invite hygge into your life and bring a whole new dimension of joy and simplicity to your now. Practice makes perfect. There's no hygge time to lose. Begin today, live well and cozy up your life.
Karin Weiser
International Business Coach (ICF-ACC) and Writer
Transition Specialist who supports ambitious professionals in transition in their career and life with conversations that matter. I help ambitious professionals to write the next chapter of their career story. To own it, walk it and talk it. I have rewritten my story many times - moved countries, climbed the corporate ladder, zigzagged in my career. I stand for diversity, well-being and lifelong learning. In 2019 I took a life leap to self-employment. Proud to be a Psychologies Ambassador and ICF Barefoot certified coach (ACC). My WHY is to have a positive impact on people - in person, virtually and through words. British by birth, global by choice - I'm based in Copenhagen and work globally. My personal recipe for a balanced life includes a splash of optimism, yoga and dark chocolate.