How do you make New Year's Resolutions Work?
Using the cues of time and place is a very effective way to make us take action.
Every year, millions of us make at least one New Year's Resolution.
We're going to be fitter, healthier, more productive, more successful, more efficient… the list goes on.  
Yet how many of us get to the end of the year and can say we've kept to our resolutions?
When my children were small and I was in a busy teaching job, I made a New Year's resolution to get fit.  I didn't do any exercise, and had told my self for years that I was too busy/ too tired to make time for myself.  All I wanted to do at the end of the day was collapse on the sofa with a glass of wine and the TV remote.  And the thought of getting up early to exercise?  No way.  
I managed about two (very short) runs that first weekend of January, then consistently found reasons not to go running until  I stopped pretending to myself that I was going to exercise at all.  
It was only a couple of years later, after more failed New Year's Resolutions, that I managed to work out an exercise routine that I stuck to, week in, week out, whatever the weather.  To my surprise, I even realised that I was looking forward to my runs/gym sessions.
It took me a long time to work out how to stick to the changes I wanted, and if I'd had the training and knowledge I have now, I'd have been successful a lot sooner.  
Now, I work with clients who want to make long lasting changes in their lives.  Their goals range from improving their wellbeing to being more effective at work.  There are 3 basic guidelines that greatly increase their chance of success:
1. Start small
When I'm working with clients, they often say they are going to make big changes straight away – 5 long gym sessions a week for example. 
The trouble is, when we plan a big change, our brain is trying to talk us out of it before we've even started.  To go from no exercise to 5 full hours a week, seems like a huge commitment, and it takes time to see any beneficial results.
But, as James Clear says in his book Atomic Habits, there's no new habit that can't be reduced to under two minutes.  If it's exercise, you can at least put your gym shoes on 5 times a week and stretch.  Then you can build that up to walking down the street.  Then to 5 minutes on the treadmill and so on.
2. Make it accessible
Do you want to have time to sketch every day?  
Then don't hide all your art materials in a cupboard.  Have them out, in plain sight, ready for you to sit down and sketch.  
Whatever it is you want to do, have a visual reminder or put out the tools you need so that they are easy to grab.
It's also a lot easier to do something if you've got all you need in front of you.
3.  Do it at the same time and same place.
We are creatures of habit.  Most of our actions are automatic and this makes our lives easier.  Think about how many things you do each day, even though you don't make a conscious decision to do them.  
Brushing our teeth, dropping car keys in the same place and reaching for our phone when we are waiting in a queue are all great examples of our unconscious habits.  
If you want to write a book, doing an hour of focussed writing after breakfast every Saturday when you're at home is a guaranteed way to make progress.  Using the cues of time and place is a very effective way to help us take action.
So, the way to make our New Year's Resolutions work is by embedding the changes we want into our lives.  Start small, make anything you need accessible and do things at the same time and in the same place.  It's amazing what you can achieve, and how you can then be the person you want to be. 
If you would like to talk about how I could help you with sticking to your New Year's Resolution or making long lasting and sustainable changes in your life,  book a free call here, or email me at lucy@lucychaplincoaching.co.uk .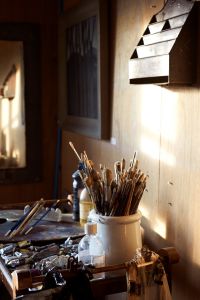 Lucy Chaplin
Leadership and Confidence Coach
Increased confidence enables you to be promoted, manage new projects, boost your executive presence and be an inspirational leader. Improving your wellbeing reduces stress and overwhelm, helps you build better professional and personal relationships and be more effective at work. I have worked with many senior leaders, managers, and emerging talent who have benefitted from my coaching and excelled in all areas mentioned above. Sectors include – Tech, retail, manufacturing, government, charity and financial. I am also experienced in working with neurodiverse clients and working parents. I'm a parent of 3 teenagers, enjoy pilates and running regularly as well as relaxing with a good book.