Beetroot and hibiscus soup
This delicious soup, devised by chef Matt Worswick to celebrate Le Creuset's new Moorland Mist range, uses the best of autumn's seasonal flavours. Plus, we chat to Matt about his inspiration and life after Great British Menu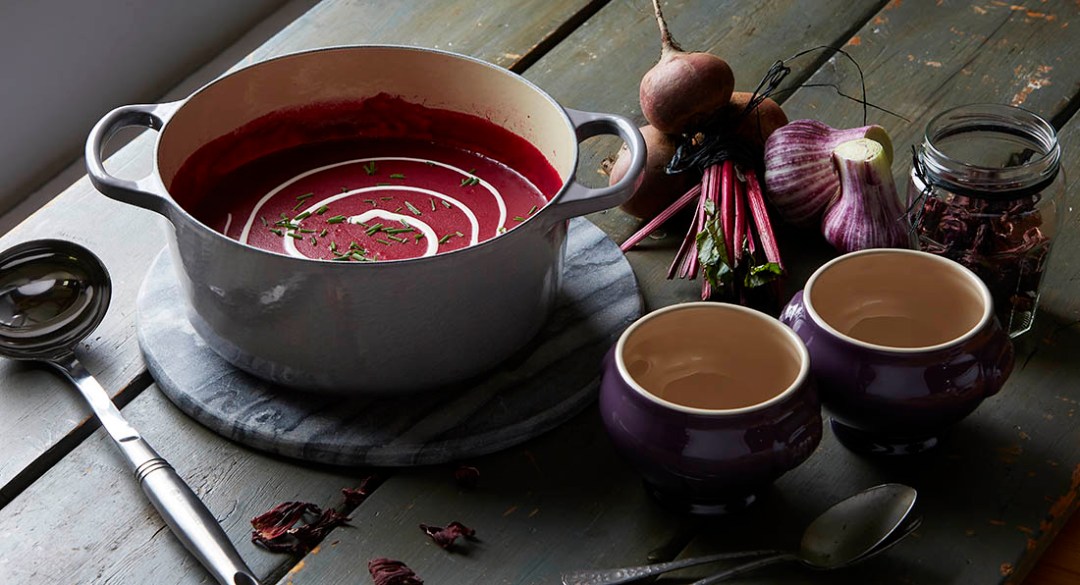 The new range of cookware from Le Creuset, Moorland Mist, is inspired by the deep, muted colours of the English moors, wth Flint (smokey grey), Ink (deep blue), Cassis (warm purple) and Cerise (vibrant red, a colour introduced by the Victorians as a celebratory Christmas shade). For more about the new range, visit lecreuset.co.uk.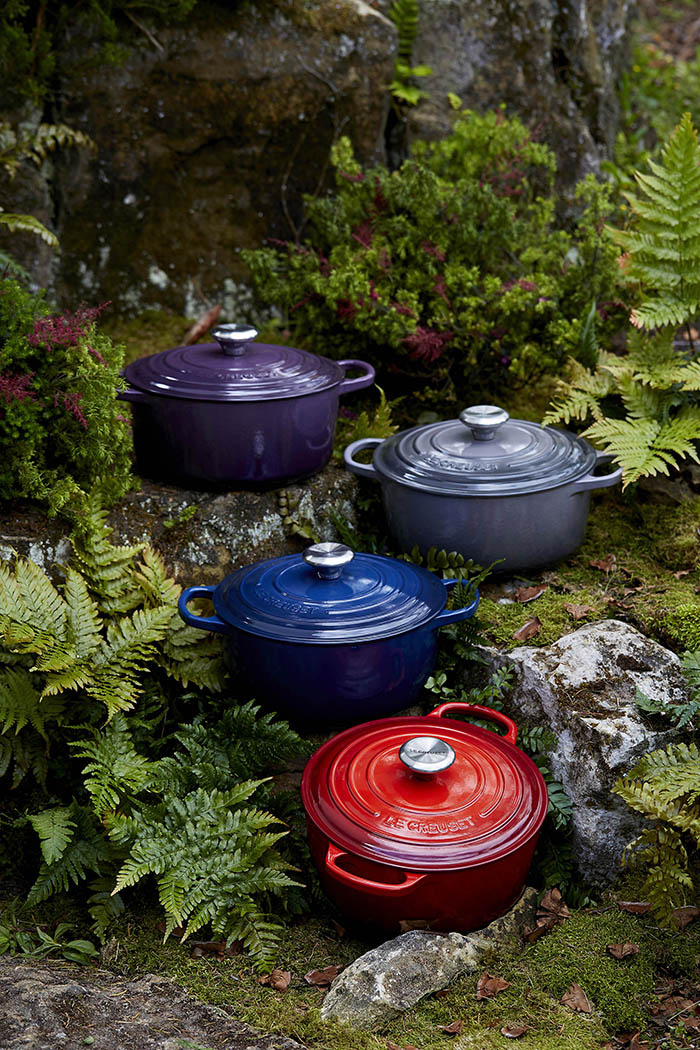 Chef Matt Worswick, of the Latymer restaurant, has devised some recipes with bold, hearty flavours that are ideal to be prepared in Le Creuset cookware. Here is his beetroot soup with hibiscus. Beetroot is a lovely seasonal veg that works well with hibiscus which adds a sharp acidic kick, complementing the flavour of the beetroot.
If you can't find hibiscus, you could use fresh or dried marjoram or thyme leaves instead. For a spicier version, add 2 teaspoons of Cajun spice seasoning at the beginning of cooking.
Serves 4
Preparation time: 30 minutes Cooking time: 1 hour
Ingredients
1kg purple beetroot (raw, uncooked)
5 banana shallots
2 cloves of garlic
1 bulb of fennel
4 tablespoons of rapeseed oil
Vegetable stock, enough to cover the vegetables
Dried hibiscus flowers to garnish
Crème fraîche to serve
Method
Peel and slice the beetroot, shallots, garlic and fennel. Add the rapeseed oil to the casserole and heat gently then add the vegetables and garlic and sweat over a low heat until softened.
Cover with the vegetable stock and add 2 teaspoons of dried hibiscus flowers. Bring to the boil then simmer until the vegetables are cooked. Allow to cool a little then blend in a food processor.
Check the seasoning adding salt and pepper to taste. Serve with dried hibiscus flowers and a dollop of crème fraîche.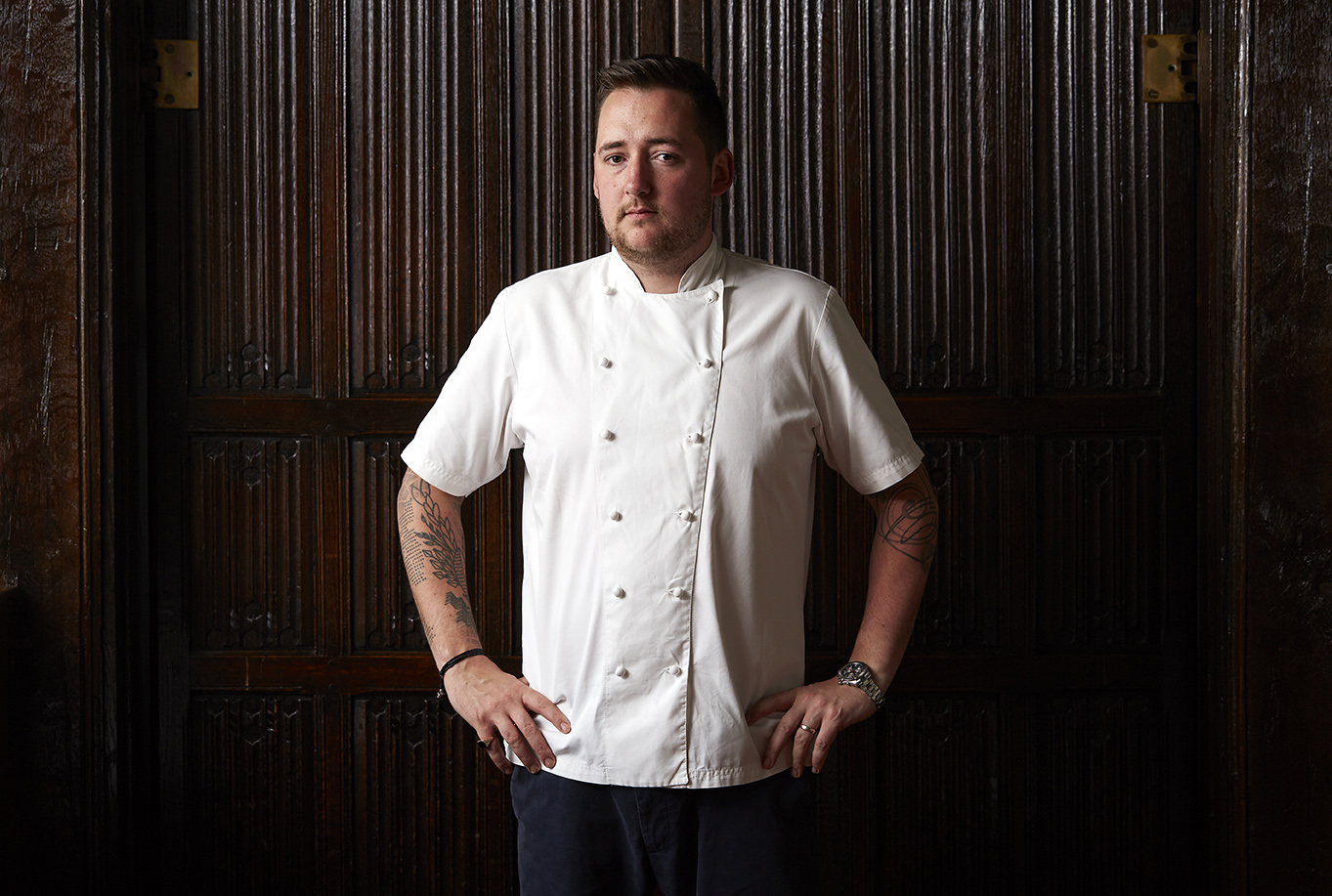 We talk to chef Matt Worswick about life after Great British Menu, inspiration and cooking with the seasons.
How did you get started in your career?
It wasn't a case of cooking at home with my mother on the Aga; we did have good home-cooked food, but my love affair with food started with eating it, rather than cooking it! I needed a job and saw an advert for an apprenticeship on a catering website and went for it. I loved it straight away. It's fast-paced, you're moving around, you get to work as part of a team and you get to be creative. I'm pretty laid-back, so the stress doesn't get to me; if you make a mistake, you just do it again.
What do you enjoy most about your job?
I love developing different dishes. I don't get inspired by looking at a turnip, say – the inspiration for me is the people who grow it, the evolvements of the seasons and the challenge to come up with different dishes. I prefer to use British produce wherever possible, and cooking seasonally tastes better, too.
Do you cook at home?
Only if there's a special family occasion! My wife's a great cook, but we like eating out too. Everyone has the misconception that fine-dining chefs eat out at expensive places, but it's not the way! I just like relaxed food that's fresh and healthy.
How do you cope with negativity, people complaining about your food?
Some people just come out to have a bad time. Most people embrace what we're doing at the restaurant, as the ethos behind our food is about the celebration – birthday, christening, wedding, honeymoon – there's always food there, and it's a special thing that the restaurant is part of. I thank people for coming and choosing to celebrate with us, as we're helping them make memories, so when people come out to have a bad time, it's disappointing. We try and get as much feedback as we can so if people complain we try and rectify it.
What would be your last meal?
It would be relaxed food: foie gras followed by roast beef, then sticky toffee pudding – indulgence ingredients and you can source more ethical produce now that makes it a lot better. It's all about the flavour for me!