Baked scallops with Davidstow crumbs and pickled onion butter
Two Michelin-starred chef Nathan Outlaw offers a starter with a touch of theatre for your Christmas table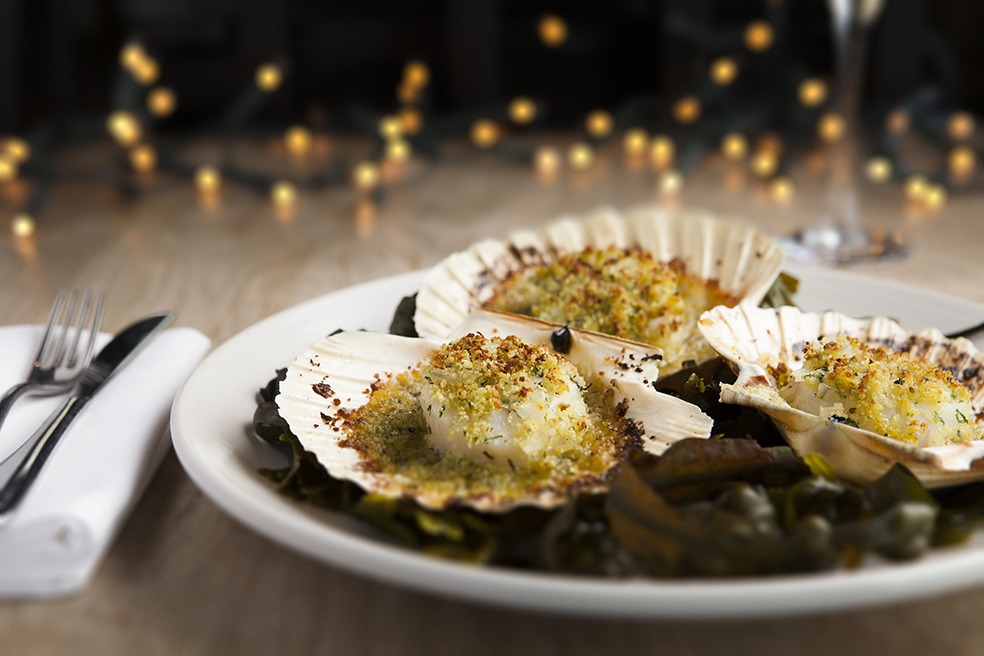 Makes 4 starter portions
Ingredients:
12 scallops, cleaned, shells retained and washed
240ml white wine
200g white bread, blended to crumbs
100g grated mature Davidstow cheddar
1 handful of coriander, washed wit hthe stalks left on
For the pickled onion butter:
300g unsalted butter, cut into cubes and softened
200g pickled onions, drained and chopped
2 tbsp chopped parsley
Salt to season
Method:
1. Preheat the over to 220˚C
2. To make the crumbs, place the breadcrumbs and coriander into a food processor and blend until the coriander is well incorporated. Now add the grated cheese and blend for 30 seconds. Empty the contents pf the food processor onto a tray and reserve until cooking the scallops.
3. To make the butter, place the softened butter into a bowl with the chopped pickled onions and chopped parsley. Mix together well and season with salt. Remove the flavoured butter until cooking the scallops.
4. To cook the scallops, make sure the scallop shells are clean and dry. Place a scallop in each of the shells with 20ml white wine and 30g of the butter on top of every one. Arrange the scallops on a large oven tray and sprinkle cheesy breadcrumbs over the top of each one equally. Put the try of scallops in the oven and cook for 6-8 minutes.
5. To chek they are cooked, insert a small knife into the centre of one scallop and hold it there for 10 seconds. Pull the knife out and place it on the back of your hand. The blade should be more than warm, but not piping hot. Remove the scallops from the oven and serve straight away.
Created by Nathan Outlaw for Davidstow, courtesy of greatbritishchefs.com