WW1 centenary: Why does it still matter so much?
On discovering a set of old family photographs taken almost 100 years ago, Ali Roff found herself with a hunger to know more about their stories, and was surprised by what she discovered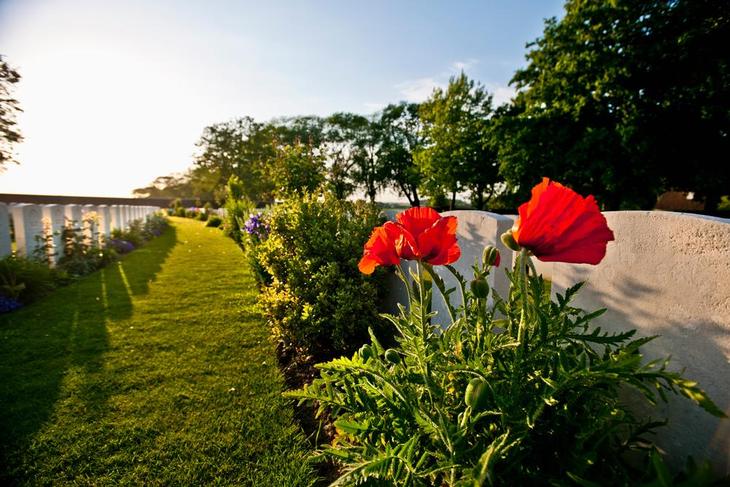 I was 20, a student at university without a care in the world, when my dad found someone who grabbed my attention. Alfred Edward Roff, born 1897, died 1917, at just 20 years old. Aside from the photo of him in his uniform, Dad had found more photos taken a few years later. One of a serious man with a moustache, an arm around a white headstone. Another of a grieving mother looking down at her son's final foreign resting place. Eyes, mouths and other familiar features popped out at me. This was my family.
The black-and-white war we associate with crackling radio announcements and crumpled photographs seems so far in the distant past, but as the centenary commemorations keep reminding us, it was only 100 years ago; only three generations have lived since. And here, in these crumpled photographs, was a part of my history. I wanted to know more about the people these sad faces belonged to. I wanted to know who they were and what they went through. Would understanding their story help me understand myself a little better?
My dad and I travelled to Armentières, France; making the same trip that my great-great-grandparents made shortly after the war ended to visit their son's grave. We called on First World War bespoke battlefield guide Peter Jones of Single Step Tours, to help us piece together more of the puzzle. 'It's a pilgrimage, to visit the grave of a family member who died in the war,' explained Peter. 'For many, it's a bucket-list trip; something they have to do once in their lifetime.'
It was moving to see so many graves that had been visited three generations on, mostly by family members who, like us, could never have known their relatives buried so far from home.
So why are so many of us moved to travel to visit family members we've never met and only have limited details about? 'The First World War is difficult for us to look back on and understand,' explains Dr Catriona Pennell, senior lecturer in history at the University of Exeter, and author of A Kingdom United: Popular Responses To The Outbreak Of The First World War in Britain And Ireland (OUP, £68). 'This was industrial mass anonymous slaughter; it is incredibly hard to grasp, and I think that's why we continue to try and reflect on it, because we are trying to understand the incomprehensible, which is probably why we are fascinated by our relatives' stories.'
I wondered how I'd feel about seeing the family name I shared with Alfred on his grave, and asked Peter how people generally react. 'It's a complicated cocktail of emotions; family ties, respect, a new-found attachment to it all, and everyone handles it differently. Some break down, some revert into themselves in contemplative silence and others devour every piece of information I can offer them.' As we walked into the cemetery to find his grave, I suddenly felt sick and anxious, as if I were about to meet someone important for the first time.
My dad took out the other photos of the family visiting his grave, just as we were at that precise moment. Unexpectedly it was seeing these, being in exactly the same place that they were, almost 100 years on, that really touched me. The photos may be black and white, but here I was in colour. It was if I had just that moment realised it was all real; it actually happened and it wasn't just something that occurred in a distant unrelated world, somewhere between the morbid poetry and jolly recruitment posters we're so used to seeing.
My great-grandfather, William, Alfred's brother, also went to fight in the war after Alfred died, in 1918, but he is not in the few pictures we have of the family visiting Alfred's grave. I will never know why my great-grandfather isn't in these pictures because I can't ask him – or any of my family how they felt or what it was like to live through that time.
'It's very common for there to be a gap in this first generation of storytelling,' agrees Dr Pennell. 'There is currently a resurgence of interest where we have the second generation – your dad – finding out that they have grandfathers or great-uncles who served in the war, and there is sufficient distance here for us to research our family history and find these amazing stories. But for the generations during and just after the war, there was a sense of just trying to forget and move on. There certainly was a common sense not wanting future generations to have to experience the horrors that they went through. It was almost a duty to forget.'
I hadn't realised what I was looking for until we visited Alfred's grave in France. I hadn't realised it was a pilgrimage until I stood in front of his headstone with Dad where my family had once before congregated for the same reasons. I had wanted to feel connected with these long-departed family members who went through so much that I have never had to experience. 'Your relatives motivations were not dissimilar to your own,' Dr Pennell suggests. 'They were trying to put the pieces of the jigsaw together and pay their respects to a member of their family.' I was surprised at how far back the ties of family history are rooted within us. Through my family's story, I've found a new sense of strength in the face of daily adversity, I have a little more perspective on life and most importantly, I know now how important these stories are, and why they must be shared.
Travel to Calais from Dover from £35 one-way with P&O Ferries
Photograph: Gallery Stock