Why slowing down in life could help us find love
Could taking the time to slow down in life give us the perspective we need to make the right choices and develop better connections in our romantic relationships? Lizzie Cernik explores why the effects of lockdown finally helped her to find love...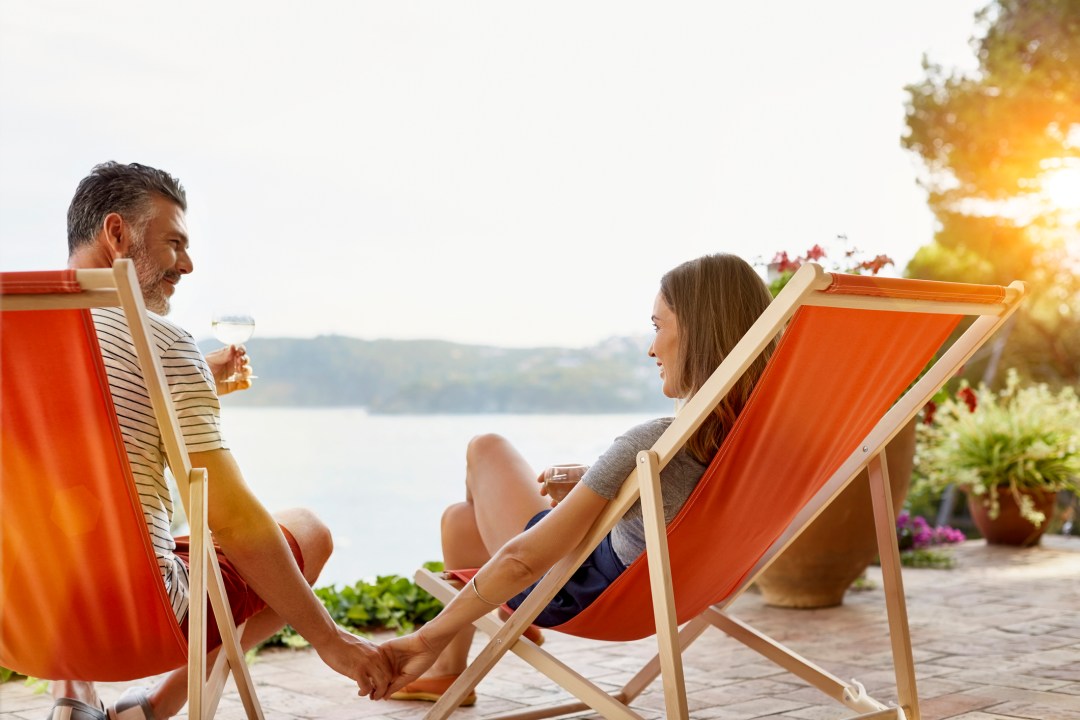 Owing to a diet of Disney films during my formative years, I'd always been drawn to the idea of love, rather than the reality. Throughout my 20s, I dated a succession of unavailable men, searching for the high of chemistry, instead of security and commitment. By the time I turned 35, I was ready to find a more suitable partner, but didn't know where to begin. Online dating was the obvious choice but, while apps made it easy to meet people, I found the casual, throwaway culture stressful and daunting. And there was never time to develop a meaningful connection, no matter how diligently I followed advice about taking things at a leisurely pace. Plus, I had a busy lifestyle: a whirlwind of commuting, work, cocktail hours and lunches at my desk. There wasn't room for love.
Then lockdown happened, and the world pressed pause… After a few lonely weeks, I turned to online dating for human interaction. When I started talking to a man online last April, I never expected more than a distraction from the tedium of lockdown. But, to my surprise, I found I had the chance to invest in someone for the first time in years.
I enjoyed the relaxed nature of our conversation and began to notice how kind and considerate he was. When my laptop died after a home office catastrophe, he called to offer tech advice. When I was stressed about work or worried about the pandemic, he calmed me down.
Start off slowly
We met in the summer, four months after we started talking. Because we already had a friendship, we were able to overcome the nerves and awkwardness of a first date without dismissing each other prematurely as a result. It might not have been the connection I was expecting from my childhood glut of fairy tales but, as time goes on, we're getting closer.
Psychologist and broadcaster Honey Langcaster-James says this isn't surprising because slowing down reduces stress and gives you time to reflect and digest, and make stronger connections. This is helpful for those who feel anxious about dating or have been drawn to incompatible partners, as it encourages you to be more mindful of your choices and actions.
Slowing down also reduces the temptation to act on impulse, which can be damaging for couples in the early stages, as well as those who've been together for years. It gives long-term couples the chance to spend more time together and build intimacy, rather than having a functional relationship where you pass each other in the hall and only talk about the school run.
Up close and personal
'Studies show that proximity is important in relationships and we're more attracted to people we spend the most time with. It's why we so often end up dating people we work with or live near,' explains Langcaster-James. Spending time together increases opportunities to enjoy shared goals and activities, which also strengthens relationships. 'Many couples did projects or renovations around the house together in lockdown, which gave them a joint focus,' she adds.
Proximity doesn't just bond new couples, it can also reignite old flames. In February last year, Dennise Smith was running five businesses and hadn't spent time with her husband in years. They'd been married since the mid-1980s, but had drifted apart and barely said two words to each other. 'He was working nights, so we'd spent seven years in separate bedrooms. We couldn't afford to split up, so we were just two people living in the same house,' says Smith.
Rather than work on her relationship, Smith threw herself into work. When that came to an abrupt halt during lockdown, she was forced to spend time with her partner. 'My businesses were struggling, which I found tough. Then my husband's mother died, which was hard for him. We were spending a lot more time together, but I think we also felt sorry for each other,' says Smith. With no distractions from the outside world, the couple were able to focus on how the other person was feeling, which helped them rebuild their marriage. 'Bit by bit, we started talking more every day and things improved. Recently, we bought each other anniversary cards and gifts for the first time in years. We're finally communicating again,' says Smith.
For many people, it's only possible to truly empathise with your partner's feelings when you take time to notice them. According to Peter Saddington, a relationship counsellor for Relate, lockdown gave couples the chance to see inside each other's lives – some for the first time. 'People witnessed how hard their partner works, or how difficult it is to stay home with the children,' he says. 'Although they might have heard their partner speak about it, it's not the same as being immersed in the other person's life. It made people appreciate their partner and understand how they feel.'
Smith admits she was too busy to work on her relationship before the pandemic. 'My husband had blended into the background behind our four children, grandchild, work and our dogs,' she says. 'The effort we've made to talk and do things together has made a huge difference – even if it's just taking the dogs for a walk or eating an egg sandwich and having a chat. It's easy to take people for granted, and slowing down has helped me appreciate what I have.'
Saddington says that by reducing external pressures, people begin to see their relationships more clearly. 'When small things, such as enjoying a coffee with your partner, are possible, it builds connection,' he says. 'When we share simple moments,' adds Langcaster-James, 'we're relearning to connect with both ourselves and our partner.'
"This worked for me"
Rose Stokes, a writer, says: 'Being at home with spare time allowed me to see the relationship mistakes that I had been making in the past more clearly. I was able to work out what I really needed. 'When I met my boyfriend in the fi rst lockdown, I had no expectations. We didn't touch each other for weeks but in a way that was benefi cial because it lessened the risk that it would burn out fast. A slow start allowed us to develop a solid core and get to know each other properly. We check in to talk about our relationship regularly and fi nd out how we're both doing, which we will continue to do as our lives get busier.'
Next steps
Read Hector Garcia and Francesc Miralles' book Ikigai: The Japanese Secret To A Long And Happy Life (Cornerstone, £12.99). Helping you focus on your core purpose without distractions, you'll be ready to leave multitasking behind for good.
With different guests every week, Honey Langcaster-James's new podcast, Life And How To Love It, explores the ways we can learn to appreciate things across all areas of our lives.
If you're still having trouble releasing yourself from the hamster wheel of working life, Eleanor Ross's book Good Enough, The Myth Of Success And How To Celebrate The Joy In Average (Hodder & Stoughton, £16.99), is an empowering read.
Photograph: Getty Images
Words: Lizzie Cernik