Vietnamese crispy pork with courgetti and carrot noodles
Mindful Chef, the healthy recipe box delivery service, has put together this flavoursome gluten-free dish that packs in nutritious vegetables as well as sustainably sourced meat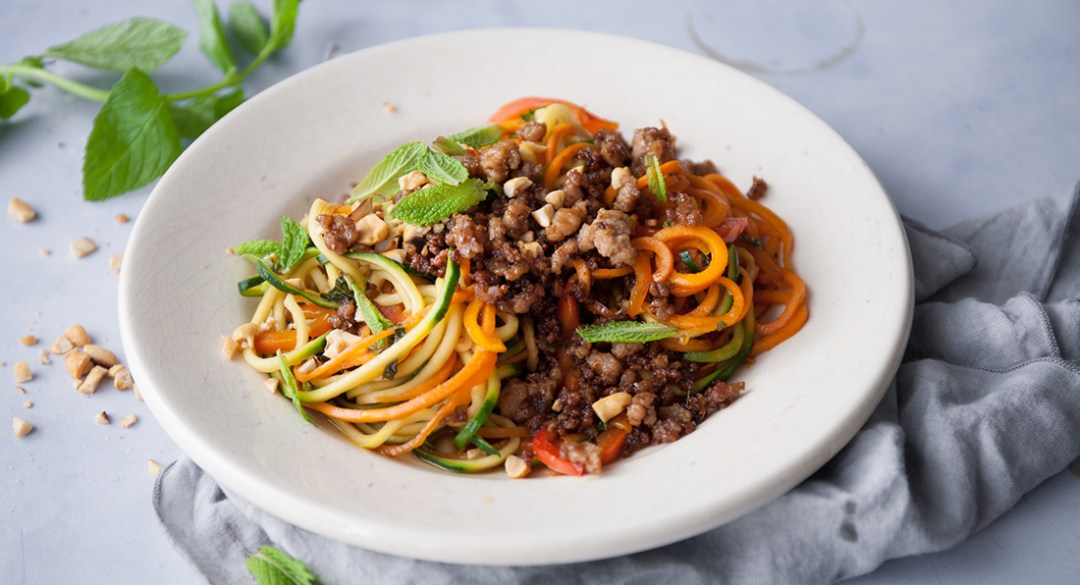 Following on with their series of carrot recipes, Mindful Chef offers this succulent dish of Vietnamese crispy pork with courgetti and carrot noodles. All ingredients are sourced from small, organic West Country famrs and can be made quickly to provide a fresh and nutritious gluten-free meal.
Take advantage of the season of the carrot!
Here are the ingredients and a step-by-step method:
Cooking time: 25 minutes Calories: 461 calories Macros P: 42g / C: 32g / F: 22g
Ingredients
2 x 150g organic pork mince
2 tbsp tamari (soya)
1 tbsp fish sauce (fish)
2 tsp honey
4cm fresh ginger
1 red pepper
200g carrot
300g courgette
2 limes
Handful of mint
20g peanuts (nuts)
Sea salt and black pepper
Coconut oil / olive oil
Method
1. To make the sauce; mix the tamari, fish sauce, honey, and the juice from 1 lime in a bowl.
2. Peel and finely chop or grate the ginger. Heat 1⁄2 tbsp oil into a wok or frying pan on a medium-high heat, add the ginger for 1 minute, then add the pork mince, breaking it up with a spoon, and cook for 10 minutes. Then add half of the sauce and cook for a further 10 minutes until the pork begins to turn crispy.
3. While the pork is cooking, make the carrot and courgette noodles. Peel the carrot. Prepare the carrot noodles using a peeler and slice the carrot into long thin strips (or use a julienne peeler or spiralizer if you have one). Repeat with the courgette but leave the skin on, and remove the ends.
4. Thinly slice the red pepper, finely slice the mint and roughly chop or crush the peanuts.
5. Heat a medium-sized pan with 1 tsp oil and add the carrot and courgette noodles, the red pepper and the remaining sauce, cook for 3-5 minutes until the vegetables have softened slighty. Stir through half of the mint.
6. Spoon the courgetti, carrot noodles and red pepper onto two warm plates, and spoon over the pork mince. Sprinkle over the peanuts, the remaining mint and drizzle over the juice from the remaining lime.