The healing power of tech
Award-winning creator of video series Digital Futures, Shivvy Jervis, guides us around the very, very near future – a place where technology is a partner to our psychological wellbeing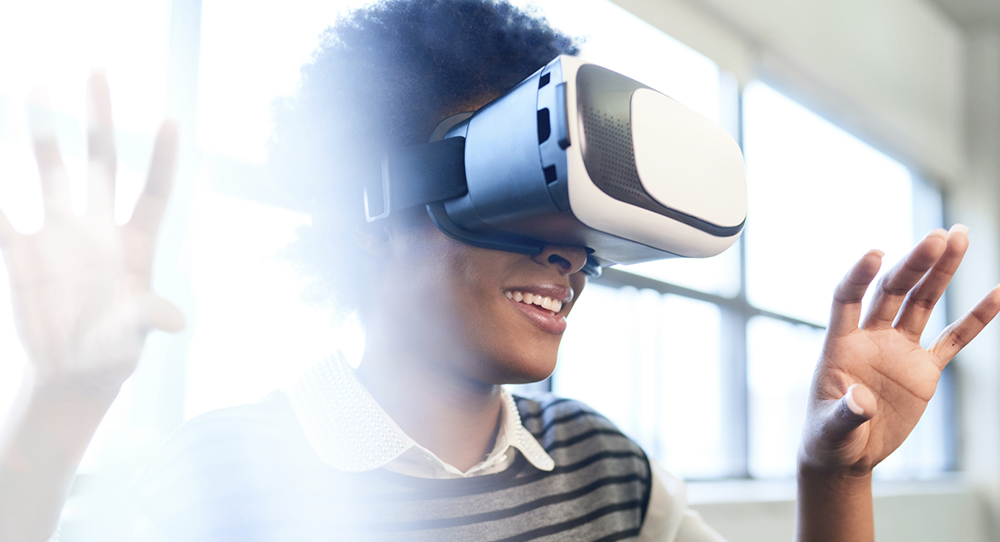 Picture this: you walk into a spa on a weekday evening, primed for your relaxation experience… you've had a gruelling few weeks, you aren't sleeping and have been suffering with anxiety for months.
Led through serene, amber-lit corridors, you enter a dark, cool treatment room. You release a half-sigh. Rather than being handed a robe, you are given a white, smooth headset. Its curved corners emit gently pulsing jet-blue lights.
You slip on a feather-light harness and are asked to step onto a circular base that swivels with each turn of your body, before choosing your 'experience' or 'environment'. A short while later, you step off and slowly readjust to the room. Already, your previously shallow breathing is steadier, your mind feels clearer and your shoulders sag with relief.
Virtual treatment
For the past 25 minutes, you've been immersed in a new reality – a surreal Willy Wonka-esque 'world of pure imagination'. This tech-powered sensorium is a full-body, 360-degree virtual reality (VR) session with 3D worlds aimed at treating anxiety, trauma, phobias and depression.
While 'VR spas' haven't quite materialised (I would say that they are not far off), this year we've seen a slew of headsets on the market that offer a more compact version of the very set-up described, for use in our own homes. This is precisely what lights my fire: meaningful technology that could transform our day-to-day lives for the better. As a technology video creator and industry speaker, I make it my mission to uncover these advances, demystify them and provide a platform for the gifted inventors behind them.
Having been through a lifechanging, traumatic event two years ago, which left me with deep anxiety for several months afterwards, I found my usual cheerleader personality in tatters. This spurred on my determination to comb the tech world for the tools that could positively impact our mental health.
'Proactive' wearables
The next wave of wearables go beyond mere fitness bands towards devices that actually do something to help you in your time of need. Many of these will track and measure factors that directly reflect your emotional state (such as breathing, eye movement, perspiration and temperature), notify you of a change in them, and then act on it at your prompt. Thync, which costs £145, was co-developed by ex-Harvard, Massachusetts Institute of Technology and Stanford engineers and scientists over five years. It is comprised of a 'stick-on' module for your forehead, strips for the back of your neck and an app to control the stimulation it sends out. It triggers our inbuilt mechanisms for stress-relief by signalling nerves in our heads and necks to act on the adrenal glands.
Thync chief executive Isy Goldwasser says: 'We are stimulating nerves, not your brain, and using safe, low-energy waveforms. Our minds and bodies learn frompractice, so Thync simply reinforces our underused ability to trigger a relaxation state.' iOS and Android
The Pip, £139: The pores on our fingertips are extremely sensitive to changing levels of stress. This pear-shaped device requires you to gently press down with your thumb and index finger, allowing its sensor to measure electrodermal activity (the activity of sweat glands in the skin) and visualise your stress levels in real time on your smartphone. You then choose from a number of apps to lower your levels of anxiety.
I trialled this over a week with positive results – being able to see how stress surges or dissipates based on your thoughts is empowering. iOS and Android
Altruis and Ringly, prices vary: These gorgeous, smart jewellery collections want you to focus on your offline life, too. You decide which apps are most crucial, and it will only alert you to those by releasing subtle vibrations to your skin. For example, you could set it to buzz only when you're getting a call, but to 'mute' everything else. iOS and Android
Tackle your fears in 3D
We're seeing a huge role for VR in treating anxiety, post-traumatic stress disorder and phobias. VR places you in the first-person perspective of a virtual body that emulates how you move. You're taken through immersive 'worlds' and you find yourself responding to them as if they are real. Studies show how patients using VR-exposure therapy are changing their real-life reactions to situations that they would previously have found distressing. I've tried many VR experiences at tech summits and am blown away by their therapeutic value and, with mobile VR headsets, you simply buy an entry-level device, download relevant apps and off you go!
Headsets: They range from the advanced, expensive HTC Vive, £769.99, (room-scale, plugs into PC), Playstation VR, £349, (Mac/ PC, available from October) and Samsung Gear VR, £79.99, (mobile headset, plugs into Galaxy smartphone), to nifty, entry-level devices such as HooToo, £69.99, Zeiss VR One, £119.91, and Aizbo, £69.99 (all are compatible with iOS and Android).
VR apps and curated collections to try with your headset:
Zen Zone (breath and body visualisations, app for Gear VR) and Guided Meditation (meditation made simple, app for Gear VR and HTC Vive).
Wear VR – This site curates a vast range of VR apps to go with any of the above devices. Try Relaxation VR, which places you right in the heart of naturally calming environments to soothe your senses.
InMind – For the scientifically minded, this VR game is set inside the human brain and asks you to find the neurons that cause mental disorders. A little dark, but clever.
RYOT (iOS & Android) – One of the largest libraries of 360-degree videos, RYOT offers a number of thought-provoking VR experiences related to culture, people and regions. The app also offers a call-to-action at the end of videos you feel strongly about, making it highly interactive.
VirtualSpeech – For the huge number of people who suffer from anxiety when speaking to a room full of people, this highly rated app could be a great antidote.
Play away your stress
It's well-documented that a little 'brain exercise' every day can prepare us for life's ups and downs. Most of us are aware of mindfulness and sleep-therapy apps, but I'm seeking ones that approach mental wellbeing from unique, powerful angles.
Then there's mobile gaming. You may already have been using this to unwind on your commute, so why not swap Candy Crush Saga for a more therapeutic option? These games are played in the same way as Scrabble, Tetris or Candy Crush on phones – they're touch-screen based and can get quite immersive. All are stripped down to simple narratives designed to help you unwind.
Try Personal Zen (the player tracks a happy, supernatural creature), Thomas Was Alone (self-discovery themed), Alto's Adventure (you ski past sunsets) "I've tried many VR experiences at tech summits and am blown away by their therapeutic value" and Badland (mystical characters hurtle through a forest).
I, Robot
Within five years, we may be turning to personal 'socially assistive' robots for emotional support. Already in use at a handful of British schools (as teaching tools for autistic children), care homes (company for the elderly) and hospitals (physical rehabilitation help), these emotionally intelligent inventions could become a valuable and essential part of our society.
These are much more expressive than the WALL-E-style robot – think Hello Kitty eyes and a welcoming smile – and could be lovable additions to home and beyond. Take the 22-inch-tall Buddy (available from October, priced £600-£1,200)… Described as 'your family's companion robot', it entertains, tells stories and allows you to see through its eyes and control its movements remotely through a smartphone app.
In a simpler form, there's the sweetly named Mother, £175, a tiny 'creature' not unlike a Russian doll. It comes with sensor patches that you place on any object and then Mother monitors the activity of that item: telling you if a loved one is home, alerting you to take pills and reminding you to water the plants.
Finally, the one on my wish list is the most advanced and 'humanoid' of the lot and it's called Pepper (only available in Japan, price on request). Pepper identifi es your emotions by your voice and facial expressions, works out which behaviour is most suited in a particular context, and 'memorises your personality traits'.
All these inventions have one thing in common: they are easing our access to tools that could enrich our mental wellbeing. While living in the real world is critical, when the technology in your hands becomes life-changing, it dawns on even the staunchest technophobes that this really isn't about 'them' and 'us'. This is the result of our collective human evolution: wo/man has created technology to aid, enhance, support and educate. And when tech functions at its most valuable level, it is everything we ever imagined – a catalyst, conduit and connector.
A more therapeutic approach
Shivvy's top three choices for promoting wellbeing:
1. Remente: App co-founder David Brudo asks: 'Have we given ourselves the right kind of tools to take on the mental marathons we run every day?' This intuitive mobile life coach helps you to focus, plus provides goal-setting tasks to keep you on track.
2. 7 cups of tea: This app o ers free, anonymous and confi dential conversations. Browse its community to choose from online therapists and counsellors, or people who have trained in the programme, to choose someone with similar life experiences to your own. You can start communicating with them via text – and take it further if you wish.
3. Moodnotes: This clever app is the 'thought catcher'. You diarise your moods after prompts from the app – which asks you how you are feeling, and then helps you identify any troubling thoughts, and turn them around.
Watch Shivvy Jervis' 'Digital Futures' and 'The Trailblazers' on youtube.com/digitalfuture
Photograph: iStock