Smoked cheese potato cakes with crispy kale
'The Part-Time Vegetarian' author Nicola Graimes offers this recipe for a tasty lunchtime treat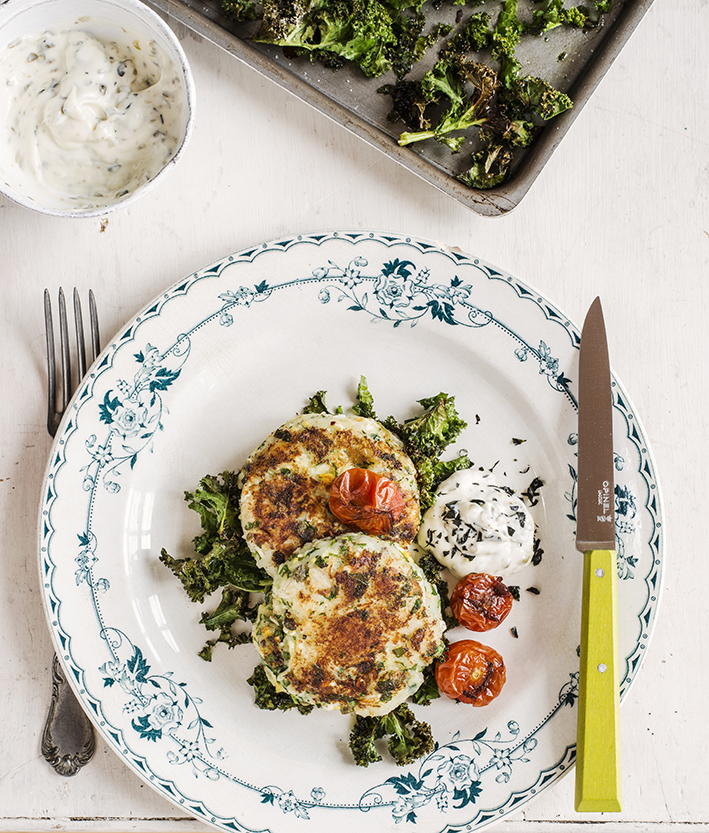 If possible, use a naturally smoked Cheddar in the potato cakes, rather than a smoke-flavoured one, which can lack the intensity of flavour and requisite dry texture. The smoked garlic embellishes the overall smokiness of the potato cakes, but you could use ordinary garlic instead.
Serves 4
Preparation time: 20 minutes
Cooking time: 50 minutes
Ingredients:
750g white potatoes, peeled and quartered
1½ tbsp butter
4 handfuls of cherry tomatoes
Olive oil, for frying, plus extra for brushing and drizzling
4 large handfuls of curly kale, tough stalks discarded, torn into large bite-size pieces
3 smoked garlic cloves or regular garlic
100g grated smoked Cheddar cheese
2 hard-boiled eggs, peeled and grated
4 tbsp capers, rinsed, patted dry and roughly chopped
1 large handful of chopped flat-leaf parsley leaves
Flour, for dusting
Sea salt and freshly ground black pepper
For the caper mayonnaise:
6 tbsp mayonnaise
Juice of ½ lemon
1 tbsp drained capers, rinsed, patted dry and finely chopped
1 tbsp nori flakes or 2 tbsp finely chopped flat-leaf parsley leaves
Method:
1. Preheat the oven to 190°C/375°F/Gas 5. Cook the potatoes in plenty of boiling salted water for 12–15 minutes, or until tender. Drain and return the potatoes to the hot pan to dry briefly. Leave until cool enough to handle (or use rubber gloves) and coarsely grate into a large mixing bowl. Mix in the butter.
2. While the potatoes are cooking, brush the tomatoes with oil, place in a roasting pan, season with salt and pepper, and roast for 20 minutes, or until softened and starting to blacken, then leave to one side. Reduce the oven to 150°C/300°F/Gas 2. Toss the kale in a little oil, season with salt and pepper, and place in the roasting pan in an even layer. Roast the kale for 10–15 minutes, turning once, until crisp. Keep an eye on it as it can easily burn.
3. Meanwhile, blanch the smoked garlic in a small pan of simmering water for 2 minutes until softened. Drain and roughly chop, then gently fold into the potatoes with the Cheddar, eggs, capers and parsley and season with salt and pepper to taste.
4. Cover a plate with flour and form the potato mixture into 8 thick cakes, about 8cm in diameter. Lightly dust each potato cake in flour. Heat enough oil to generously cover the base of a large non-stick frying pan and fry the potato cakes in two batches for 3 minutes on each side until crisp and golden. Drain on paper towels and keep warm in the bottom of the oven with the tomatoes.
5. While the potato cakes are cooking, mix together all the ingredients for the caper mayonnaise. Serve the potato cakes with the roasted tomatoes and crispy kale and with the caper mayo by the side.
PART-TIME VARIATION: Salmon potato cakes
Cook the potatoes, tomatoes and kale as described above. Replace the smoked cheese, smoked garlic and hard-boiled eggs with 635g/1lb 6½oz canned salmon, drained, skin and bones removed and fish flaked. Stir the salmon into the grated potato with 4 tbsp capers and 1 large handful chopped flat-leaf parsley leaves, as instructed above. Form and cook the potato cakes as described above.
The Part-Time Vegetarian by Nicola Graimes © Nourish Books 2015
Photograph: Haarala Hamilton