Mothers and daughters
Our mother influences our emotions, but also provides us with a unique beauty inheritance. Justine Knight speaks to three pairs of mothers and daughters to discover their shared rituals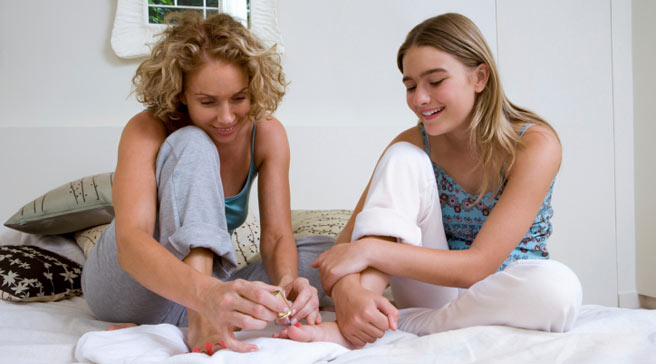 'Our mothers are usually the most significant, and consistent figures in our lives,' explains psychotherapist Dr Susie Orbach. 'As we mature from girls into women, our smiles, voices, gestures and tastes cannot help being moulded by their influence. The similarities in the way we groom and present ourselves serve as visual testimonies to the closeness of this bond.'
Research carried out by cosmetic company Dove found that the way in which daughters observe their mothers' interactions and attitudes to their body can be integral to developing their sense of identity and self-esteem. In their survey of women between the ages of 15 and 64, almost half believed that whether positive or negative, their mother's ideas of beauty had, in fact, shaped their own – while the women with the greatest satisfaction with their appearance were those who cited their mothers as their earliest influence.
A mother's job
'As mothers we must be conscious of the amount of influence we hold and use it in a positive way,' says Susan Kurz, author of Awakening Beauty: The Dr Hauschka Way. 'It is our responsibility to our daughters to celebrate our beauty through positive language and acts. Sharing beauty rituals is one of the simplest and most powerful ways in which we do this – they're moments when we communicate the value of our own beauty.'
Just as a mother imparts confidence, the unspoiled beauty of her daughter can help her recognise and appreciate her own attractiveness. 'Our mothers start us on a path to beauty which we make our own through the confidence that comes from their love and support,' says make-up artist Jemma Kidd, who runs mother and daughter beauty workshops at her London make-up school. 'Once we feel secure in who we are, a transition point in the relationship occurs as we guide our mothers through the constantly evolving world of beauty products and treatments.'
It's this two-way dialogue that should be nurtured and explored, says Kurz. 'As we slip into busy and autonomous lives that for many of us are separated by distance, making the time for a pampering spa break or performing an at-home beauty ritual on each other, such as a manicure, can provide mothers and daughters with the much-needed time, space and intimacy to strengthen their emotional bond.'
Improving your daughter's body image
The way in which you communicate with your daughter can be integral to her self-esteem. Dr Susie Orbach shares advice on how to influence her body image positively:
Go through old photo albums together, looking at pictures of yourself when you were her age. Celebrate your physical similarities and give her a positive image of them. This will help give your daughter a sense of belonging and broader definition of beauty.
Avoid dropping casual negative comments about your own body into your conversations, instead aiming to talk about the positive things about your body, what it can do and how it makes you feel happy.
Make it a habit to talk about people's attributes other than their looks. This identifies the values you hold rather than those in the media.