Lucy Bee on business success and her blueberry lime fudge recipe
We speak with Lucy Bee, the founder of organic coconut oil company Lucy Bee, about what wellness means to her as well as a recipe for blueberry lime fudge using creamed coconut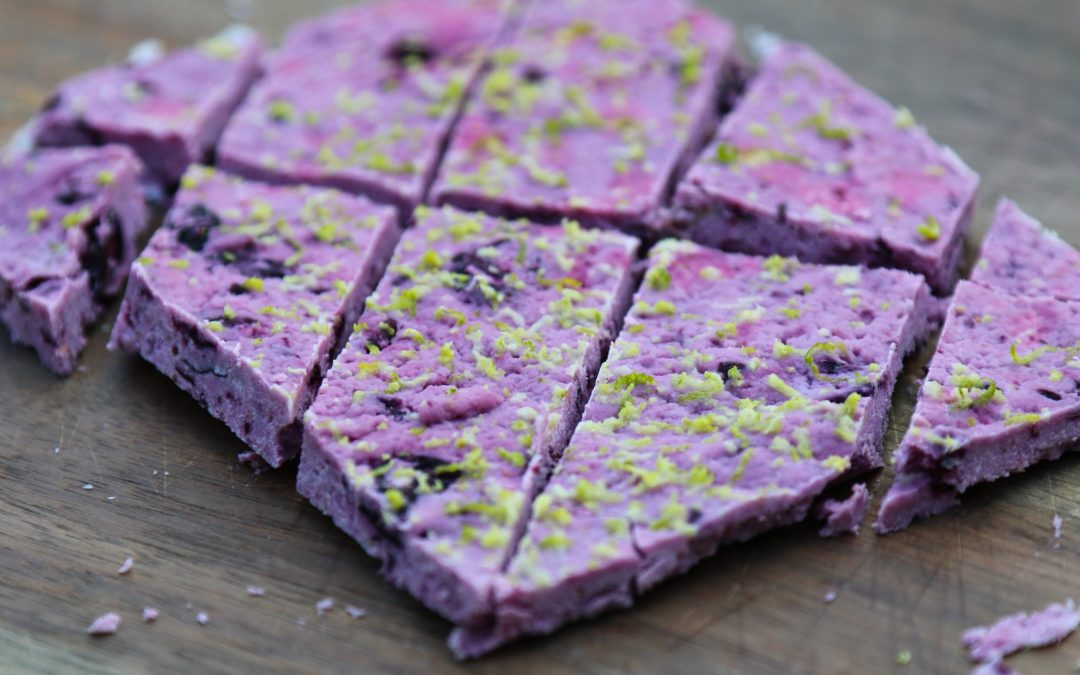 What was the thinking behind Lucy Bee?
Lucy Bee is a family business – my dad, Phil started the business side of things whereas I was looking after social media etc.
When it started we didn't expect or plan for it to become what it has become today. At the beginning, I was still working as a beauty therapist and doing Lucy Bee on the side posting on Twitter, not really expecting much from it, but it was a way for me to post recipes, information on coconut oil, memes, blogs etc. and then the followers started to grow and so did the business, which was very exciting!
The reason we started Lucy Bee was because as a family we were using coconut oil and realised the importance of it and all its benefits. We were using it as a replacement to all processed cooking oil. There were limited coconut oils on the market and we knew we could bring out a premium coconut oil which was organic, Fairtrade, raw, extra virgin and also stored in glass jars.
What does wellness mean to you?
Wellness to me means a number of things. The most important one is mindset, making sure you're looking after your mind by doing things that make you feel happy and content. Over the past year, I have properly started exercising and find it's a great way for me to cope with worries, anxieties and stress so I make sure I make time for it, although I don't always want to do it but I know after I exercise I feel a lot better for it and most the time think, why was I even feeling that way?!
I think it's really important to take a step back and find time for yourself and do something you really love to do, whatever that may be. Life is hectic and we can sometimes forget to look after ourselves as we are too busy rushing around keeping up with life.
When your mind set is right, other things fall into place more naturally I find, you feel better in yourself which makes you feel more confident in everything you do.
Next up is fuelling your body. It's so important to eat well as if you eat good foods you feel good. When you eat crap, you feel crap . But I really do believe in balance too. I eat nourishing foods majority of the time but never stop or feel bad if I want to eat chips, burgers with no buns etc without feeling guilty about it and putting myself down. I am a lover of bottomless brunches so never miss an opportunity to go to them, but when I do I make sure I plan my next few days so I'm back on track.
The last point is looking after your outsides, it's important to look after the largest organ of your body which is your skin. Using natural, organic skin care where possible and drinking lots of water.
Wellness is a broad spectrum of different aspects for every individual, so what you do needs to work for you and your lifestyle. These are definitely my top three that are part of my idea of wellness.
Tell us about your new products
It's a very exciting time as we have lots of new products coming out. Creamed Coconut, Coconut Flour, Coconut Sugar, Chai Mix, Turmeric Latte and at the end of the year we have a beauty range coming out which is 100% vegan, organic, Fair Trade and COSMOS approved.
Here's some information on a few of the products:
Creamed Coconut
Our Creamed Coconut is finally here! It's been a long time coming, but I promise you it's been worth the wait.
Creamed coconut is great for making your own milk, soups, rice, curries, hot drinks, one pots, porridge, fudge, overnight oats, sauces, desserts etc.
One jar of our Creamed Coconut is the equivalent to 6x400ml tins of coconut milk. So there will be no more half wasted tins in your fridge. Our Creamed Coconut is in glass jars so it's better for you and the environment.
As a Lucy Bee Cacao Hot Chocolate lover, I drink A LOT of nut milks but I was shocked that in the majority of cartons you only get approximately 1-2% nuts. With ours, you're getting 100% coconut milk.
Our Creamed Coconut has a 12-month shelf life once opened and it doesn't have to be kept in the fridge.
Chai Mix
I'm really excited about this new Lucy Bee product. I love the taste of Chai and this mix is full of flavour. I mix our Chai Mix with almond milk and a little honey when I'm craving something sweet. We didn't add tea to our mix so that it gives you the choice to add your favourite tea. By not adding tea, it means that our Chai Mix is decaffeinated which is great for an evening drink. So many products have sugar in these days and a lot are unnecessary, so again you can decide how much sugar you want, if any. We've experimented loads with our Chai Mix and have found it works well on roasted chickpeas, marinade your chicken with it and add it to granola.
Turmeric Latte
I love making my own Turmeric Latte, but sometimes if I'm feeling lazy or too busy to make one then this is the perfect answer. At Lucy Bee we really do believe in being in control of what YOU want. That's why, we haven't added sugar or milk to our Turmeric Latte so that you can decide exactly how you want it. As well as using this as a drink we've experimented and added it to granola, sweet potato wedges and smoothie bowls!
Coconut Flour
We've added Coconut Flour to our range of ingredients. I love adding it to recipes as it is naturally high in fibre, potassium, iron and a great source of protein. It's gluten free, grain free, dairy free, unbleached, non GM, no additives, organic and raw so it's a great flour alternative. We have loads of recipes on our website if you'd like some pointers on how to use it.
What are your favourite things about coconut oil?
I love the versatility of coconut oil. The fact you can use it for cooking – frying eggs, baking cakes and roasting potatoes. It's also an incredible beauty product due to the lauric acid (coconut oil contains around 48%). The only other place you get this amount is in a mothers breast milk. It's antibacterial, antifungal and antiviral which means it's very good for healing the skin and helping with skin disorders. It's also a fatty acid and contains vitamin E so it's very hydrating and nourishing for the skin. My favourite way to use it for beauty is as a makeup remover and hair mask!
Recipe for Blueberry Lime Fudge
Ingredients
75g Lucy Bee Creamed Coconut
100g frozen blueberries
1 lime, juiced and zest
Method
1. Add Lucy Bee creamed coconut to a small pan and gently melt, over a low heat. Stir in the blueberries. Continue to gently warm until the purple/blue colour of the blueberries seeps into the creamed coconut but the blueberries remain whole.
2. Remove from the heat and stir in the lime juice and ½ zest. Pour the fudge into a lined lunch-box sized container. Grate the remaining zest over the fudge. Set in the fridge for 2 hours or until completely solid, or freeze.
3. Cut into bite-sized pieces to serve and store in an airtight container. (Note, in hot weather this fudge will start to melt, so store in the fridge).
For more information, visit lucybee.com