Interview with chef Skye Gyngell
We talk to chef Skye Gyngell about her ambitions and how she's learnt to use mistakes as opportunities to learn and progress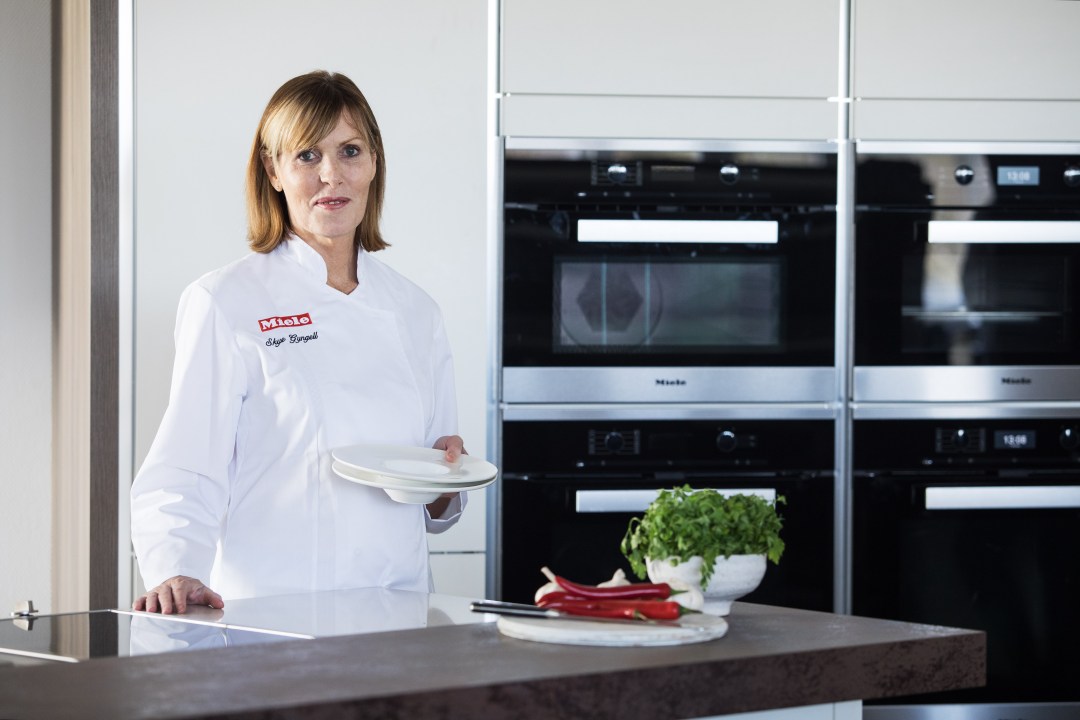 Australian-born chef Skye Gyngell is working alongside home appliance brand Miele on the launch of its new Steam Oven, creating bespoke recipes such as the Farro Caramel Tart (see below). Skye talks to us about her inspiration, her career and how she copes with failure.
Where did you grow up? What was your childhood like?
I grew up in Sydney and had a fairly idyllic childhood – there was a beach at the end of your road and when I think back to that time I just remember bare feet and sunshine.
Where did your love of food and cooking come from?
I always really enjoyed helping my mother in the kitchen. We ate simply but very nutritiously and well. My real love of cooking came when I was about 18 and got a job in a deli/restaurant. The owner was a woman called Layla Sorfie. Her cooking was thoughtful and inspiring. She became a mentor for me and I never looked back.
How did you get started in your career?
I started at The Store Charcuterie with Layla and soon new I wanted to cook – I stayed with her for a year then moved to Paris where I trained at La Varenne then stayed on to work in restaurants.
How do you cope with failure – when something doesn't go the way you've planned?
I have a million little things each day which although aren't outright failures, and turn out less than perfect but you have to move on quickly – life is too busy to dwell on success or failure for too long.
I used to take things much more personally and hold onto to disappointment for an unhealthy period of time, but these days I'm more philosophical and accept failure as part and parcel of life – I've also realised that failure and mistakes are probably the best opportunities for learning curves and can be really beneficial.
How did you cope with the pressure of having a high-profile career?
I enjoy pressure in my work life – it would be impossible to work in restaurants if I didn't. I don't really see myself as having a high profile career; I just get on with my life day by day.
Do you enjoy the food writing aspect of your work?
I find writing quite difficult! It's definitely the most challenging part of my work and I do very little these days so I feel very out of the habit.
What drove you to open your restaurant, Spring? Did you have doubts about whether it would be a success? How did you cope with that?
Of course! I'm sure I had many doubts, but I think you have to put them aside. No one can ever be sure how things will turn out, but I don't believe that's a reason to not do something. I really believe in following your dreams and if they don't work out just pick yourself up, dust yourself down and try again.
Do you prefer cooking for a small number of people or larger groups? What food do you enjoy preparing most?
I love working in a restaurant kitchen surrounded by a team of talented, hardworking fellow cooks. It's really nice when the kitchen is busy and we are working well together – it's one of the loveliest things in the world. At home I prefer a smaller amount, but I think that's because I prefer it from a social point of view
What do you do to relax and switch off?
I really enjoy reading and always have a book on the go. Pilates works for me and travelling is always inspiring. Seeing friends, hanging out with my children.
Any new projects on the horizon?
I'm always open to new ideas, but they have to really feel that I could do something that feels perfect. I'm not very good at compromising!
FARRO TART WITH GARIGUETTE STRAWBERRIES AND ESPRESSO CARAMEL
For the pastry
500g flour
250g unsalted butter, cubed
30g sugar
2 whole eggs
2 egg yolks
Place flour in a mixer, add the chilled butter and sugar and blitz quickly until the butter has broken up, then add the eggs.
As soon as the pastry has come together, remove from the mixer and mould together. Wrap in clingfilm and chill in the fridge for 30 minutes.
Roll out the pastry and line a [how big?] tin. Chill for a further 30 minutes, then blind bake (with baking beans) at 180°C for 15 minutes.
For the filling
95g farro
300g milk
180g sugar
zest of 1 unwaxed lemon
1 x vanilla pod
250g buffalo ricotta
75g candied orange peel
7 organic egg yokes
55g sugar
375ml cream
pinch of salt
For the sauce
200g caster sugar
60ml strong coffee (double espresso)
10g unsalted butter
Put the farro, milk, lemon zest and vanilla pod in a solid steam container and cook on 100°C for 40 minutes. Add the ricotta, sugar and mixed peel and stir gently to combine.
Place the cream, sugar and salt in a heavy bottomed pan. Bring to the boil then remove from the heat and allow to infuse for 5 minutes. Whisk the egg yolks and slowly add the warmed cream. Pour the custard into the ricotta filling and pour into the prepared tart shell. Bake until set on 150°C (approximately 25-30 minutes)
Now make the sauce. Using a small saucepan over a medium heat, combine the sugar and coffee. Stir gently with a spatula to dissolve the sugar, and at this point, turn the heat up and allow for the caramel to become a nice golden colour without disturbing. Then turn the heat off, add the butter and stir through.