I didn't realise I was bottling things up
Our award-winning coach Kim Morgan helps a man come to terms with the end of a long-term relationship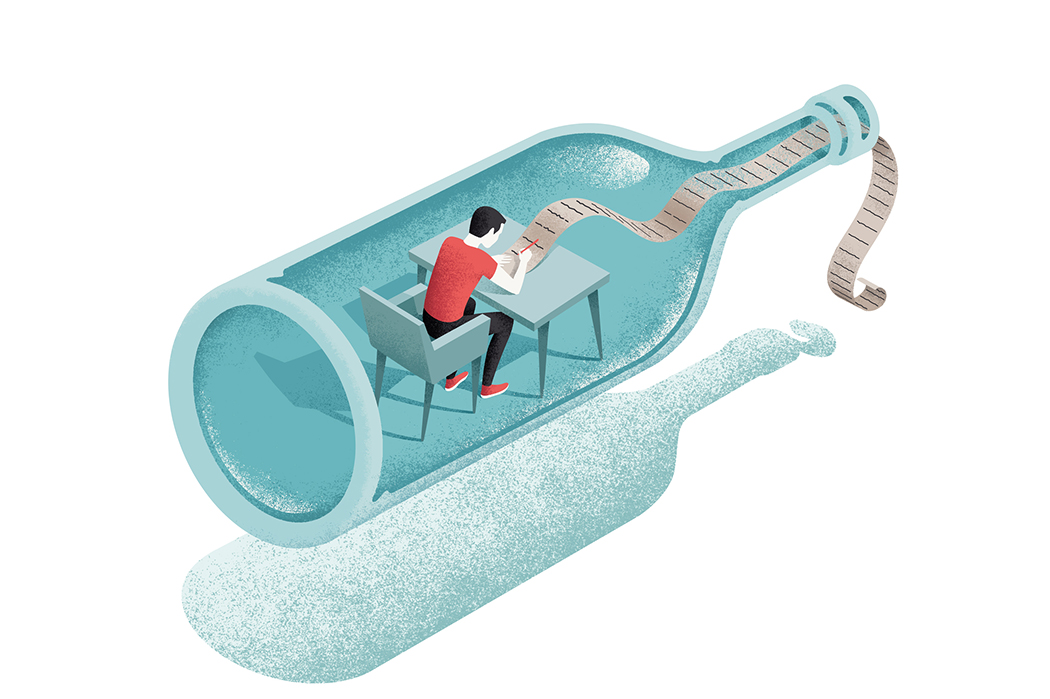 1. Acknowledging pain
Ben came to see me about his relationship break-up. He was a polite, kind young man who had plucked up the courage to see me because he was feeling like as though his whole life had ended. Ben and his girlfriend had been childhood sweethearts; they had gone to university together, got great jobs, bought their first house and fixed a wedding date. Everybody thought of them as the perfect couple. Recently, however, his girlfriend had told him that she had met someone else. She'd moved out of their house and in with her new man almost immediately. She had even taken the cat. Ben had been left to cancel all the wedding plans and to let everyone know. He found himself alone in a house full of memories.
'I feel as though I've lost everything. She has abandoned me and so has everyone else. Nobody seems to realise how alone and sad I feel. After a couple of months my friends stopped asking how I was; they expect me to be over it by now. People don't want me around because I am so miserable, and I will go crazy if anyone else suggests I try internet dating.'
Throughout the session Ben displayed so many emotions: anger, shock, disbelief, pain, sadness and confusion. I just listened to Ben that day, and in fact I just listened to Ben in every coaching session for the next four months.
I knew that reliving the event was helping Ben to come to terms with what had happened and to understand that his life would never be the same as it had been before.
2. Four months on – in limbo
I reviewed the case with my supervisor. Ben had not moved on at all and I was ashamed to admit I was feeling a bit frustrated by him. He was young, healthy and successful and had lots of opportunities ahead of him. He wasn't ill, hadn't been disabled, wasn't homeless and nobody had died.
My supervisor invited me to consider that all loss is loss. If we are separated from something we hold dear, which we feel forms part of our identity, then we will experience grief. These feelings are completely natural responses to a significant change in our lives. Many life changes, including loss of a loved one, a job, our health, our role in life or our independence will provoke feelings of grief.
We also mourn what might have been, as we experience a loss of our hopes, dreams and plans for the future. Everybody has their own unique response to loss, and everybody takes a different length of time to move through it.
I resolved to put aside my own need for 'results' and to allow Ben the time and space to come to terms with the new reality of his life before expecting him to start again.
3. One year on – understanding and accepting
Slowly but surely Ben started to accept his new reality. He wondered why it had taken him so long and been so hard for him. I wondered if he would discover anything about this by revisiting other losses he had experienced.
Ben's parents had split up when he was young and he hadn't seen his father since. His mother hadn't ever spoken to him about what was happening. He had then been sent to boarding school with no prior warning or explanation. He had learned to bottle up his emotions and 'get on with it'. He now realised that when his girlfriend had left him, it had also made him think about other losses that he had never really addressed. When loss occurs it can have a cumulative effect – particularly if you have unresolved grief about other losses. Ben revisited his feelings about all the losses, including the loss of the cat which his girlfriend had taken with her!
Ben was proud of himself for having contacted me in the first place to face up to the pain of his loss. In doing so he had overcome his childhood habit of bottling up feelings and had become quietly confident that he would eventually create a new and different future for himself. He told me he now felt more prepared and ready for the rest of his life, with all its inevitable highs and lows.
For more from Kim, go to Barefoot Coaching
Do it Yourself: Powerful exercises to try at home
The Gift of Time and Attention
• Most people don't know what to do or say when someone is grieving. You can help others to help you by asking them for the simple gift of their time and attention.
• Ask someone you trust if they will allow you to speak, without interruption, about your thoughts and feelings.
• Let them know that they do not need to find solutions, make you feel better or come up with suggestions. Tell them they don't need to feel bad about you feeling bad – it's just how it is for you at the moment.
• Tell them you will ask them if you would like them to contribute. Otherwise all you require is their warmth, interest, attention and listening – that is their only responsibility.
• Tell them that telling and re-telling the story is helping you make sense of your loss.
• Thank them for 'just' listening.
Write a letter you will never send
When you feel ready, write a letter for yourself to the person or the 'thing' you have lost. Choose some lovely writing paper and a nice pen. You may find yourself writing to an ex-partner, your old job, a loved one, a house, a pet, an aspect of your health.
In the letter write about the following:
All the good and happy memories of your time together.
What you most valued about them.
What you might have done better and what they might have done better.
How you are feeling now.
The ways in which their influence will continue in your life.
An acceptance that you can't turn back the clock and change what has happened.
Keep the letter somewhere safe and revisit it from time to time, adding more thoughts, feelings and memories as they occur to you. This exercise will help you to honour what has gone before and integrate this part of your life into what will be your future. Remember that you cannot rush the process of getting over the loss of something which has been precious to you and be kind to yourself.
Illustration: Andrea De Santis