How to retreat at home
Tips to create that retreat feeling at home, from our retreat editor and founder of Queen of Retreats, Caroline Sylger Jones, and various leading retreat leaders around the world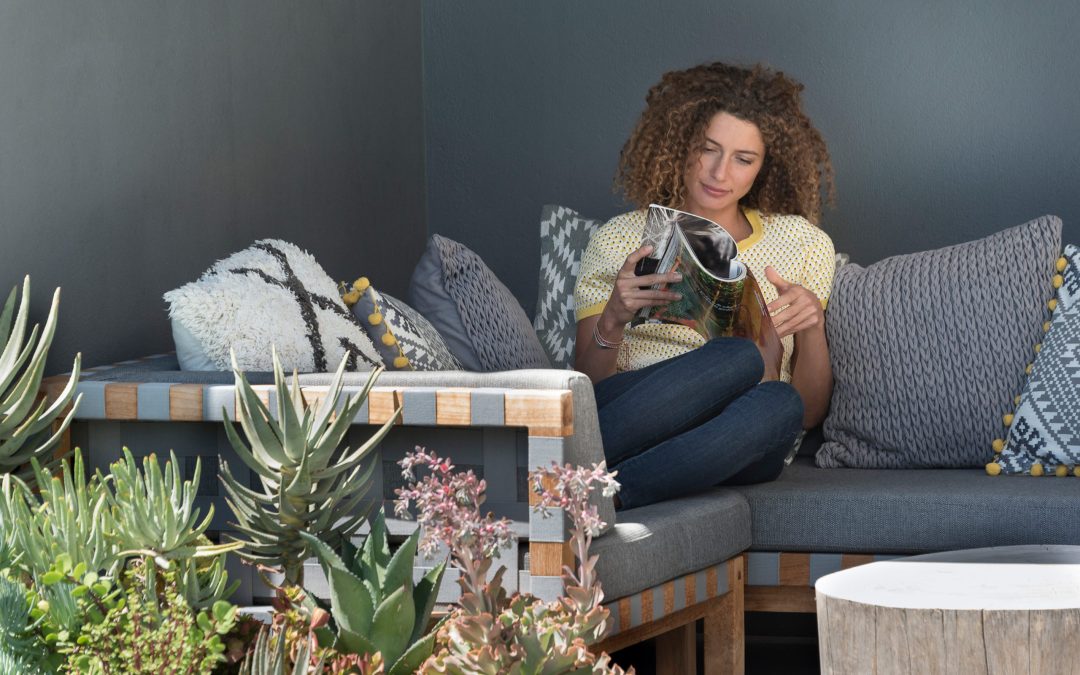 During these strange and turbulent times, when many of us are in self-isolation, making the space to retreat at home can help us use our precious resource of time most wisely, stem the panic, and take advantage of the moment so that when we return to our regular lives we are strong and ready for anything.
Whether you can carve out 10 minutes, 30 minutes or an hour each day, a day each week, or more, the trick is to pick what tips resonate with you so that you can begin your own personal journey.
My own retreat time right now in my life is made up of little mini retreats throughout my day. My morning journalling followed by a yoga practice – which I do outside whenever the sun is shining. A few moments throughout the day which I spend consciously breathing properly. (The psychologist Linda Blair has the most effectively simple technique I've come across – sit comfortably, then breathe in deeply, and breathe out slowly, 10 times). My evening epsom salt bath, when I read a favourite book (right now I veer between a good novel, The Poetry Pharmacy and Pema Chodron, depending on my levels of anxiety). And writing a list each night of the five things each day that I am grateful for that day in the bright yellow moleskine notebook beside my bed which I've turned into my Gratitude Journal. (Sometimes this is huge – such as a loan to secure my business. Sometimes it's tiny but no less gratifying – such as an empathetic hug from my daughter or the feel of the sunshine on my face).
You don't have to retreat at home alone. Our newly started family art sessions, where we get our daughter to suggest the theme and materials, is a lovely and often hilarious 30 minute escape from daily life, while we also now also say one thing we are grateful for before our evening meal to help us stay grounded and have perspective on what is happening in the world at large.
Whatever your life situation and whatever you choose to do, your future self will thank you for putting the chores and worries to one side, if only for a few moments.
Want to use this time to plan ahead for a spectacular retreat? queenofretreats.com is packed with brilliant ideas for retreats that have all been checked out by a trusted team.
TOP TIPS FROM RETREAT LEADERS
Slow down
By Jonathan Miles, founder of Kali Yoga
Take a long slow bath, read a book, breathe mindfully when you make food and wash up… and slow the f**k down.
Meet yourself
By Trish Whelan, founder kundalini yoga retreat Soul Adventures in Ibiza
Find a practice each and every day where you can 'meet' yourself inside of yourself and nourish your connection to the love and peace that's already in your heart. To help you, use this practice from Kundalini yoga: Sitting in easy pose, left hand on your heart, right elbow at your right rib cage, palm facing forward, inhale and hold the breath in for as long as possible, then exhale and hold the breath out for as long as possible. Do this for three minutes, then take a break and repeat. Remember, it is the silence between the notes that makes the music.
Online support
Trish has created The Essential Guide For Soul Adventurers: A 40 Day Journey to Joy, an at-home yoga retreat costing 180 euros that uses the transformational arts of Kundalini yoga, meditation and shamanism that offers daily check-ins with Trish via QR codes for each day and a daily action class or meditation. More at
Soothe your breath
By Ollie Frame, mindfulness with compassion retreat leader at The Sharpham Trust
www.sharphamtrust.org/retreats
If you notice yourself becoming anxious, use 'Soothing Rhythm Breath'.
Inhale for 4-5 seconds through the nose, pause, then exhale for 4-5 seconds through a small hole in the mouth, finding a soothing rhythm.
Choose your thoughts and feelings carefully
By Wilma, owner of Being at the Cottage, which offers Bespoke Solo Business Retreats
Through your self-talk, you continually give instructions to your subconscious, which takes action. When apprehension creeps in, stop and breathe in deeply. Think of something that makes you smile, pause, then turn your thoughts into positive possibilities. Choose to be in control.
Check in
By Amber Scott, Yoga teacher and retreat leader at Trasierra, Spain
Check in. Our body is the boundary of our world. In the words of mindfulness teacher Jon Kabat-Zinn, "wherever you go, there you are." Take time throughout your day to notice your internal weather system: tightness, bloating, numbness, pulsations… as if you were listening to the weatherman. One conscious breath is all it takes to come back to the present.
Plant an artful seed
By Penelope Orphanoudaki, founder of Artful Retreats
To help release stress, induce playfulness and facilitate self reflection, plant an artful seed to explore at your own pace and space so you can gain insights and self discoveries. Take a piece of white A4 paper and get together whatever art materials you may have at home, such as markers, pencils, crayons, pastels, watercolours, old magazines, scissors and glue, or all of the above. Give yourself 30 minutes or more of the best quiet and private space you can have. If that's not possible, invite your family to make art together. On your white piece of paper make a circle. Imagine inside the circle is you, and outside the circle is your environment. Complete the image as you see fit. Be playful, don't judge, don't overthink. Have fun!
Afterwards, ask yourself a few questions to give meaning to your art and see 'where you are at'. How was the art making process for you? How was your concentration? What do you see in your picture? How does it make you feel? Is it any different to what you saw and felt before you started? If you were to give a title to your picture, what would it be? Keep the one word from the title that is really meaningful to you and make it the word of your day.
Online support
Artful Retreats has three artful seeds available online for free for you to explore at your own pace and space, and also runs Artful Online Groups of 4-5 people for just £25 per person. Find out more at https://www.artfulretreats.com/art-therapy-online.
Create a daily retreat space
By Julie Hosler, founder of Strategic Space Retreats
Creating a retreat space at home helps to activate your senses, shift your perspective and open the mind's creative gates. Eliminate distractions, turn off electronics. Have kids? Set your alarm an hour earlier than they wake-up. Light a scented candle, like Diptyque. Use sound to activate the right-side of your brain with music from existential composers like Philip Glass.
Then, use the space to take a contemplative look at your life, career, or business. A good way to begin is to take inventory of the past year/decade. You can review your calendar to help jog your memory. Here are a few prompts you can use: What are you most proud of and why? What were your biggest challenges or mistakes, and what lessons did you learn from them? What is your biggest obstacle between where you are now and where you want to be?
Online support
Narrative Strategist Julie Hosler offers structured virtual retreats and private 1:1 strategy sessions online to help you find a way foward. More at www.thestrategicspace.com
Use your intuition to help you change
By Emma Bodkin, co-founder of Mountain Beach Fitness Retreats
For some inner guidance at turbulent times, use your intuition to help you change by adding 15 years to your life and writing a letter to your younger self. Here I am, age 36, say – so what would my 51 year old heroine or hero say? Or here I am, age 45 – so what would my 60 year old self say to help me? Perhaps in your letter you will explain you are in a unfulfilling job, or that your friendships or relationships are troubling you. Perhaps you don't like where you live, or how you live. Perhaps you want to change something about your physical self or your behaviour or attitude. Perhaps you feel uneasy about something, but you don't know why. If you seek guidance, look to your elder self. What would she or he say? Worry less, perhaps. Live a life true to yourself. Speak your truth. The answers will depend on you and you alone. Now is the time to use your imagination. If you do, it's likely your intuition will grant you some incredible advice and guide you along the right path.
Online support
NLP Practitioner and personal trainer Emma Bodkin offers private online sessions to help you harness the power of your mind to run races and achieve other things, fitness tips, innovative workout ideas and online personal training. More at www.mountainbeachfitnessretreats.com
Create a 10-year vision
By Jessica McGregor Johnson, founder of Two Days to Get Unstuck
Use your time to look ahead. Einstein said "your imagination is a preview of the best attributes the future will hold". When you are doing this is best thing to do is to look so far into the future that you simply cannot know how you'd create your vision. In this way that inner critical voice can't sabotage you. If you don't have that voice saying to you – 'that's never going to work' then you are more likely to allow yourself to dream it.
So, get ready because you are going to go on a journey. Get comfortable and take three, long, deep breaths. Relax and feel the chair supporting you. Now become aware of a timeline above your head – the past in one direction and the future in the other. Pop up to that timeline and follow it 10 years into the future. Once you get there stop and look down to see yourself 10 years into the future and looking at the scene below you ask yourself these questions: What am I doing that gives me the greatest fulfilment? How are my relationships – partner, children, family? What am I doing for fun? What is my home like? Where do I live? How do I spend my days? How much energy do I have? What am I doing for work? What does my work week look like? What is my work environment? What impact do I have?
Take some time over this and remember this is about the 'what' not the 'how'. Allow some day-dreaming and see it all playing out in the future. And remember no censoring – you do not have to know how you'll do this – just what you'd like it to look and feel like.
Next, draw a picture or create a collage that encapsulates your vision. It doesn't have to be a masterpiece or take hours to do, simply something that you can have somewhere that will remind you of what you are moving towards. Your vision needs to feel tangible, like you can reach out and touch it, this is your visual reminder.
Online support
Jessica McGregor Johnson can help take your personal work forward with online Transformational Coaching and Virtual Retreats in the Comfort of Your Own Home – more at https://jessicamcgregorjohnson.com/work/a-virtual-retreat-in-the-comfort-of-your-own-home/
Have a digital detox
By Jools Sampson, founder of Reclaim Your Self www.reclaimyourself.co.uk
As so many of us are now spending most of our time at home and managing many aspects of our lives online, there has never been an important time to manage your screen time. By choosing to digitally detox for a set time each day, you give yourself a break from the current explosion of digital information and some time to reflect and practice some simple self-care. Put your devices down and try reconnecting with nature if you can. If you live in a rural area, then a daily walk is great if you have that option. If you live in a city and don't have a garden, then how about spending some time making your home feel good? Maybe declutter or re-arrange a room, burn some essential oils to an oil burner, read a book, try a new recipe or have a relaxing bath. Your digital detox time should be peaceful, where you do something gentle to help you relax and feel better.
Start your day with intentionality
By Olivia Clarke, Yoga and Mindfulness Teacher and the founder of The Coach House Retreat
Intentionality is the invisible scaffolding that will give passion and purpose to how you live your life. It could be an inspirational quote or a simple affirmation that uplifts and inspires you. Every morning, on waking, I say a daily aspiration. It reminds me of who I want to be and how I want to live. Whatever your practice, you can begin it. Now is the perfect time to start. Be realistic with how much time you allocate each day. For example, a beginner might start with a ten minute meditation, followed by thirty minutes of yoga. But if you can only manage to say outloud a favourite quote, that's ok too.
As your day progresses, make sure you get outside and have fresh air. Prioritise exercise and wellbeing. Be very selective about what you read. Avoid the news before bed time and choose something calming or inspirational to read or do instead. Use this time for awakening. Life is precious. Treat this window of time as a priceless opportunity to retreat, slow down, count daily blessings, live more mindfully and appreciate that we are all in this together. Stay safe. Be well and reach out for support and guidance.
Online support
Olivia is offering private Yoga or Mindfulness Meditation sessions on Zoom and can guide and support you on how to retreat at home. More at www.thecoachhouseretreat.co.uk.
Make big batches of sauerkraut
By Claudia Spahr, founder of Holy Mama
Gut health forms the basis of your immune system. This is why consuming live, fermented foods daily will massively boost your immunity. I make sure I have at least one type of probiotic food daily; be it natural, unsweetened yoghurt (I have a kit to make my own), or a little bit of sauerkraut, as a side with my main meal. It is really cheap and easy to make sauerkraut at home. All you need is a cabbage, salt and a mason-jar. So that's what I do when I retreat at home: make big batches of sauerkraut to see me through when things get busy again.
Online support
Holy Mama is offering a 40-day online Sadhana for mothers to gift to other mothers they know. 10 Euros from the 33 euros go to their HolyMamaLove fund to support struggling mums in inner cities or mums in refugee camps. More info at http://hub.holymama.info/register/sadhana-offer/
Rewrite your own future
By Sarah Bullen, Writing Mentor and Literary Agent
There is no magic formula to writing – you shut yourself in a room and write. Writers know that something magic happens when other noises drop away and you are left with your thoughts and stories. Use this quiet pause to become a creator, not a consumer, of stories. Write beautiful long letters. Write your life story. Write.
ONLINE HELP: The Writing Room offers an online four month Mentorship programme to help you "Write Your book in 100 Days", suitable for all Genres. More at www.thewritingroom.co.za/mastermind.html
Bring the outside in
By Maryann Richmond-Coggan, owner of Green Farm, Kent
Take advantage of nature and its positive effects on our wellbeing by bringing the outdoors in: fresh flowers and plants will lift your mood; candles scented with lavender, rosemary and mint help relieve stress; meals made from natural local ingredients will nourish your body.
Write a gratitude list
By John Brant, Owner of La Crisalida Retreats, Spain
Any time you are stressed, or feeling out of control of your life, you will probably recognise the potential for your mind to start racing, highlighting all the things that are wrong or could go wrong. We can also get into cycles of moans and groans too! We call this negativity "mind clutter".
Help clear mind clutter by writing a list of everything you're grateful for. Gratitude is an emotion expressed through words and actions that focuses on what we have rather than what we want or perceive to lack. Write down your appreciation for people, things and experiences. Being thankful for what you have can become clearer when it's on paper. Include how amazed you are that your body can do that challenging yoga pose or automatically remember those dance moves. You can write out your dreams (ones that you've accomplished and ones that you're working towards) and detail acts of service that you've done to others and yourself and could do in the future. It's impossible to have too much clutter in your mind when you're in a state of gratitude.
La Crisalida Retreats is offering online retreat experiences (some free sessions) and online coaching. You can find out more on their online retreats page on the website: https://www.lacrisalidaretreats.com/the-retreats/online-retreats/
Practise acceptance
By Nathalie Kealy, NHS practitioner and founder of Value Your Mind retreats
Practising acceptance allows us to find clarity, release tension from mind and body and restore calm. Set aside one hour in your day where you let go of those past, future and 'what if' worries and instead allow it all to flow in and out by practising acceptance. Simply create an acceptance mantra such as 'I accept this thought.' Then every time a thought comes in that could cause some tension or worry, answer it with your mantra. If you can, set an alarm on your phone and commit to doing this for one hour each day.
Online support
Listen to Natalie's podcast Calm Mind Confident Life at itunes.apple.com/gb/podcast/calm-mind-confident-life/id1356219335?mt=2. Natalie also offers 1-1 coaching, find out more at www.valueyourmind.com
Meditate
By Lama Brian Hilliard, founder of Mindfulness Journeys
Meditation practice is a kind of temporary isolation from conditions that are not beneficial to us. These conditions can include being too busy, or too much exposure to negativity or sickness in the environment. When we separate ourselves somewhat from our usual total immersion in society, we can create a new kind of pristine environment, new conditions for a personal reset, and set up new healthy habits for reinventing ourselves.
Read a helpful and inspiration book which deals directly with meditation practice and how to meditate. Set up a sacred space in your home. Include meditation cushion and a simple shrine with candles, incense and flowers if you can. Establish a daily schedule. Try meditation two times a day, first thing in the morning and last thing in the evening, with a duration you feel comfortable with. Include readings before your meditation session. Practice a daily physical exercise like yoga, which makes the connection between mind and body. Practice it with mindfulness. Appreciate the natural world. Go for walks, enjoy nature, and mix this time with meditation mind.
Online support
Mindfulness Journeys has set up a daily online retreat with three classes of guided meditation, gentle flow yoga and yin yoga. They repeat the same schedule everyday so that you can easily establish new healthy habits. Unlimited live online classes for only €30/week or a private one hour class for €50. More at www.mindfulnessjourneys.com
Keep active
By Fran Brown, Pilates teacher and founder of Costa Calida Spanish Retreats in Spain
Exercise decreases stress and anxiety. Everyone is stressed and not sleeping. So what can you do to keep physically and mentally healthy? You can exercise – from your chair or sofa, and if you can, get outside for a walk or bike ride. Exercise, sunlight and being around trees all benefit mood. Don't let yourself be too still.
ONLINE HELP Fran now films her Pilates videos for people to follow at home and also runs a Chair-Based Class. More at www.fransfitnesspilates.com and www.costacalidaspanish.com
Create structure and little rituals
By Gertrud Keazor, mindfulness and embodiment teacher at Yobaba Lounge
Daily structure really helps you stay productive, happy and avoid anxiety and depression. Little rituals ground the structure. It is particularly helpful with children. Get up at the same time each morning, meditate or do yoga, followed by a shower, oil your body and then have a wholesome breakfast. Quality time until lunch (learn something new or spend time with your children). Make a healthy lunch together, then do your work in the afternoon followed by dinner and then relax. If you have children, let them know that you will do with them in the mornings what they like, and in the afternoons, you do what you like or must do. 1 day a week, make it a cleaning day and another a shopping day.
Move in a way you love
By Erica D'Angelo, Director of Wellbeing at Borgo Egnazia, Puglia
Move purposely for 30 minutes every day, but make sure the activity you choose is pleasant and exciting for you, as this will stimulate neurotransmitters, and hormones such as endorphins and dopamine, that will not only make you feel satisfied and positive, but will also support muscle oxygenations which automatically improves your immune system.
Do things differently
By Tania Carriere, Retreat Leader of Advivum Journeys
The reason we go on retreat is to experience ourselves in different ways, by doing different things, in different locations, with different experiences and people.
The challenge of retreating at home is that we feel that no longer "see" our environments or our selves, they are familiar and expected so we stop being curious and paying attention.
To bring back awareness and noticing, try and change how you live in your environment. Choose to do things differently… If usually journal in your favourite chair experiment with what happens when your journal standing up? Usually chat on the phone while cooking? what happens when you chat and lie down in the least used room in your house? Simply changing your surroundings will change your experience of yourself. Try things that are not your normal routine and notice what they shift in your perspective, in your experience and in your inner-chatter.
Find the majestic in the domestic
Laura Bell, yoga teacher and the founder of The Zest Life Retreats in Wales
As a mum of three under three year olds, the thought of a lock down fills me with dread, especially as I was so looking forward to getting back to fitness and yoga classes after the arrival of our third baby. So trying to find a retreat in each and every day is my challenge at the moment. I am trying find the majestic in the domestic – folding the kids clothes is my mindfulness practise. I take my time, and practise gratitude as I fold, thankful for the children that I have, who create all this washing! We don't have to go out to go inward.

Image: iStock