Hone your creativity: Retreats that inspire painting, writing and even bookbinding
Surrendering to imagination and inventiveness on an artful getaway is a passageway to being present, as Caroline Sylger Jones discovers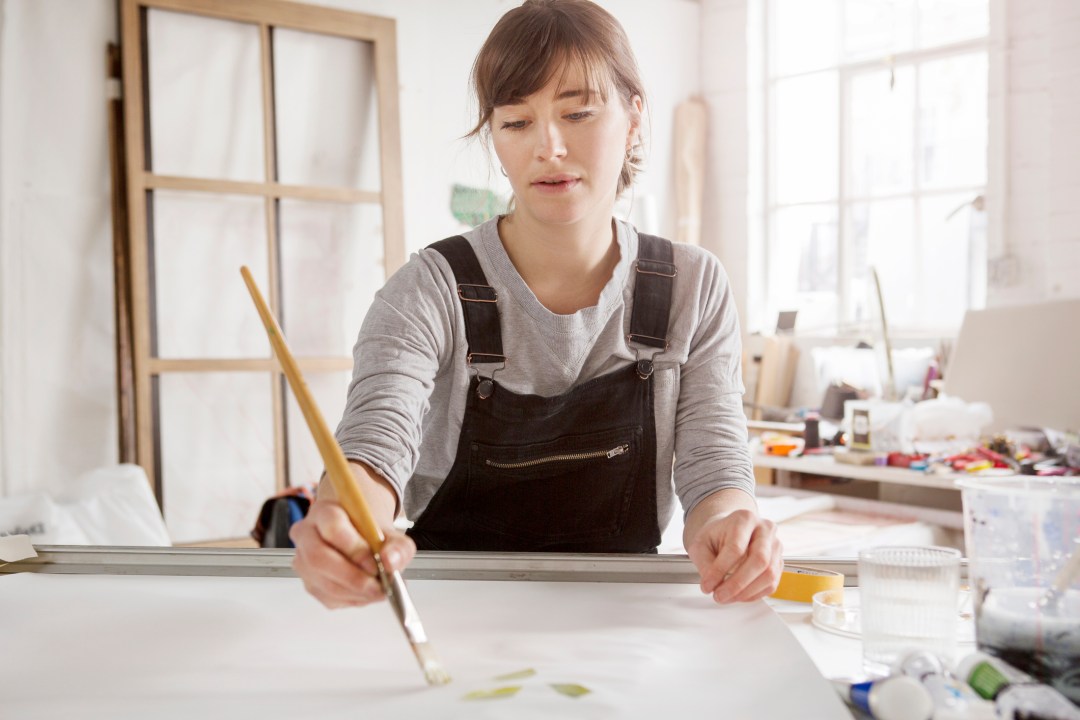 It's dawn, and I'm doing yoga by the open window in my attic room, relishing the view of a pink sun coming up over the Shropshire Hills while listening to birdsong. Between asanas, I dash to a notepad lying on my desk to scribble something down. I'm in the middle of giving birth to a poem, and the lines won't stop coming.
I'm on a five-night Arvon poetry retreat at The Hurst, the former home of the late playwright John Osborne, and we have a daily schedule that's getting me up early and keeping me inspired. After my practice, I sit to complete a first draft of the poem at my desk, which a tiny gold plaque tells me is The Emily Dickinson Desk, alongside a quote from one of her poems: 'Tell all the truth but tell it slant'. A little thrill goes through me, and also a feeling of relief – that the retreat is actually working, because I'm writing.
Led by the poets Tamar Yoseloff and Hannah Lowe, with a guest-reading halfway through the week from Rishi Dastidar, the course features morning group workshops, afternoons in private sessions or for time out to write, and evenings for poetry readings and relaxation. The set-up is ideal for creativity: there are long walks to be had with no one around for miles, the warm house is small enough if you want company and big enough if you don't, and the tutors are clever, committed and kind.
Kindness is important because going on a creative retreat – whatever its subject – is an act of bravery. Not only are you being courageous by entering a roomful of strangers to create and then reveal your creations, you are standing up and saying to yourself that you are a creative person, with the right to create and learn how to create better.
There are 13 poets on my course, all at different stages – some, like me, are already published and committed to a creative path and others are keen to pursue creativity for the sheer joy of it. Arvon calls every guest a writer – whether they're prolific or just starting out – from the moment they arrive, because its ethos is to treat everyone equally.
All the best creative retreats will do the same – whether the focus is on pottery or furniture making, life drawing or photography, sewing or singing. That's because they recognise that this is a brilliant chance for their guests to silence all the voices in their lives that might have told them that they weren't creative, from the parent who said being a musician wouldn't earn them enough money to the art teacher who laughed at their paintings. As it goes, all of us are creative beings in some form or another.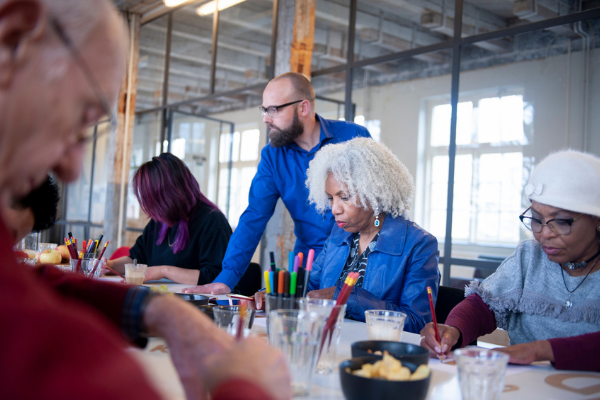 Creative retreats can help you connect with yourself and whatever is going on in your life at that moment, as well as enable you to engage with your chosen artform. You don't have to have had a traumatic childhood or be particularly 'good at art' to attend such escapes – living in our mid-pandemic world gives you reason enough. Creativity refers to both imagination and inventiveness – and nurturing both can help you shape the life you want, whether you want to finish a novel, kickstart a new career or simply find a creative solution to an issue.
My top tip? Set an intention before you arrive, so you are not too swayed by what everyone else is doing. It took self-discipline, for example, for me to steer clear of the wine and get to bed on time so that I could make the most of the precious time I had carved out for myself away from my usual routine. This is doubly important during an Arvon week, because everyone contributes at some point to the cooking and washing up. I managed it – while still having time to connect with lovely people. A month afterwards, I continue to write daily.
Hone your craft
Arvon runs retreats, workshops and one-to-one writing courses covering fiction, poetry, non-fiction, writing for children and young adults, screenwriting and playwriting. Courses run online and at three historic houses – The Hurst in Shropshire, Totleigh Barton in Devon and Lumb Bank in Yorkshire. Arvon is a charity and provides grants to those on low incomes. Prices from £540 for three days.
10 more creative retreats for 2022
Curious House, East Sussex: Painting Bloomsbury-style lampshades, willow weaving and even iPhone photography are just a taste of what's on the menu at the inspired Curious House, which runs many of its courses from the boutique pub The Bell, in Ticehurst, East Sussex. On 18 January, join Melissa White to learn decorative painting and ageing and distressing techniques to create your own heirloom painted treasure box. From £130pp.
The Travelling Bookbinder, Iona: Run by the author and artist Rachel Hazell, a Driftwood Binding Retreat break on the spiritual isle of Iona, off the coast of Scotland, will teach you the art of folding, stitching and binding books. Through step-by-step exercises, you'll make your own book with wooden covers. The next course is 29 March to 2 April. From £1,495pp for four nights.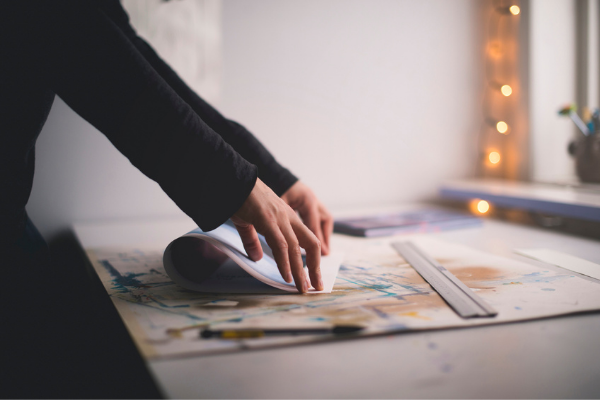 The Writing Room, locations worldwide: The personable and talented coach Kate Emmerson and the literary agent Sarah Bullen are experts at helping you find your writing voice. They host group retreats in Greece, Italy and South Africa, mainly focused on nonfiction and memoir writing. This year, the creative pair also launch a supported, private writing space in an idyllic house on Iona in Scotland. Book a Greek retreat from 2 to 9 or 10 to 20 June. From £2,384pp for seven nights.
The Song House, Ireland: Choir director Candy Verney offers singing holidays at her sustainable retreat centre (complete with its own organic gardens), set on the Wild Atlantic Way in Donegal. The next retreat is Spring Songs and Seaweed from 22 to 24 April. Priced from £187pp.
Textile Holidays, Italy: These self-catering holidays, set on an olive grove just outside Castiglione del Lago in Umbria, are run by the textiles teacher and artist Bronwen Shepherd. Learn sewing, dressmaking, how to patchwork and more on this relaxing break. The first retreat of 2022 runs 23 to 30 April, four days of which will be in the studio learning how to make a Bargello lap quilt. From £700pp.
Schumacher College, Devon: These creative getaways on a beautiful 1,200-acre estate in the South Hams include gardening, sculpting, charcoal drawing, ceramics and basketry courses. Join a one-day session, The Art of Basketry, on 5 March and weave your own bread-proving basket (£195pp), or from 12 to 13 March you can make your own foraging basket. Priced £390pp for two days.
Casa Ana, Spain: Among the writing and painting courses on offer at this gem in the Alpujarra mountains in southern Spain is Improvisation on Paper, where the writer and radio director Mandy Wheeler will show you how to unblock your self-expression. The next course is 14 to 20 May. From £893pp for seven nights.
Guitar Retreats, UK and across Europe: These light-hearted escapes for guitar enthusiasts are led by expert teachers and take place in carefully chosen locations, such as the Dordogne in France, the Algarve in Portugal and on the Isles of Scilly. Open to everyone, they offer the chance to learn new styles and techniques, and jam and sing with like-minded people. The next retreat runs 30 January to 2 February at Dumbleton Hall in the Cotswolds. From £380pp.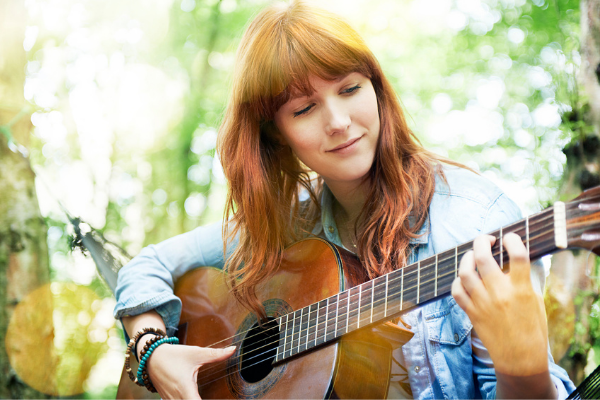 West Dean College, Sussex: There are more than 300 creative short courses to choose from at the stunning West Dean College of Arts and Conservation, including life drawing, silk-screen printing, jewellery making and calligraphy. Accommodation options include the grade II-listed house the Old Vicarage or a cottage on the beautiful 6,400-acre estate near Chichester. The next course is Painterly Silk-Screen Printing from 3 to 6 February, from £416pp.
Artful Retreats, Crete: Head to the heritage village of Gavalochori on the Greek island of Crete and discover how to make art therapy fun. You'll stay on an olive grove estate and mix art therapy with yoga, walking, gourmet food and visits to local artists. The next Reset art retreat runs 28 May to 2 June. From £1,174pp for six nights.
Photographs: Getty Images