Eat, play, love
Poppy Cross takes her man to Lake Como for a romantic holiday with a fitness twist – and discovers new ways to activate her relationship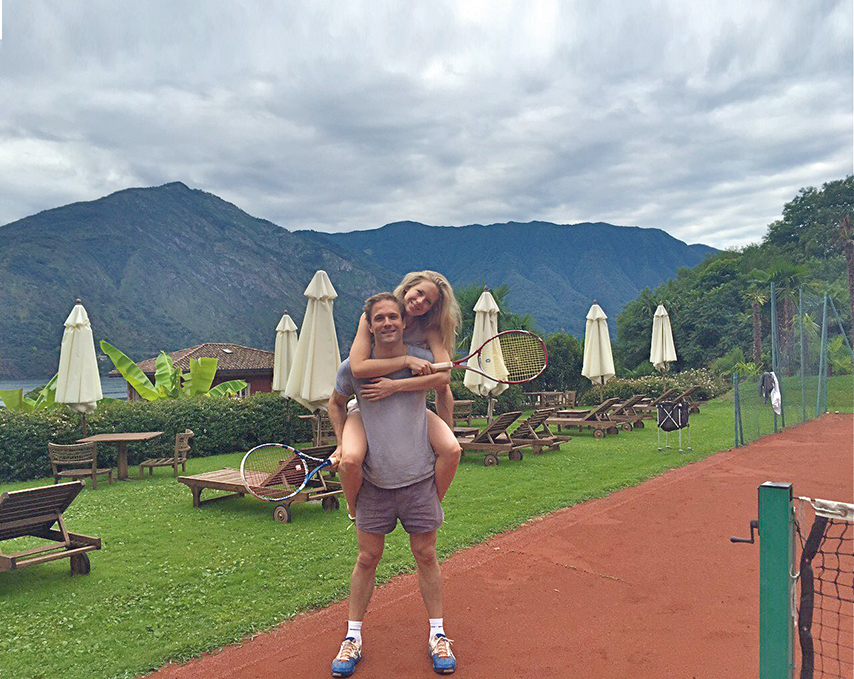 Here I am, bobbing about in a cold Lake Como, trying (and failing) to stay upright as this thing that's attached to me – a wakeboard – keeps swinging out to the side, leaving me in a helpless horizontal position with head, feet and behind above water and facing the wrong way. 'Very dignified!' my boyfriend chuckles from the boat while my teeth chatter. A bit like waterskiing, wakeboarding puts you on a short, wide 'surfboard', attached to a motorboat. The experts perform a series of impressive acrobatic manoeuvres while being towed along. I… do not.
It's the second morning of our romantic break and the drowned-rat look isn't quite the vibe I'd hoped for, but we're here for an action-packed stay – a revamp on the traditional candle-lit dinner a deux affair – so I'm willing to roll with the punches (for now). At least I can retain some dignity knowing I've just aced waterskiing for 10 minutes.
We've come to Grand Hotel Tremezzo – it's just an hour from Milan to Como by train, followed by a speedy hydrofoil ride over to what transpires to be a very Grand Hotel Tremezzo. This iconic Belle Époque beauty has 100-plus years of history, as well as sublime views of the Grigne mountains and lake access – these natural wonders lend themselves perfectly to the pursuit of all things active.
As for traditional romance – this hotel knows how to set the mood. Upon arrival we enter a bright Art Nouveau-style lobby with silken walls, tall vases full of long-stemmed red roses and a rich rose-scented air (courtesy of the hotel's signature scent) – not to mention a self-service supply of complimentary sweets.
Our room has a private balcony with unlimited views of Lombardian sunsets (and dramatic lightning storms followed by double rainbows if you're lucky, as we were) across the lake against the backdrop of mountains. We also make full use of all three pools, tennis court, three-tiered fitness house, surrounding hikes and aforementioned watersports.
Exhilaration
The wakeboarding left me feeling exhilarated – a result, of course, of the dopamine and serotonin produced when you exercise. While it's clear that I'm feeling euphoric from succeeding at this new physical challenge, sharing it with my man makes me feel very connected to him, and his encour­agement – even the gentle teasing – motivates me to try something new and gives me the will to succeed.
Scientific studies have also found that after jointly participating in an exciting physical challenge or activity, couples report feeling more satisfied with their relationships and more in love. This is particularly true for us, as we love leading an active lifestyle – and sharing common interests is an important aspect of the success of many relation­ships. It's also true that when you work out together, you both have a better workout – paying more attention, synchronising move­ments, co-ordinating your thoughts.
Throughout our stay, we explore a range of activities. The first morning we play tennis, where we share a court but receive individual coaching standing side by side as we hit balls back and forth to our coaches. As the lesson progresses, we can both see a marked improvement in our perform­ance. This sparks our enthusiasm and competitive edge, making it much more exciting when we next play together, which ends in an exchange of sweaty high-fives for our improved efforts.
Post-play, we decide to refuel with an extravagant breakfast, presented in the Regina Room (and adjoining terrace) that overlooks the lake, the floating pool (on the lake) and the mountains. There's everything that you'd expect to find and more – from Italian cheeses and charcuterie to a variety of breads, pastries, croissants and jams.
Regeneration
With all our physical exertion, we make sure we spend some time regenerating in the sun by the 'flower' pool surrounded by palm trees and tulips. As our energy returns, we decide it's time to mix things up a bit, so we hit the gym and are impressed by the range of cardiovascular and kinesis equipment. After a light workout, we leave feeling like we've earned a good lunch, which we enjoy at lakeside restaurant Red and White – a three-minute walk from the hotel. Service is happy and prompt, and the perfectly Italian food is fairly priced.
Next on our activity hitlist is a hike to the small church of San Martino the following morning. We've been told this trail starts in Griante (a five-minute drive away) and offers a spectacular view when you get there. It takes us a not overly challenging, but nonetheless slightly breathless, 45 minutes to reach San Martino and, from the small plateau where the church sits, you can see Bellagio (the famous town on Lake Como's peninsula), the town of Griante directly below, and the large mountains that line the eastern shores of the lake.
If time was on our side, we'd definitely have brought a picnic to savour the sights a little longer.
Thankfully, we do have enough time to enjoy the brand new spa suite – complete with whirlpool, sauna and Turkish bath – back at the hotel. As we sit in the whirlpool our muscles soften and our minds drift away together. An hour later, it's time for our couples' massage. Afterwards, in a state of total relaxation we walk back to our room where we attack the mini-bar before sinking into a deep sleep.
In just a few days, this active break has rejuvenated us, sparked our interest in new activities and fuelled our desire to share more adventures. Preventing boredom and exploring new things together is one of the key factors in creating a happy relationship, and we have learned that at first-hand here. We've also learned that we make a good team – anyone else for a game of doubles?
Travel to Como
Book with ITC Luxury Travel (01244 355527) to stay for four nights and pay for just three at Hotel Grand Tremezzo, saving up to £175pp. Prices start from £789pp based on two adults sharing a Prestige Park View Room for four nights, including breakfast, return economy class flights and private transfers. This offer is valid for travel completed between 11 March and 29 April 2016, and between 9 October and 6 November 2016. (The price provided is based on a departure date of 14 March 2016.) For further information and to book, please visit grandhoteltremezzo.com, call +39 0344 42491 or email reservations@grandhoteltremezzo.com