BRAIN FOOD TIP OF THE DAY
Today's tip is by BrainFood nutritionist Yvonne McMeel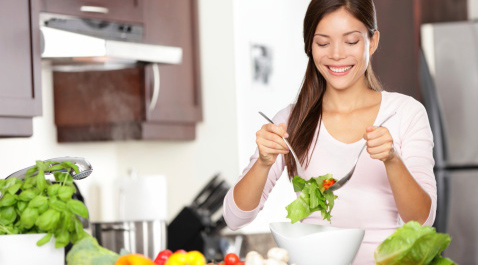 'You don't have to ditch sugar entirely in order to eat healthily,' says says nutritionist Yvonne Mcmeel
In this month's brain food column she teaches Amerley Ollennu how to balance her blood sugar levels. Here's a three-day food plan so you can learn too.
Day one:
Breakfast 50g of porridge oats made up with milk (of your choice) and water. 1tbsp of ground flaxseed, 5 almonds and 50g of blueberries.
Morning snack A piece of fruit and 1tbsp of mixed nuts and seeds.
Lunch 50g of grilled chicken breast with a green salad that includes tomatoes, peppers and cucumber.
Afternoon snack 2 tbsp of hummus with vegetable crudities made up of carrot, celery and green peppers.
Dinner Beef stir-fry made up of 150g of lean sliced beef, a handful of beansprouts, broccoli, pak choi, chopped carrot and peppers stir-fried together in 1tbs of coconut oil, 1tsp of sesame oil and tamari soy sauce.
Day two:
Breakfast 2 poached/scrambled eggs on rye/wholemeal bread or smoked salmon with eggs on wholemeal/rye bread.
Morning snack 2 oatcakes with 2 tbsp of almond nut butter.
Lunch Lentil and spinach soup.
Afternoon snack 1 tbsp of mixed nuts or natural yogurt.
Dinner Stuffed chicken breasts wrapped in sage and parma ham, served with new potatoes and green vegetables such as kale, spinach, courgettes and spring greens.
Day three:
Breakfast 50g of no added sugar muesli (make sure there are more nuts than dried fruit). 3tbsp of natural yogurt or fresh fruit such as blueberries, strawberries and chopped apple. Served with skimmed milk if desired.
Morning snack 50 grams of natural or greek yogurt.
Lunch Wholemeal bread sandwich filled with lean meats and lots of salad. Watch out for excess fats such as mayonnaise and butter.
Afternoon snack Healthy dips, such as guacamole and cottage cheese with vegetable crudities.
Dinner Oven baked or grilled salmon served with 100g of new potatoes and green vegetables such as spinach, kale or pak choi.
Keep checking the website for exercise and nutrition news, tips, and reviews.